AM250 Report - digital and print copy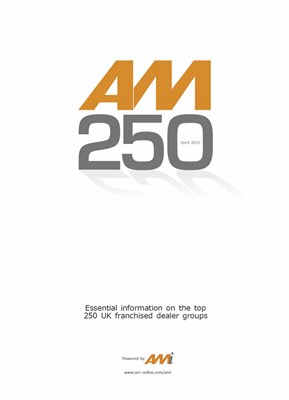 £945.00 (+ vat £0.00)
In stock
What is it?
Published in March 2015 this high quality perfect bound report will provide detailed profiles on the top 250 UK dealers. These dealers are the powerhouse of automotive retailing, responsible for a major proportion of UK Car and LCV sales. These 250 companies alone represent approx. 75% of the total franchise market place.

Winning or retaining business from this influential group can be key to the success of a supplier. The AM250 report will provide you and your sales force with dedicated coverage on every dealer group including board directors, head office address, financial history, geographical locations, manufacturer brands at site level etc.
The key benefits:
Purchasing the report will provide:
• A concise overview of all 250 dealer groups
• Information compiled into one easy to use report
• At a glance information on the key areas of a dealer's structure
• Insight and understanding ahead of dealer meetings
• Information to help prioritise or identify prospects
• Opportunity to purchase additional copies for your team at a discounted rate
For the first time, the most comprehensive countdown of the largest UK motor retailers is available now.
Printed version also available on its own: AM250 Report - printed copy.
Please see below for sample page: