Finance & Insurance Operations Manager
Job added:

14 January 2016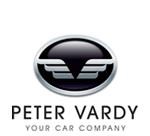 Peter Vardy is one of the UK's leading Automotive Dealer Groups, the fastest growing motor retailer in Scotland and a multi-award winning organisation. With attainments such as recognition in the Sunday Times top 100 companies to work for, alongside a number of recent industry recognised awards.
The business was launched in 2006 and now represents 7 franchise marques including BMW, Mini, Jaguar, Land Rover, Porsche and Vauxhall across 11 sites in Scotland. Our vision is to create the world's best motor retail operation, measured by our team, customers and investors. Due to this huge success in recent years, we are now looking to attract an experienced Finance & Insurance Operations Manager for our Dealer network in Scotland.
As part of the operational management team, you will report direct into the F&I Group Director while working closely with the Managing Partners, and dealer management teams, to identify F&I performance opportunities within the group and manage the implementation of a successful strategy to ensure the best performance.

Key responsibilities will include conducting regular F&I reviews, identifying areas of concern, and implementing strategies for improvement. In addition, you will be involved in coaching and training dealership management & sales staff, building strong relationships with finance partners, understanding product mix and volume, and ensuring that all business is compliant under FCA regulations.
The successful candidate will be able to demonstrate a proven, stable track record within a similar role - This must be from within motor finance. You must have the ability to build and develop lasting relationships at all levels, have strong negotiation, communication and presentation skills. With this being a regional role, a high degree of self-motivation as well as the ability to motivate others is essential.

This is a fantastic opportunity to join an inspirational organisation, where there are genuine opportunities for career progression for the right candidates.
How To Apply
Normal 0 false false false EN-GB X-NONE X-NONE MicrosoftInternetExplorer4 If you wish to apply please send your CV together with a covering letter to Jade Hazard, Recruitment Manager at Jade.Hazard@petervardy.com. Your application will be treated with absolute confidentiality and for an informal discussion please call Jade on 0141 7736236.
Apply for this job
Please complete the form below.
Your data is used to notify the employer of your interest and they may contact you about the vacancy. We will not use your data for any other purpose. Your details will be deleted from our database seven days after the vacancy closing date.