General Manager
Job added:

13 October 2015

Location :

Hinckley, Leicestershire
Company : Ennis & Co Executive Search

Contact : Freddie Keyworth

Email : Freddie.keyworth@ennisco.com

Telephone : 01590 676128.

Website : www.ennisco.com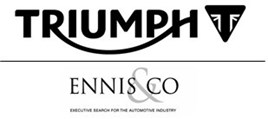 Already an iconic British marque, Triumph is entering a new phase of developing its brand globally and in the UK.
In order to help us do this, we want to hire an outstanding, visionary General Manager for UK and Ireland. This vacancy has been created due to an internal promotion and is based at our Hinckley, Leicestershire HQ, with regular travel.
If you are successful you will be responsible for planning and executing strategy that ensures our continued success and future development, with a degree of autonomy that you will thrive on.
The product is special, the heritage undisputed, the UK team passionate, and our network sets the standard in UK motorcycle retailing. You will need to live up to that standard.
You will be committed, passionate, and have (or be willing to gain) a motorcycle licence. With a strong understanding of the retail environment and dealer network management, you will combine big-business experience with entrepreneurial flair, and will relish a challenge.
You will have strategic responsibility for organisational and team performance, internal communication, sales and marketing planning, budgets and reporting, dealer network management and brand visibility and communications.
You will also act as the point of contact with global senior management in the UK and ensure all key aspects of subsidiary business and performance are regularly and accurately reported.
Already a British institution, the Triumph brand and range will evolve further, testing all of your skills and creativity.
Normal 0 false false false EN-GB X-NONE X-NONE
How To Apply
To be considered for this role please email your CV and a covering note to Freddie Keyworth at Ennis & Co Executive Search: Freddie.keyworth@ennisco.com or call our offices on 01590 676128.
Normal 0 false false false EN-GB X-NONE X-NONE
Apply for this job
Please complete the form below.
Your data is used to notify the employer of your interest and they may contact you about the vacancy. We will not use your data for any other purpose. Your details will be deleted from our database seven days after the vacancy closing date.