Head of Business
Job added:

19 August 2016

Location :

JCT600 BMW Bradford
Company :

JCT600 BMW Bradford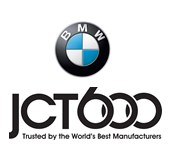 800x600
JCT600 is one of the most respected names in the UK Motor Industry. Privately owned with an enviable portfolio of brands and a reputation second to none; the business has grown significantly over recent years and now boasts 19 franchises operating from 50 retail outlets with a turnover in excess of £1 billion. We are uniquely placed to be agile and responsive to our Manufacturer needs and customer demand and as such provide an exciting proposition.
Our Mission is a simple one – "We don't want to be the biggest, just the best" and our ambition matches this; we strive to be 'The Best Place to Work' and 'The Best Place to Shop'.
To help us on our journey we have an exciting opportunity to help us achieve this.
We are recruiting for a highly professional Head of Business to lead our BMW Bradford team. Taking full leadership and management responsibility of the business, you will be required to take the business forward providing vision, inspiration and professionalism of the highest standard, whilst creating an environment that allows our colleagues to excel and grow.
Reporting into the Brand Director, you will be responsible for driving, developing and growing the success of the dealership by ensuring high levels of colleague engagement and customer satisfaction and therefore profitability.
How To Apply
We are looking for individuals who are passionate about being the best they can be, do you have what it takes? If so apply today.
Please apply at: Normal 0 false false false EN-GB X-NONE X-NONE MicrosoftInternetExplorer4
http://www.jct600.co.uk/job/head-of-business---r826016/6635/careersdetail.aspx?utm_source=AMOnline&utm_medium=JobAd&utm_campaign=BMWHoB