Mazda–3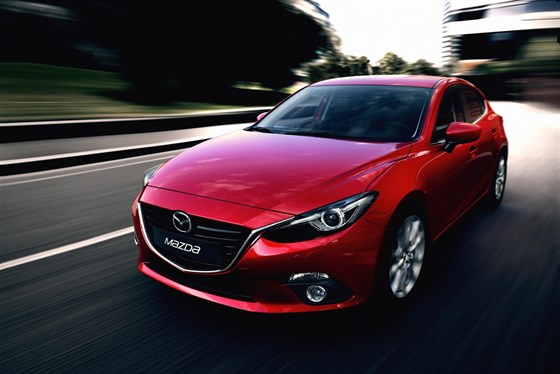 January 2014
There's one big launch for Mazda in 2014 and it's the new 3 that comes right at the start of 2014. Following on 12 months after the handsomely styled 6, the 3 has a similar swagger to its looks, but it's what's underneath that skin that will appeal to fleet drivers.
Mazda bucks the trend for downsizing its engines and prefers to go with what it calls 'right-sizing'. This means fitting the right engine to the car for its given job rather than simply offering a smaller capacity engine in a bid to provide on-paper lower emissions and greater fuel economy. From our experience of the new 3 so far on the road, it's a policy that delivers a great drive yet still provides efficient running costs.
A 1.5-litre petrol engine is the starting point for the Mazda3 range and it serves up 56.4mpg average economy and 119g/km carbon dioxide emissions. While the 99bhp Mazda3's official economy figure is not quite as good as a Ford Focus 1.0 T Ecoboost 100's or its 109g/km, in the real world the Mazda is easily a match for its Ford rival for consumption.
A 2.0-litre petrol engine is become a rarity in this sector now but Mazda continues to offer this and, with a six-speed manual gearbox it can deliver 119g/km CO2 emissions coupled to strong performance to make a case for itself.
However, most fleet users will be drawn towards the 2.2-litre turbodiesel engine which, again, seems like a larger capacity than is normal for this class. This is where Mazda's 'right-sizing' approach to engines makes most sense as the 2.2 diesel offers all of the benefits of a larger capacity engine such as brawny low- and mid-rev shove for easy, swift performance but also surprising economy and emissions. Fuel consumption of 72.4mpg puts the Mazda3 diesel among the best in class, while carbon dioxide output of 104g/km will not scar fleet users' finances.
On top of all this clever engine sizing, Mazda continues to apply its Skyactiv technology to hone and refine every element of the 3 for efficiency. This approach means making small, seemingly insignificant, gains at every step of the car's development and production that add up to larger gains overall. On the evidence of the 3, it's an approach that is working well for Mazda.
Much of the thinking behind Skyactiv is about saving weight and this has the happy side effect of making the new 3 one of the best cars in its class to drive. On first acquaintance, the 3 is as easy to drive as most of its rivals and gets on with the job of being a practical, spacious small hatch. Delve deeper into the driving experience, though, and the 3 continues to provide answers and entertainment when most of its competitors have started to flounder. As for a hot hatch version, Mazda has no plans for this at the moment.
At low speeds and on the motorway, the ride is typically Mazda with a controlled feel that always avoids being firm but never strays into too much flop or lean. Head on to more challenging routes and the suspension shows a level of control worthy of class-leading status. Coupled to precise steering, masses of cornering grip and an overall balance that consistently puts a smile on the driver's face, the Mazda3 is a car that rewards more and more as you spend time with it. All of the engines are refined and, in particular, the 2.2-litre turbodiesel that will be the most popular with fleet drivers.
There's also little wind or road noise that infiltrates the cabin, which is well appointed in Mazda's familiar trim levels. There's now a touchscreen positioned in the upper centre of the dash, which looks good but it not quite as easy to work through the remote control placed between the front seats.
Other small gripes include the rear seats that don't offer as much space as some rivals' and a boot that loses out in the space race to key competitors'.
Even so, the Mazda3 is a car that should appeal to fleet drivers not just for its economy, emissions and keen pricing. It's among the very best in this class to drive and engages the driver in a way few others manage.