Jeep has confirmed to AM that the latest version of its Cherokee SUV was never introduced to UK dealerships despite publicity and press launches of the once core model at the turn of the year.
Full details of the model were released as long ago as September last year, with many members of the UK motoring press gaining the opportunity to drive and review its performance on an international event a month later.
But a spokesman for the FCA Group told AM that the new model had never been imported to the UK and would not be added to the line-up "at this point in time", the OEM having resolved that it already has "the right mix for the UK market".
"We have taken the decision not to bring in the new Cherokee at this point in time, as we wish to focus sales on the new Compass, refreshed Renegade, MY19 Grand Cherokee and all new Wrangler," a statement issued to AM revealed.
"Compass has only been on sale for just over a year and as such this is its first full year of sales.
"Renegade has also had a mid-cycle action, with brand new engines, infotainment system and refreshed looks.
"Wrangler is no longer limited by production capacity, so we plan to double its sales volumes in 2019."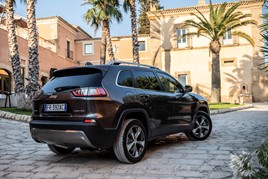 Jeep retailers may feel aggrieved not to be given the opportunity to sell a model which had been expected present a healthy margin opportunity by virtue of prices which were expected to start in the region of £35,000.
The Cherokee would have plugged a gap between the Compass (from £23,450) and flagship Grand Cherokee (from £48,880).
Jeep's fortunes seem to be recovering from a 4.1% registrations decline in 2018 (to 6,114) with the delivery of a 17% increase in sales during Q1 of this year (to 1,547), despite the absence of the Cherokee from its range, however.
The FCA Group spokesman said: "We can't speak on behalf of our retailer network, however with the renewed Jeep model line-up we are confident that we have the right mix for the UK market."