New car sales declined 44.4% in March as the COVID-19 coronavirus lockdown took its toll in the second half of the key number plate change month for franchised retailers.
Hope of a "bumper month for new car sales" as car retailers battled with the challenge of falling supplies triggered by the incoming EU CO2 emissions regulations and faltering consumer confidence were dealt a sizable blow by the global pandemic, data published by the Society of Motor Manufacturers and Traders (SMMT) has revealed.
Government forced the closure of non-essential retail businesses on March 23, leaving most retailers short of a week's sales in what was expected to be 2020's biggest month of car sales.
SMMT data showed that the resulting slump in registrations was steeper than that seen during 2008 financial crisis and worst March since late nineties, with some 203,370 fewer cars sold in the month.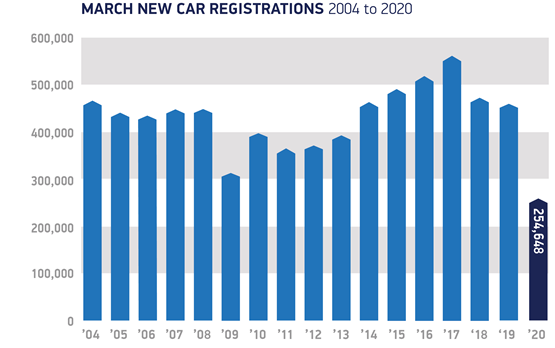 The dramatic shift has resulted in the SMMT downgrading its 2020 new car registrations forecast to 1.73 million units – 23% down on its previous expectation.
ASE chairman Mike Jones said that his analysis of the March decline in registrations laid bare the impact of the Government-imposed lockdown.
He said: "Registrations were down just 4% on 2019 as we came out of the last normal trading weekend on March 23, with only another 43,000 cars registered in the rest of the month.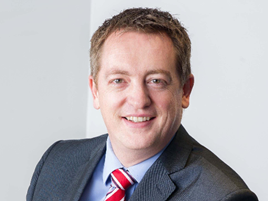 "We expected there to be a larger than normal surge in the second half of March, as cars were registered in advance of the WLTP-based road tax increases, however the final week of March saw a 82% drop in registration levels compared to the prior year.
"The job for retailers and OEMs is to ensure that this pipeline is kept live, ready to be released once the lockdown is lifted."
Despite last month's slump in registrations, SMMT chief executive Mike Hawes said that the outcome "could have been worse" had the significant advanced orders placed for the new 20-plate not been delivered in the early part of the month.
With lockdowns taking place in many European countries earlier than the UK, even more dramatic falls have been reported elsewhere, with Italy down 85%, France 72% and Spain down 69% last month.
Hawes said: "With the country locked down in crisis mode for a large part of March, this decline will come as no surprise.
"We should not, however, draw long term conclusions from these figures other than this being a stark realisation of what happens when economies grind to a halt.
"How long the market remains stalled is uncertain, but it will re-open and the products will be there.
"In the meantime, we will continue to work with government to do all we can to ensure the thousands of people employed in this sector are ready for work and Britain gets back on the move."
In total, 254,684 new cars were registered in March, with demand from private buyers and larger fleets falling by 40.4% and 47.4%, respectively.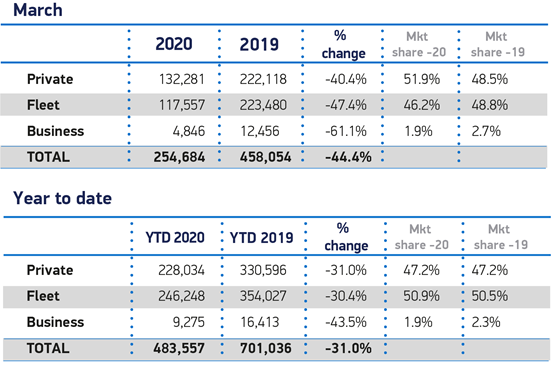 The numbers of petrol and diesel cars joining the road were down 49.9% and 61.9%.
Registrations of battery electric vehicles (BEVs) rose almost three-fold in the month to 11,694 units, accounting for 4.6% of the market, while plug-in hybrids (PHEVs) grew 38%.
Uptake of hybrid electric vehicles (HEVs), however, fell by 7.1%.
Commenting on the registrations outcome for March, Michael Woodward, Deloitte's UK automotive lead, said: "With the first 2020 registration plates released in March, the industry may have hoped for a bumper month for new car sales.
"However, COVID-19 pressures in the second half of the month have driven sales down by over 40%, leading to the lowest March sales for over two decades."
He added: "During this period of economic uncertainty, the industry is beginning to introduce flexible measures around payments to protect the interests of consumers.
"These include contract extensions, payment deferrals, interim loans and refinancing packages.
"In addition to supporting consumers, many across the automotive industry have also come together to serve the national interest.
"We should all be proud of the way the automotive industry have come together to meet this challenge head-on."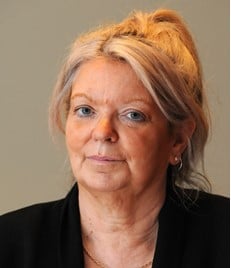 Sue Robinson, director of the National Franchised Dealers Association (NFDA), said it remained "crucial that the Government continues to support businesses in the automotive sector, one that employs over 590,000 people and is a key contributor to the UK economy".
She added: "The majority of franchised dealerships' showrooms were closed for a week or longer in the second half of March which is when a large percentage of new cars are registered.
"As a result, the decline in new car sales does not come as a surprise.
"NFDA is working closely with franchised retailers and industry partners to mitigate the effect of COVID-19 through lobbying the Government for support."
Carwow chief executive, James Hind, believes that there are signs that the car retail sector remains more positive than March's dramatic shift into sales lockdown indicated by the SMMT data might suggest, meanwhile.
Hind said: "The decrease in consumers browsing carwow has been far less severe than the market drop, and our research has shown 54% of consumers say they are still planning on buying a new car despite social distancing measures, so there's hope for the industry of pent-up demand leading to a bounce-back after lockdown ends.
"Most dealers are operating remotely, and with few delivering cars right now, there are orders being placed for delivery after lockdown.
"We've seen many manufacturers increasing their discounts on new cars for Q2, and with more attractive finance rates, so for those who are able, it's a great time to buy."