The headline figures for July were as expected: the car market was up 1.2% for the month and down 5.5% on the year to date. However, a much more startling number came from a different source: UK car production for domestic consumption fell by a remarkable 47.2% in July.
Given that UK car production had been rising steadily from 2009 to 2016, that is a worrying number. It should be said that production for exports was up by a modest 6.0% (most of which went to Europe), so 88% of total UK production last month was for export – a record figure.
That hints at considerable turmoil in the UK market. Partly it was because of random external factors: car production is more volatile than usual at present because car manufacturers are trying to homologate all their models for the new WLTP fuel consumption and emissions test that will replace the current, discredited, NEDC cycle in September 2018.
That means there is no point in making cars now that can't be sold after September. In addition, virtually all Nissan's UK production is of models that are approaching the end of their lives – such as the Juke and the Qashqai. However, that does not account for all of the decline.
Consumer confidence on the slide
Diesel continues its plummet to earth – it has fallen by 29.6% YTD, and by 37.4% compared to the same period of 2016. Another big change has been the sales pattern of premium cars. Some have said that premium brands are falling because of the move away from diesel, but that is not quite true. A closer analysis of premium brands in the relevant sectors (see table) shows that premium brands are still slightly out-performing the overall market with an overall decline of only 0.54%. But performance varies wildly across the segments. In the compact executive market (down 20.0%), every model except for the Volvo S60/V60 has fallen, with the Jaguar XE being the worst performer (down 63.3% YTD).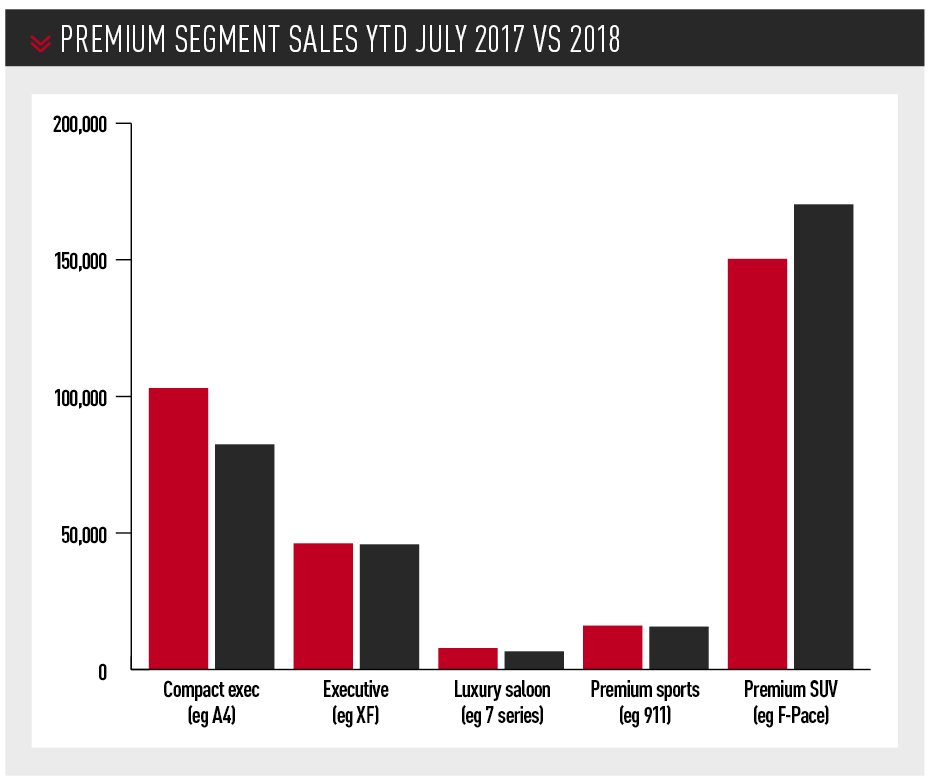 Executive saloons and estates are doing slightly better than the overall market (down 0.74%), as are premium sports cars (down 2.3%), but luxury saloons are suffering (down 15.1%). The one part of the premium market that is still doing very well is luxury SUVs, which are up 13.3% in a falling market. All the major models saw volume increases, except for the Discovery which is down 33.8% YTD – a lot of buyers seem to be heading to the Velar instead. Positioned as the "designer" Range Rover, was the Velar really intended to outsell the stalwart Discovery by 29% YTD?
The economic background to the car market is certainly not encouraging. In July the GfK consumer confidence index fell to a score of -10 (the percentage of people feeling optimistic about their economic situation minus the percentage feeling pessimistic), and the overall figure for people's expectations of the UK economy over the next 12 moths was -26. For reference, the worst recorded score was -39 in 2008, so consumers think we are heading for a situation two-thirds as bad as the worst post-war recession we've seen.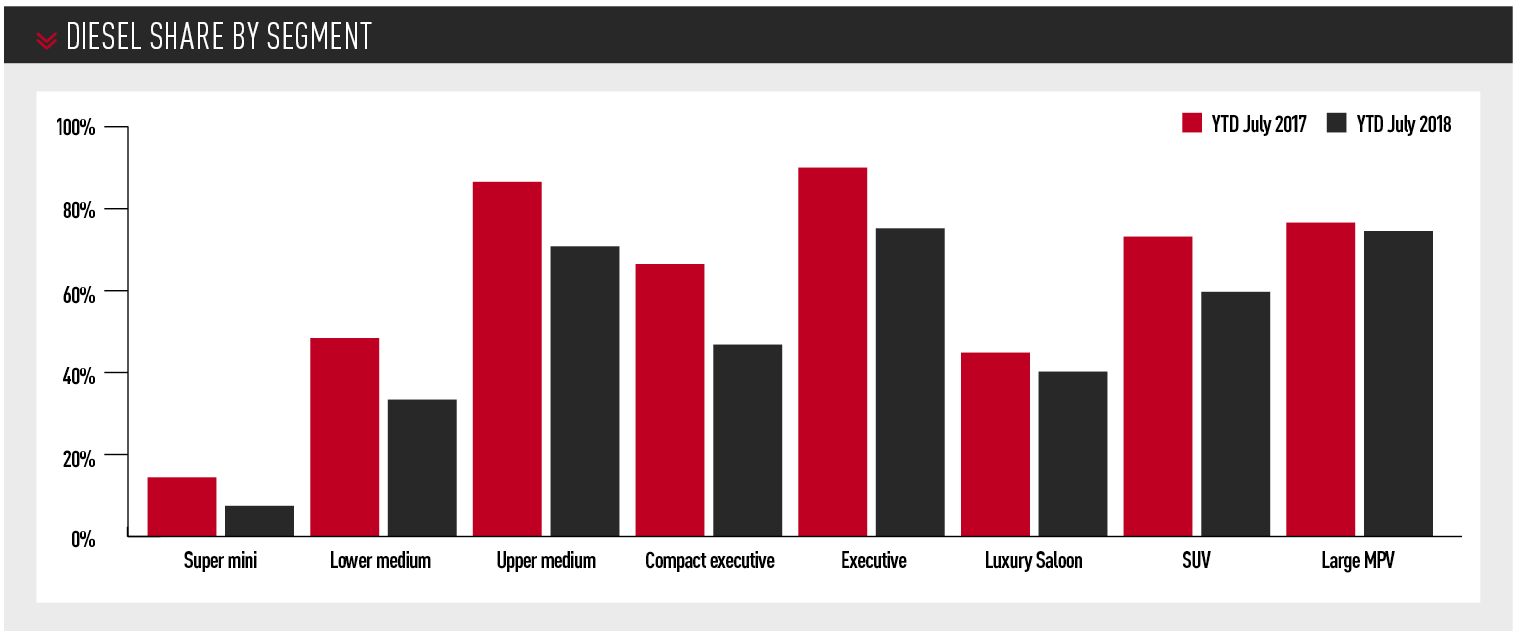 That might imply that consumers will be more modest in their car-buying habits, but the data is mixed on that score. Registrations of city cars have fallen by 14% YTD, which might seem odd – if people are short of money and confidence, won't they buy the smallest and cheapest car? In fact, city cars are often second cars, so sales can suffer when confidence falls: if consumers can only afford one car, they probably want something bigger than a Toyota Aygo. Superminis (down 3.3%) and lower medium cars (down 4.8%) both out-performed the market, which is what one would have expected – sensible, affordable cars will do better when confidence is low. However, the reason for their robust performance was the rise in crossovers – up 19.7% YTD in the case of superminis and a whopping 32.2% YTD in the case of lower medium cars (the biggest winner being the new VW T-Roc). Is this a case of the crossover being the affordable treat for car buyers? Their costs on a PCP are barely higher than an equivalent hatchback, and they give the impression of being out of the ordinary – although with crossovers now taking 29.4% of all lower medium sales, how much longer crossovers will stand out is an open question.
As we have seen, there still seems to be plenty of confidence at the top of the market. As well as booming sales of luxury SUVs, there is plenty of demand for supercars. Lamborghini is enjoying the fastest growth of any brand, with sales up by 298% to 342 cars YTD (it wasn't that many years ago that 100 cars a year was a distant dream for the company), while McLaren is up by 42% to 458 units YTD. Unfortunately, no one appears to have told Maserati – sales were down by 20.8% to 847 units. Fiat's hope of positioning Maserati as a mainstream premium brand against the top half of the Audi, BMW and Mercedes ranges is looking increasingly forlorn.
Poor year for mainstream brands
Meanwhile, back in the real world, it is turning into a poor year for traditional UK mainstream brands. Ford has lost 0.9 percentage points, Vauxhall 0.5 points and Nissan 1.6 points. There are no prizes for guessing who picked up sales – VW grew by 1 percentage point, and Audi, BMW and Mercedes are all neck-and-neck in fourth place, just 0.5 percentage points behind Vauxhall. While unlikely, it is conceivable that Vauxhall could be down in sixth place in the sales chart next year. However the company in the most serious situation is Fiat. The 500 now takes 70.6% of sales, and all the remaining models (500L, 500X, Panda, Tipo, 124, Qubo, Doblo and even a few Puntos) accounted for a total of 7,500 registrations YTD – fewer than Porsche or Lexus. Given that its two best-selling models (the 500 and the 124) are designed to look like classics from the 1950s and 1960s, is Fiat now principally a retro brand? DAVID FRANCIS