More car buyers are considering switching to hybrid for their next purchase, according to research by Motors.co.uk.
Responses from more than 1,000 in-market car buyers found 20% expect to choose a hybrid when they replace their current car, compared with 19% saying they would opt for diesel.
Although just 4% of respondents in the survey currently owned hybrid vehicles, this was expected to increase nearly four-fold in the next replacement cycle.
Petrol continues to be the most favoured next car choice of 57% of buyers though, while electric only accounted for 5%.
"With diesel registrations down by nearly a third in the year to date, our findings show how hybrid, rather than electric, is perceived by buyers as a viable alternative and will see the greatest level of growth when they come to replace their current cars," said Dermot Kelleher, Motors.co.uk's director of marketing and business intelligence (pictured).
The survey also identified cost, range and an insufficient recharging infrastructure as the main limiting factors to fully electric cars.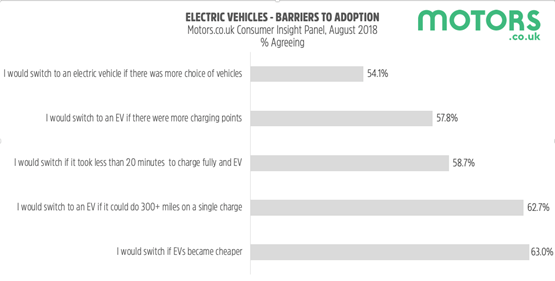 Nearly two-thirds of buyers (65%) felt EVs were too expensive compared to traditional fuel types, with 63% saying they would switch if they became cheaper.
When it came to range, 63% said they would switch if EVs could run for over 300 miles on a single charge, while only 26% felt there were sufficient charging points in the UK.