The powertrain line-up for the all-new eighth generation Vauxhall Astra will include a fully electric Astra-e and plug-in hybrid versions for the first time.
It's the first Astra to utilise a Stellantis group platform and is closely linked to the new Peugeot 308, with both using PSA-derived EMP2 underpinnings.
Vauxhall will offer the new Astra with two plug-in hybrid options – the same 180PS and 225PS units from the Peugeot 308. Using a 1.6-litre petrol engine and electric motor, they both emit from 24g/km of CO2 and have a zero emission range of up to 35 miles.
In addition, there will be 1.2-litre petrol, with 110PS or 130PS, and a 1.5-litre diesel, with 130PS, in combination with a six-speed manual or eight-speed automatic transmission. The petrol models will emit 122-127g/km of CO2, while the diesels have emissions from 113g/km.
Petrol, diesel and plug-in hybrid versions of the new Astra will be available to order in October, which is when prices and specifications are likely to be available. The first cars are expected to arrive in the UK in early 2022.
The fully electric Astra-e is yet to be detailed, but will go on sale in early 2023.
The new Astra is only 4mm longer than the previous model, but its wheelbase has grown by 13mm to make more room for passengers. The boot has a volume of 422 litres.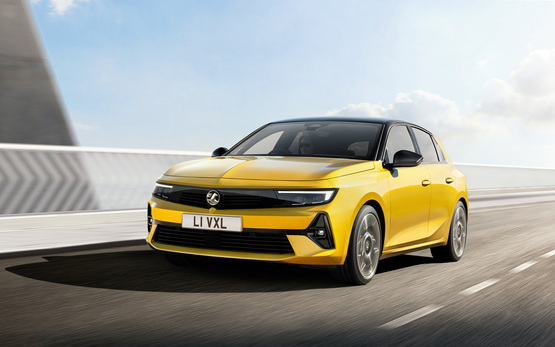 The Astra's exterior shares styling details with the recently-launched Mokka and Grandland, with Vauxhall's new signature 'Vizor' front panel.
Inside, the new Astra is equipped with the brand's Pure Panel wrap-around digital cockpit, first introduced in the Mokka.
The new interior reflects the segment's transition to digital cockpits, as led by the new Volkswagen Golf.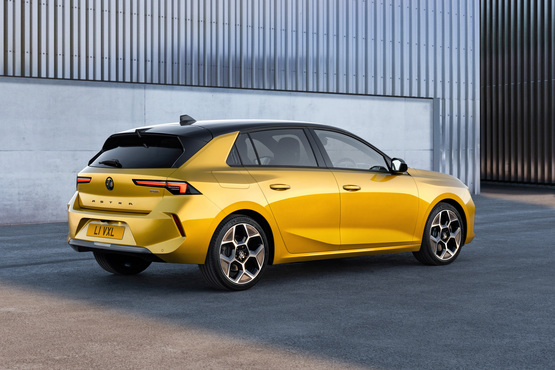 Feature highlights include adaptive Intelli-Lux LED Pixel lights, AGR-certified seats and semi-autonomous driving assistance systems.
The Vauxhall Pure Panel features two 10-inch displays, seamlessly integrated – together with the driver's side air vent – in a horizontal format. Its touchscreen is complemented by a row of switches to simplify to the operation of key features.
Vauxhall says it has fine-tuned the Astra's chassis and describes the handling as "composed as well as dynamic".