Audi–A3 Saloon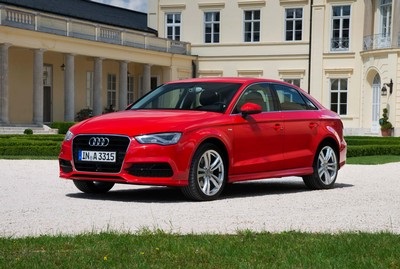 Autumn 2013
The A3 saloon takes Audi into indirect competition with the BMW 1 Series Coupe, though the booted Audi will only come with four doors. Based on the Volkswagen Group's new MQB platform, shared with the A3 hatch, the saloon will also be a rival to Mercedes upcoming CLA.
Expect to see the A3 saloon offered in the same range of SE, Sport and S line, with prices much the same as for the five-door Sportback model that arrives in March this year. The A3 saloon will share the same engine and transmission line-up as the hatch models, which means six-speed manual and DSG dual-clutch gearboxes.
There will also be a 1.6-litre TDIe model with sub-100g/km carbon dioxide emissions and fuel economy of around 74.0mpg. Stop-start technology will be offered with every A3 saloon model at launch and we can also expect top see higher performance S and RS version in due course.