Ford–Ecosport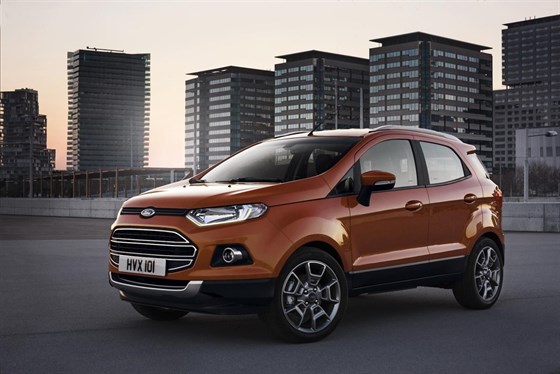 April 2014
Ford may have come late to the small crossover sector with its new EcoSport that arrives in the UK in April, but it is pitching in with one of the best looking contenders for company driver's attention. The EcoSport would like to be perceived as more of an SUV than some of its rivals and Ford has been careful to avoid the word crossover when describing its new model. It even comes with a spare wheel mounted on the side-hinged tailgate to give that more serious off-road look.
However, the EcoSport will not be offered in the UK with the option of four-wheel drive, which is available in other European countries. Instead, the EcoSport will only come to the UK with front-wheel drive and a range of two petrol and one turbodiesel engine.
The petrol motors are the now familiar 1.0-litre EcoBoost engine in 123bhp form that offers 0-62mph in 12.7 seconds, 53.3mpg average economy and carbon dioxide emissions of 125g/km. A 1.5-litre petrol engine with 111bhp provides the entry point to the EcoSport range and is the only EcoSport offered with the option of an automatic gearbox in the form of Ford's Powershift dual-clutch transmission. Both this version and the five-speed manual have identical economy and emissions at 44.8mpg and 149g/km respectively.
Of greater interest to fleet drivers is the 1.5 TDCi turbodiesel engine with 90bhp. It offers 61.4mpg combined economy and 120g/km CO2 output. Like the other EcoSport models, it comes in the single Titanium trim level that includes air conditioning, four electric windows and a split and fold rear seat.