The description of the FCA Group as a "challenger brand" by its managing director in the UK, Arnaud Leclerc, felt like a stark appraisal of its position during a recent interview with AM.
While Leclerc may have been referring specifically to the Fiat, Alfa Romeo and Jeep range's push for greater prominence in the fleet sector, the comment could easily have been applied across the group as a whole, following its fairly dismal 2018 registrations performance.
Perception of the group's status in the UK has clearly altered as it has continued to struggle to live up to the profile of its brands (including Maserati, which suffered a 24.3% decline in registrations during 2018) to slip well into the wake of other similarly-equipped groups such as Volkswagen and the PSA Group.
In Q1, Fiat's registrations were down 5.1% compared with the same period in 2018, and its market share was just below 1.6%.
In last month's AM, our market intelligence review observed that "Once market share falls below 1.5%, it is questionable whether a car company can still be called mainstream".
During the same period, Alfa Romeo's registrations declined by 29.8%, after the honeymoon period following the launch of the Giulia and Stelvio into the premium saloon and SUV segments failed to materialise.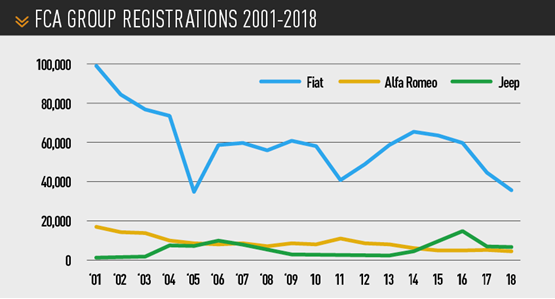 Jeep, the clear focus of the FCA Group's hopes at its annual Capital Markets Day last summer, shed 10.5% of its Q1 registrations year-on-year, leaving it with a market share of just 0.2%.
In its efforts to start 'challenging' again, FCA Group's tactic seems to involve launching an increased number of headline-grabbing iconic models and a focus on delivering the levels of service expected by the type of customers who buy such products.
Leclerc – just 14 months into his role at FCA UK – said: "In the UK, it has been very much a period of building strong foundations to enable us to further build strong brands.
"When I joined, I realised straight away that the focus had to be on customer experience. It was clearly something that we needed to emphasise within the FCA brands and really try and compete in the premium environment.
"We must trust the network to deliver that experience."
Dealer attitudes
If happy franchisees are best placed to deliver a positive customer experience, then the FCA Group's partners might not be in an ideal state of mind to fulfil Leclerc's goals.
He said: "In 2018, we tried to build a stronger relationship and partnership with our retail network. When you do that, you are able to be a little more demanding of them."
However, the group's brands made up four of the bottom six in the National Franchised Dealers Association's (NFDA's) Dealer Attitude Survey Winter 2018/2019.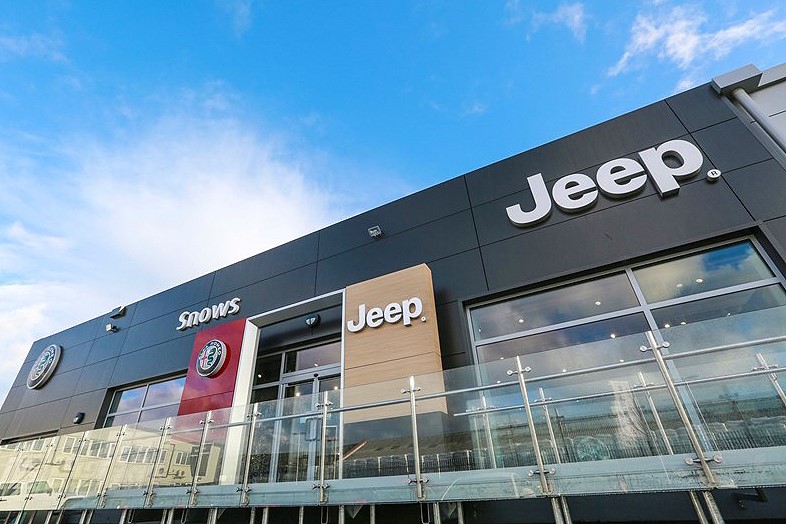 When franchisees were asked to rate the FCA Group's brands 'overall' with a mark out of 10, FCA's brands fared poorly: Abarth's score slipped from 4.7 to 4.4 between surveys; Fiat rose marginally from 3.6 to 3.7; Alfa Romeo went from a lowly 2.1 to 3.5; and Jeep remained flat at 3.4. All of FCA's brands were below the survey average of 5.8.
Profitability and the future of its respective ranges were central to retailers' concerns.
When asked about their current profit return, respondents to the survey rated Citroën (2.3) and BMW (2.6) worst, but Jeep (2.7), Alfa Romeo (3), Fiat (3.1) and Abarth (3.5) duly followed – some way off the average score of 5.0.
More worryingly, perhaps, was that Fiat, Jeep and Alfa Romeo slipped to the foot of the results when retailers were asked about their brand partners' future profit return prospects: Fiat scored 2.9, Jeep 3 and Alfa Romeo 3.2, against an average of 5.3.
Leclerc conceded: "There's still a lot to do, but since I started my role here I have been working to build relationships
and that's at the heart of what I intend to continue doing."
FCA has a "franchise board", led by Motorvogue managing director Jon Pochin, and Leclerc said that a recent restructure has introduced sub-committees to address specific issues within the network.
The board meets once a quarter, said Leclerc, who also places an importance on seeing his brand directors out in the field and talking to retailers.
He said: "I've asked for all brand directors to be in the field as much as possible and spend at least 20% of their time away from headquarters each month.
"It's important that we are seen to be making an effort to understand and address the concerns of our retailers."
Model for success
Retailers are clearly influenced by a brand's ability to deliver new products and the NFDA survey indicates that the absence of an alternative fuel vehicle (AFV) from any of FCA's line-ups is a concern.
The four brands finished bottom of the survey when retailers were asked how satisfied they were with their AFV offerings.
The replacement for the Fiat 500 is due to reach dealerships in 2020, however, and will be sold purely in electric (EV) form – quickly transforming the manufacturer's approach.
At the Geneva Motor Show 2019 in March, meanwhile, Fiat showcased the Centoventi, an EV concept considered to be a precursor to the new Panda.
The Centoventi featured a modest 60-mile range as standard, but allowed owners to swap and add battery packs, boosting that capability to 300 miles.
"While our AFV plans have yet to be announced in any great detail, what I can say is that by 2022 we will be able to offer 30 EVs and hybrids," said Leclerc. FCA plans to phase out diesel by the same deadline.
"It's fair to say that we're not yet there and some of our competitors are already saying that they are ready for the EV future."
While the limited-edition Alfa Romeo Giulia and Stelvio Quadrifoglio NRING stole the headlines for the Italian brand following a public debut at the Goodwood Festival of Speed last summer, the Trackhawk's £89,999 price tag and 710PS V8 engine asserted the 4x4 brand's presence in a super-premium part of the segment.
"That's a car that will really help to build profile," said Leclerc.
He added: "Quadrifoglio and NRING are part of the Alfa Romeo DNA now, too. The UK is our biggest market for these products, so we have to encourage all our retailers to sell them and offer the levels of service that the customers expect when buying them."
The FCA Group has its own UK training centre, near its Slough headquarters, and Leclerc said this had helped it to meet retailers' needs for increased technical and sales training as more special editions enter the line-ups.
Leclerc believes the new Wrangler, launched earlier this year, will conquest former Land Rover Defender customers.
Jeep expects to double its 2018 Wrangler sales of 448 in 2019, according to Leclerc, but those sales expectations suggest it will remain very much a niche product.
Abarth is another brand that appears to have an importance not reflected by its sales volumes.
Leclerc said: "Abarth isn't the most important in terms of volume for FCA, but if you take the volume we have done in 2018, that was a record for the brand and that shows the potential. 50% of that growth last year was conquest."
Retailers' FCA investment
FCA Group has been the subject of more than one AM100 franchised retailer's portfolio restructure in recent months, but Leclerc insists that the 211-site network is in good shape.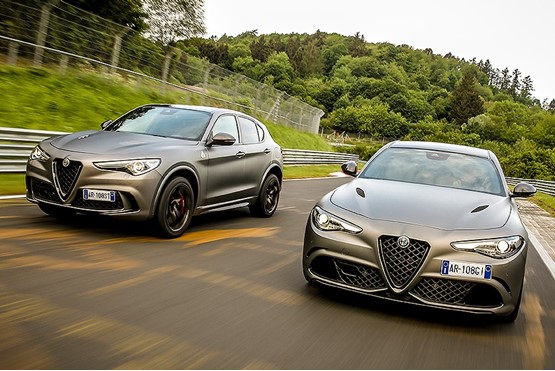 Last year, Cambria Automobiles pared back its representation of Fiat, Alfa Romeo and Jeep, closing its loss-making Blackburn motor park – which held Fiat, Alfa Romeo and Volvo businesses under the Doves brand – its Alfa Romeo and Jeep operations in Chelmsford and replacing Fiat at Warrington with its first Peugeot franchise.
But Leclerc celebrated developments elsewhere in the network which have furthered a strategy to deliver an increased number of brand centres – with all brands on a single site.
"Certain conversations have been difficult since I started," he said.
"When you're delivering 15% market share, those conversations don't happen. We're not there yet, but we have a plan, a lot of new product development under way and retailers are also seeing that and investing in our brands."
Snows Motor Group opened its £2 million FCA Group brand centre in Southampton in January 2018 – a month after opening a new Fiat and Abarth site on the Isle of Wight.
Vospers brought the four FCA brands together in its £15m multi-brand site at Matford Green Business Park, Exeter, in March this year.
FCA Group's UK network now comprises: 146 Fiat franchises; 97 Abarth; 50 Alfa Romeo; 61 Jeep; 73 Fiat Professional; 37 brand centres; and 43 combined Alfa/Jeep locations.
Leclerc said the physical franchised retail network is his current priority and there are no plans to introduce an online new car sales platform just yet.
But following a tie-up between Amazon and Fiat in Italy in 2016 and the delivery of Stelvio test-drive booking via the online retailer last year, he suggested the UK would be the second-most likely place for a trial.
One development that the network should benefit from is a new lead management platform, which is being built by a third-party supplier.
Leclerc said: "The customers we pass to our retailers need to be 100% qualified.
"That system will also help us to understand our customers' journey and what they expect from us."
Fortunes in fleet
Leclerc is keen to see FCA succeed in fleet and feels the varied appeal of the group's cars, SUVs and LCVs makes it a key "challenger" to the UK's biggest sector players.
He said the group began to focus on its long-terms goals in the fleet sector in 2018.
"We clearly wanted to decrease our presence in short-term rental," said Leclerc.
The effect of this on the brands' fleet registration figures was marked. In 2018, Alfa Romeo's fleet registrations declined by 17.2% to 1,522 (2017: 1,839), Fiat's by 42.8% to 12,052 (2017: 21,070) and Jeep's by 5.8% to 3,258 (2017: 3,460).
Leclerc said the shift had allowed FCA Group to emphasise the approach to customer service delivered by its business centre network and allowed its team of back-office fleet sales and support staff and its field-based team of fleet managers to help drive standards higher.
"In the UK, we are considered a 'challenger brand' so our next priority is very much to ensure that people get to know the strength of the products that we have and the value they offer".
First-rate customer service and a franchised dealer network that is prepared and equipped to meet the needs of fleet customers will be vital.
FCA has 15 strategically positioned specialist business centres and while Leclerc's ambition from 2018 to develop up to 40 such centres was still on the cards, he said he is not willing to grow quickly at the expense of quality.
"I have faith in our retailers, but this is a specialised area of the business and certain standards have to be met," he said.
"The ambition is still there to grow the business centre network, but we are determined to maintain the highest standards for our fleet customers and, as such, it's not a short-term goal.
"It is better that we are able to offer the very best customer service from strategic locations and be sure that we are able to offer the levels of knowledge and service that we demand."