It's a truism that words matter when recruitment campaigns are planned, but it is still remarkable to learn just how great their impact can be.
Toyota (GB) decided to analyse how it filled both internal and external vacancies, after noticing a wide variation in the number of applicants.
"For us, the whole conversation around diversity and inclusion is about great talent, making sure we attract and retain the right talent and then enable them to be their best while working for us," said Rachel Shepherd, general manager (HR).
"We looked at what we'd been saying about vacancies, and to be honest, some sounded quite dry. Now they're couched in more uplifting language, they provide just an overview of each role, and we also stress that we embrace flexible working practices."
Interview feedback showed that the commitment to flexible working immediately generated an increase in female applicants, as did including details of Toyota's development programmes and mentoring for women employees.
Changing how a particular job was described led to even more surprising results, said Shepherd.
"We had a customer care role in our dealership network. Originally, it was described as an 'advanced sales traineeship', but when we tested the response of school-leavers to those words, 100% of females were not interested in applying.
"However, when we changed the title to 'trainee customer consultant', and tweaked the job description slightly, 40% of applicants were female. When we used to advertise externally, we averaged three candidates for a vacancy. Now the average is 26."
Toyota is equally determined to shift its gender balance at a more senior level, via a pledge as part of its membership of The UK Automotive 30% Club, to ensure that 30% of its senior roles will be filled by women by 2030.
"Our industry has never had an equal mix of men and women, but we are fully committed to this strategy," said Shepherd.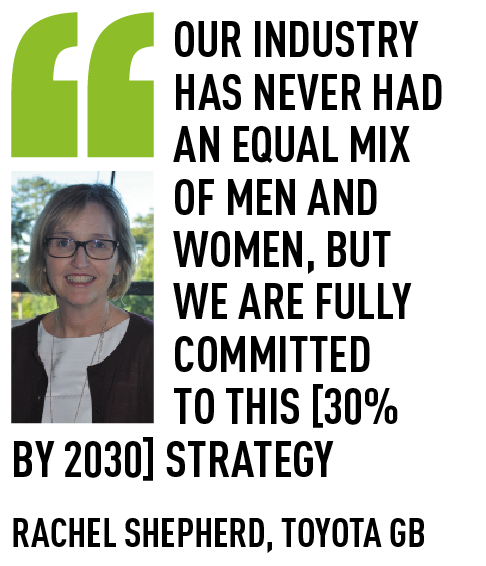 "We run Women in Business networking sessions on an array of topics, showcase some of our senior women on LinkedIn to show what they are achieving, work very closely with the UK Automotive 30% Club and sponsor their e-zine, which profiles female role models."
The next step, said Shepherd, is to promote vacancies in different places, using new recruitment methodologies and agencies, to attract talent from different industries and also different types of candidates.
Toyota's strategy isn't facilities-led, although the head office does have quiet rooms which can be used for prayers, and the building is accessible to all users.
Naturally, there's no single solution to addressing the challenges of attracting talent from as broad a range of people as possible, and Auto Trader has taken a different approach at its offices in Manchester and London.
Bex Clark is Auto Trader's manufacturer and agency director, but has also been involved in delivering its diversity and inclusion (D&I) strategy.
"We began by adopting a simple definition, that diversity was about the mix of people in our organisation, and inclusion was about how well all those people worked together," she said.
"The introduction of D&I workshops was fundamental to the process, so all existing employees (800 at the time) could understand our approach, discuss it, and then collaborate with each other as the changes were introduced.
"Now every new recruit attends such a workshop. We're proud that it's become a core element of our culture, and particularly pleased that potential recruits regularly reference those sessions, and other elements of our strategy."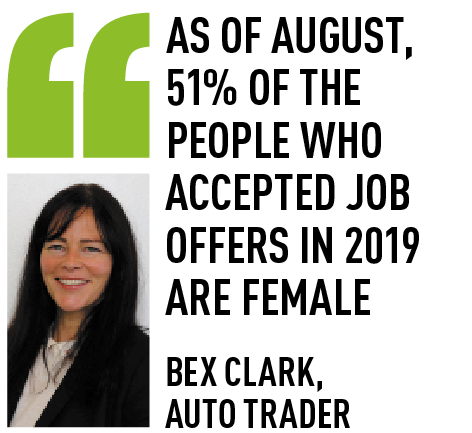 Auto Trader established four networks, covering female, LGBT, disabled and BAME employees, and Clark said they have now become a powerful internal force.
"We listen to employees who naturally lean to one of those groupings, and those who ally themselves with them, as to how everything is working and how things can get better.
"When we folded the magazine business and became a tech company, the male-female ratio increased, but we have been working steadily to reduce it. Now, it's 61:39, but the female percentage has risen by one percentage point in each of the last three years. As of August, 51% of the people who accepted job offers in 2019 are female."
The group shares Toyota's commitment to flexible working, has a prayer room at its Manchester office, and quiet rooms and disabled access at both sites, but its D&I strategy has gone beyond the basics.
"We try to consider all design elements, so each floor is described in letters as well as numbers, and we use the right shades of paint for colour-blind people," said Clark.
"This year we became the first company to receive an award from the National Autism Society, for being an 'autism-friendly' employer, we monitor all employees' physical and mental wellbeing, and carry out regular tests to identify potential loss of hearing."
Auto Trader has been shortlisted for the European Diversity Awards 2019, became the only company to be awarded 'Best Corporate Entry' at Manchester Pride for three successive years, and has been noted for its efforts on behalf of its BAME employees.
Cox Automotive employs 2,200 people in the UK across 16 sites, and its D&I strategy focuses on the corporate culture and workplace environment, according to Alison Fisher, its chief people officer.
"We're not putting lots of investment into facilities at the moment. We believe the first challenge is to get the right behaviours, and then the culture will follow. Otherwise, there's a danger that it's simply window-dressing.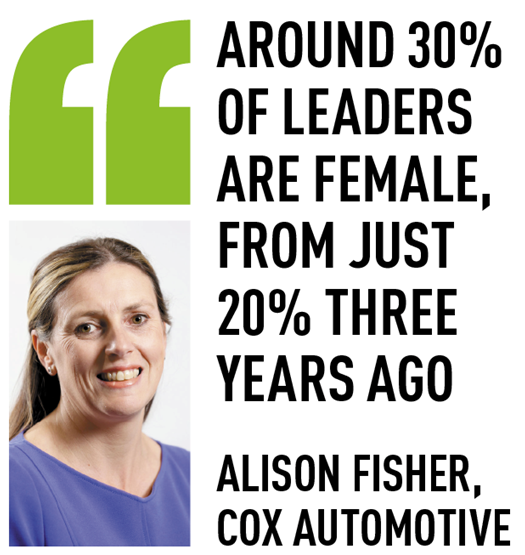 "The one target we did give ourselves, after I joined Cox Auto four years ago, was around gender diversity. Now around 30% of leaders are female, from just 20% three years ago.
"In general terms, our key focus is to make this a great place to work, and diversity and inclusion is just one element of our talent and recruitment strategy," she said.
However, line managers have been given detailed toolkits, looking at specific issues such as unconscious bias, and highlighting the general characteristics Cox would like to see in new recruits.
"I'm not a big fan of formal policies. It's more about having the right principles and trying to steer our managers in the right direction," said Fisher.
"I must admit though, that when I joined I felt as if I was going back in time, so I started hiring people with different ways of thinking."
She said she wants to identify people with passion, enthusiasm, desire and attitude, rather than looking at someone because they've spent 20 years in the automotive industry.
"We needed to tap into a very different pool of talent to freshen up our organisation, deal with the challenges facing our industry, and grow the business more successfully."
On her annual visits to the group's locations, Fisher admitted she has been most impressed by Manheim's Shepshed site, a centre of excellence for LCVs.
"They built a really formidable team by bringing together people who really were different. Young and old. The hours they worked. The way they looked and spoke. It was total diversity.
"We need more of that approach, because we want to enable everyone who comes to work to feel they can be themselves, and also be the best they can be. What we don't want is clones." IAN HALSTEAD