We're going through a period of exceptional change. We have to work together in the industry and the key to doing that is to remain flexible," Tony Whitehorn, the president and chief executive of Hyundai Motor UK, told delegates during Automotive Management Live's Vision of the Future seminar.
As the boss of one of the first national sales companies (NSCs) to shake up the traditional new car retail channels with its omni-channel shopping mall stores and Click to Buy – in partnership with Rockar – Whitehorn is well placed to comment on an increasingly digitalised future for car retail.
He was joined on stage by experts and analysts from across the sector to share their insight into the trends that will shape the change, in a sector where relationships between franchisees, manufacturers, suppliers and disruptors will be both disrupted and exploited to the full.
Panel chairman Steve Young, the managing director of the ICDP, summarised many of the challenges facing the sector, including new mobility models, EV adoption and the evolving retail model.
While his comments drew on the research organisation's European Dealer of Tomorrow Report, which projects forward to 2030, those who joined him on stage were also aware of the more immediate need for change.
Marcus Dacombe, product marketing director at CDK Global, said: "This is no longer an analogue business. We no longer rely on footfall."
James Mullins, finance director at Cambria Automobiles, said dealers must consider the need to "engage with guests in as many ways as they wish to interact with us".
The profitability of propulsion
Whitehorn said current changes could be broken down into three areas – technology, propulsion and ownership versus usage.
He said the industry would need a "smooth glide path" to reach the Government's target of an outright ban on the sale of new non-hybrid or EV vehicles by 2040.
"There will be around 15,000 EVs sold this year, so the required shift is massive overall," he said.
"In six years' time we are looking to sell 400,000 zero-emission vehicles. That means we have to supply you with vehicles."
Whitehorn said the Government would have to be part of the drive towards zero emissions, however, and backed calls for better charging infrastructure.
He criticised the recent changes to the plug-in car grant scheme, which reduced the sum available to EV buyers from £4,500 to £3,500, reduced the plug-in hybrid grant from £3,500 to £2,500 and removed the grant completely from plug-in vehicles emitting more than 50g/km. Whitehorn said: "It seems like there's something of a silo mentality going on there."
He did not mince his words when addressing the challenges faced by manufacturers in making alternative fuel vehicles (AFVs). Hyundai continues to pursue its development of both pure EV (Ioniq and Kona) and hydrogen fuel cell (ix35 and Nexo) vehicles.
Whitehorn said: "It is hugely, hugely expensive to get into vehicle technology where you are not making any money today. They are a big, big loss leader."
Omni-channel retail
Despite that, Hyundai's new Kona EV is the network's "most profitable vehicle".
And more than three years after Hyundai moved into new car sales online, the electrified version of the compact SUV has been launched wholly via the Click to Buy online sales platform.
Whitehorn said: "The car's been on sale for two months and I've had 140 come into the country.
"If I'd sent one out to each dealer, no one would have had one.
"As it is we have 700 orders today, with no discount, full up, and they haven't seen the car yet.
"Customers have to go to the dealership to pick up the car and there they have the chance to sell a service plan, accessories, and the dealership receives the full margin. It's the most profitable car that we sell."

Whitehorn said dealer involvement was key and the manufacturer ensures that the dealership remains part and parcel of the transaction.
"What we have got to ensure with the network is that it's not a race to the bottom because we'll have intermediaries coming in and stealing from us," he added.
The ICDP has similarly determined that collaboration between manufacturer and retailer will be essential as the new car distribution model evolves.
"The networks need to be omni-channel and allow customers to interact in the way they choose," said Young.
"To make that happen, we need to share data between the different parties in the process and recognise that manufacturers will have direct contact with customers.
"They are taking test drive requests from customers, they are holding the contract with customers. It makes good sense for them to run the online channel because otherwise it will become a race to the bottom."
Hyundai's partnership with Rockar did more than usher in online sales. It also introduced stores in shopping malls. An initial store at Kent's Bluewater shopping centre was followed by a second at the Westfield shopping centre, at Stratford.
About 250,000 people visit Hyundai's stores each year and each facility generates about 750 vehicle sales annually, according to Whitehorn.
The average age of a customer at the stores is 39, compared with 52 for the wider car retail environment, with women making up 54%, compared to 26% in a traditional dealership. Whitehorn said 96% of sales are classed as "conquest", with 86% using the stores to buy their first new car.
Network restructuring
The ICDP's Dealer of Tomorrow Report believes that the shift towards omni-channel car retail is likely to be a major disruptor of the franchised retail segment, and the volume-driven remuneration model will need to change.
Young said: "You can't continue with the person who closes the deal getting the whole margin. There will need to be a fee for services, such as test drive provision.
"It gets you closer to an agency contract, but it won't be that. Manufacturers cannot afford to take the product back onto their own balance sheet."
A restructuring of dealer networks will see a reduction of up to 50% of traditional full dealerships in the territories served by franchisees today, Young said, with single investors operating large market areas from a single, centralised location.
Young said there were currently £10 million dealerships in the sector that are "just too close to other investors", adding: "One message today is that you need to reduce your exposure to the wrong kind of property on a five-year horizon."
Mullins suggested that the property market had had an effect on the view of the sector held by potential investors.
He said the equity markets had "fallen out of love with traditional motor retailers", adding: "At the moment, motor retailers are investing a huge amount of money.
"We've had to save money to invest in our own facilities to drive the business forward. We know we want to be part of the future. We've had to commit the capital to do that."
Young said medium-sized retailers were most at risk from manufacturers' network restructures. Larger operations have the funding and facilities in key territories to remain vital, and smaller sites can continue to service harder-to-reach rural areas, he said.
Shifting expectations
Growth in mobility as a service (MaaS) will bring together the growing prevalence of AFVs in the market, growing digitalisation and the impact of outside "disruptors".
Whitehorn and Young both expressed a belief that there will be a trend towards selling usage, rather than vehicles.
Young said manufacturers may choose to manage their new car availability the way airlines manage their seat availability, with cut-price early swap deals for vehicles available in high volumes.
He said lease companies such as Leaseplan and Hertz were offering consumers long-term hire agreements with similar benefits. "There's no reason why dealers can't offer a similar product of their own," he said.
The ICDP said the current number of driving licence holders in the UK remains twice that of 1970.
"Between 2005 and 2014, the number of people with two or more cars on their driveway has barely changed, despite the hostile environment," he said.
However, attitudes are changing.
Whitehorn said that by 2020, 35% of all cars will be bought on personal contract hire (PCH) and asked whether the silver bullet may prove to be a daily or hourly rental or a variable lease solution.
He said: "Each month they could go to an app and slide their requested monthly mileage up or down from 200 to 2,000 miles and see the price rise accordingly."
Dacombe highlighted Carvana, which operates a car vending machine in the US. In Asia, meanwhile, Alibaba allows consumers with a good credit scores to buy a car from the machine in under 10 minutes.
"Conversations I've had suggest that subscription is coming," he said. "Others, however, claim very strongly that ownership is very much part of the value proposition."
The attitude of the online shopper is also changing.
Zerolight, a sponsor of the seminar, specialises in virtual reality (VR) and car configuration technology that delivers car buyers' online activity seamlessly into a retailer's DMS to help streamline the dealership sales process.
Young said the trend towards that type of integration will grow, with 37% of consumers expecting dealership staff to know what they have looked at online.
Paul Humphries, the managing director of Cox Automotive Retail Solutions, another sponsor, told the audience how he started his retail career as a store layout designer for high street shops: "When I first started, I was literally designing customer journeys.
"Connected retail is about bringing people to your shop, showing them your stock and doing other brand-led stuff as well."
He said retailers needed to "link together what happens above and below the line to deliver a seamless consumer journey".
Mullins said Cambria has also been investing in technology that will streamline customers' shift from website to dealership.
The group's e-Pro DMS system was developed in-house and delivers dashboard notifications of all leads – via web, telephone or social media – to sales managers. Each has a prescribed response, including the delivery of a video for all car sales enquiries.
Dacombe said: "We need to use all the data available to create content for the individual who is looking.
"We need to be able to configure a car and when I get to the point where I want to buy, it's all going to follow me into the dealership."
He added: "We don't use data as much as we could or as effectively as we should. We genuinely can see a seamless future, where there is a personalised check-in process and the dealer is always one step ahead of the question the customer is about to ask."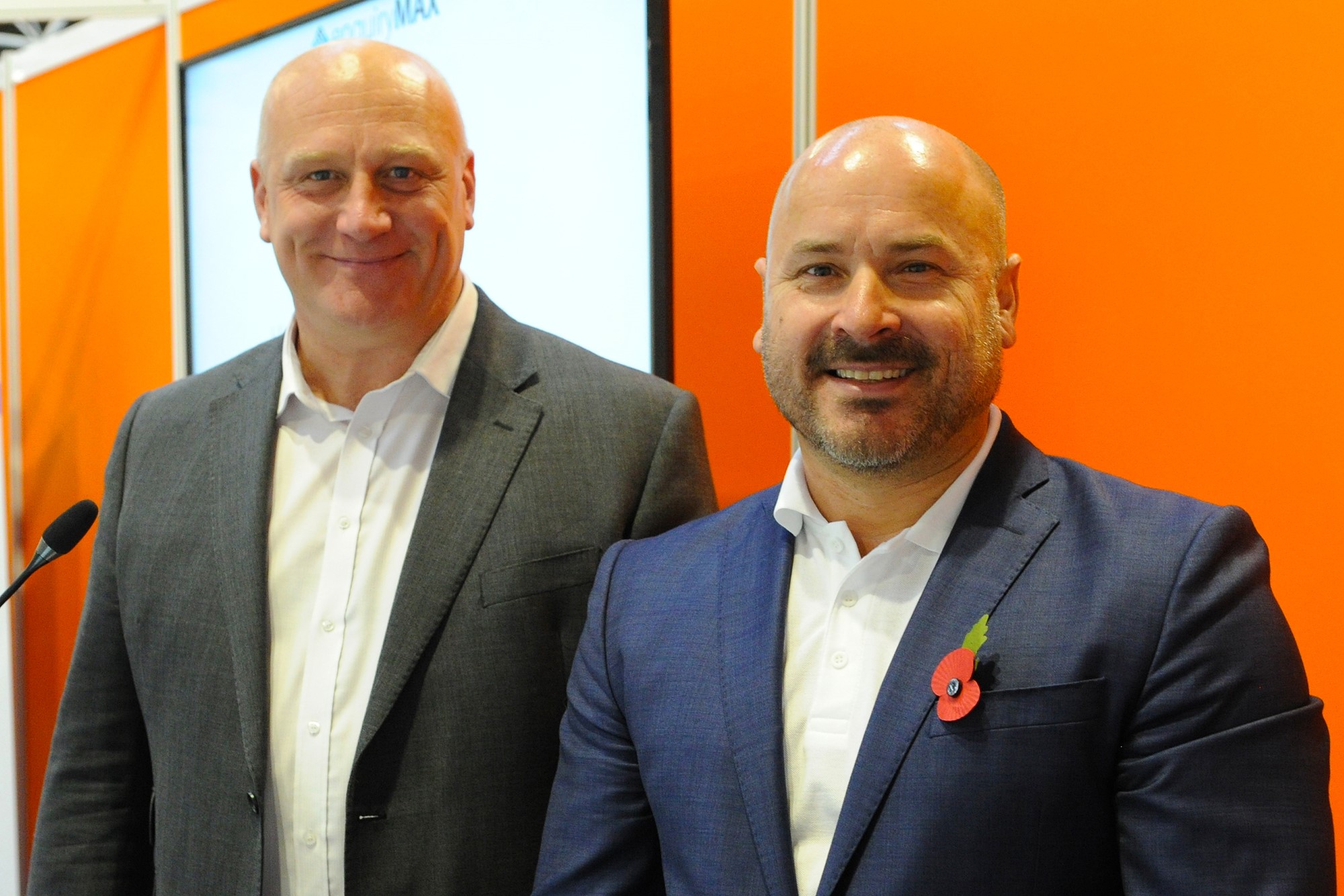 Masterclass: Using data to build a high-performance sales culture

Capturing quality data is vital for dealerships looking to provide the highest level of customer service and boost sales, said EnquiryMax.
The company believes those using paper-based systems to manage enquiries and sales should embrace digital solutions.
"Sales executives are probably out there right now writing things down on paper and not using the digital experience.
"You only get one opportunity to make a great first impression and capture quality data," said Adrian Wilmore, sales director at EnquiryMax (above left).
He encouraged AM Live delegates to remove their paper enquiry forms and provide staff with the right electronic tools to capture data.
"When using these tools, let it start in the right place. Make people comfortable and they will share more information with you," Wilmore advised.
Tablets are the recommended tool as they allow salespeople to share more information with the customer, such as videos.
"Make sure you find out information, such as when the best time to contact the customer is and the best method.
"Simple things like drink preference provides a better customer experience," said Wilmore.
Including the customer in vehicle appraisals is another opportunity to capture data: "If they have damaged wheels, why not talk to them about wheel protection?
"The data can be shared across all of your departments to generate sales. If the customer doesn't buy a car, their service might be due – pass it on to the service department.
"Quality data will enable you to make quality decisions and deliver more profit into your business."
The importance of managing internet enquiries was also raised during the session.
"You all have fabulous websites and this is driving internet enquires up 16% year-on-year," said David Boyce, managing director of EnquiryMax (above right).
He said web conversions had risen from 8% to 15.2% in a year, but only among the top retailers. The performance from most dealerships has flatlined.
"Make sure your internet leads are integrated into your lead management system (LMS). That means they can be tracked.
"Don't target people to respond to leads within a set time period. It should be about what happens after the lead comes in, such as whether they arranged a test drive," added Boyce.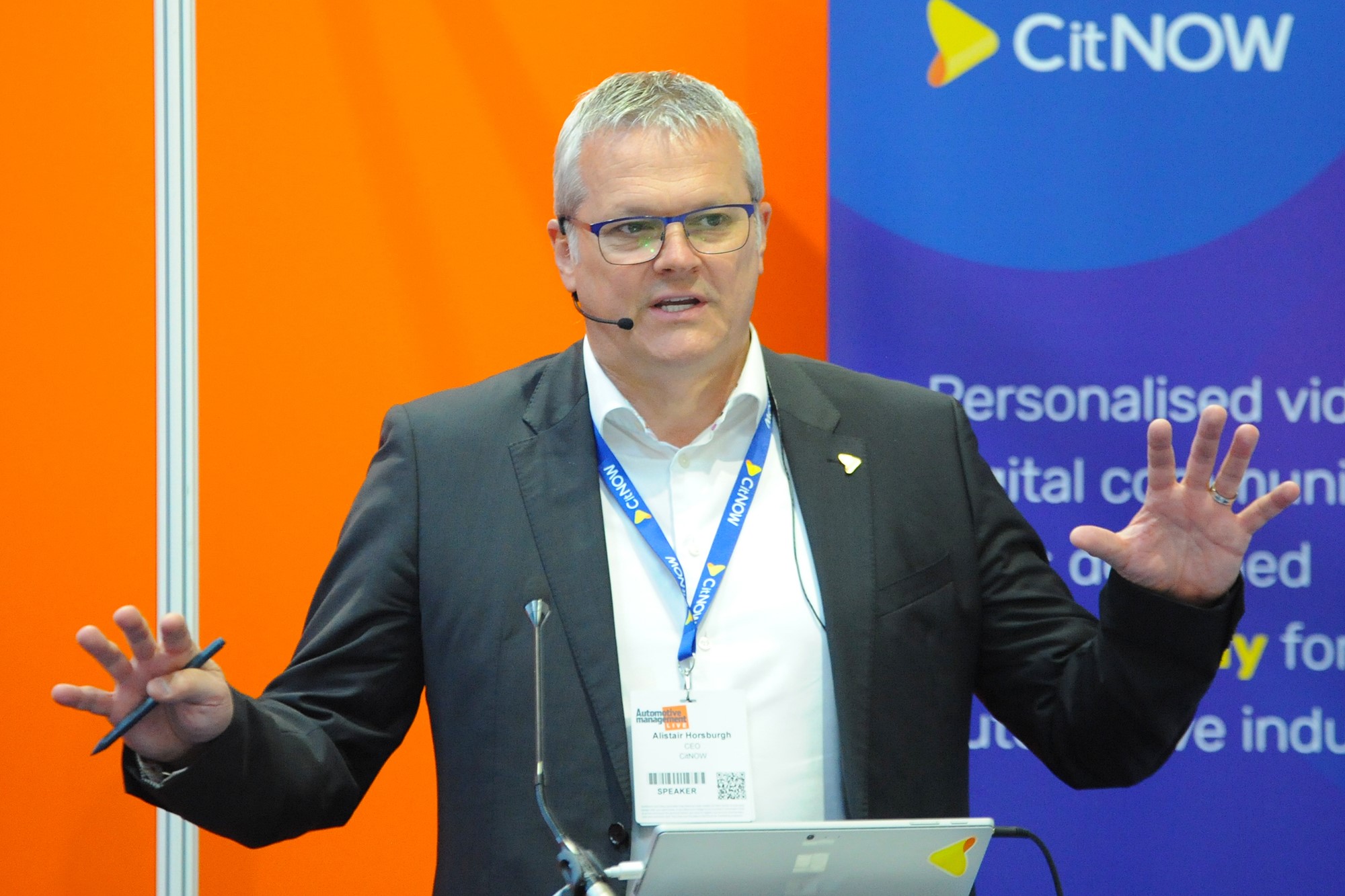 Masterclass: How video has evolved the vehicle sales process
Alistair Horsburgh, the chief executive of CitNOW, gave a range of examples showing how dealerships can use video to target customers and drive sales.
Horsburgh said: "Video does not need to be restricted to an enquiry, and could help to connect the customer from the digital world to the dealership."
He said personalising videos could help to bridge the gap between digital sales and physical interactions in dealerships.
"It's all about determining which customers you want to send a video to, what the aim of the video would be and then personalising that to the customer. Simply using their name at the start would help to connect those dots," said Horsburgh.
Having surveyed 2,000 customers, CitNOW research found that 80% of used car customers were more likely to purchase a vehicle after they watched a video, and 50% saw a video tour as an essential part of the online buying experience.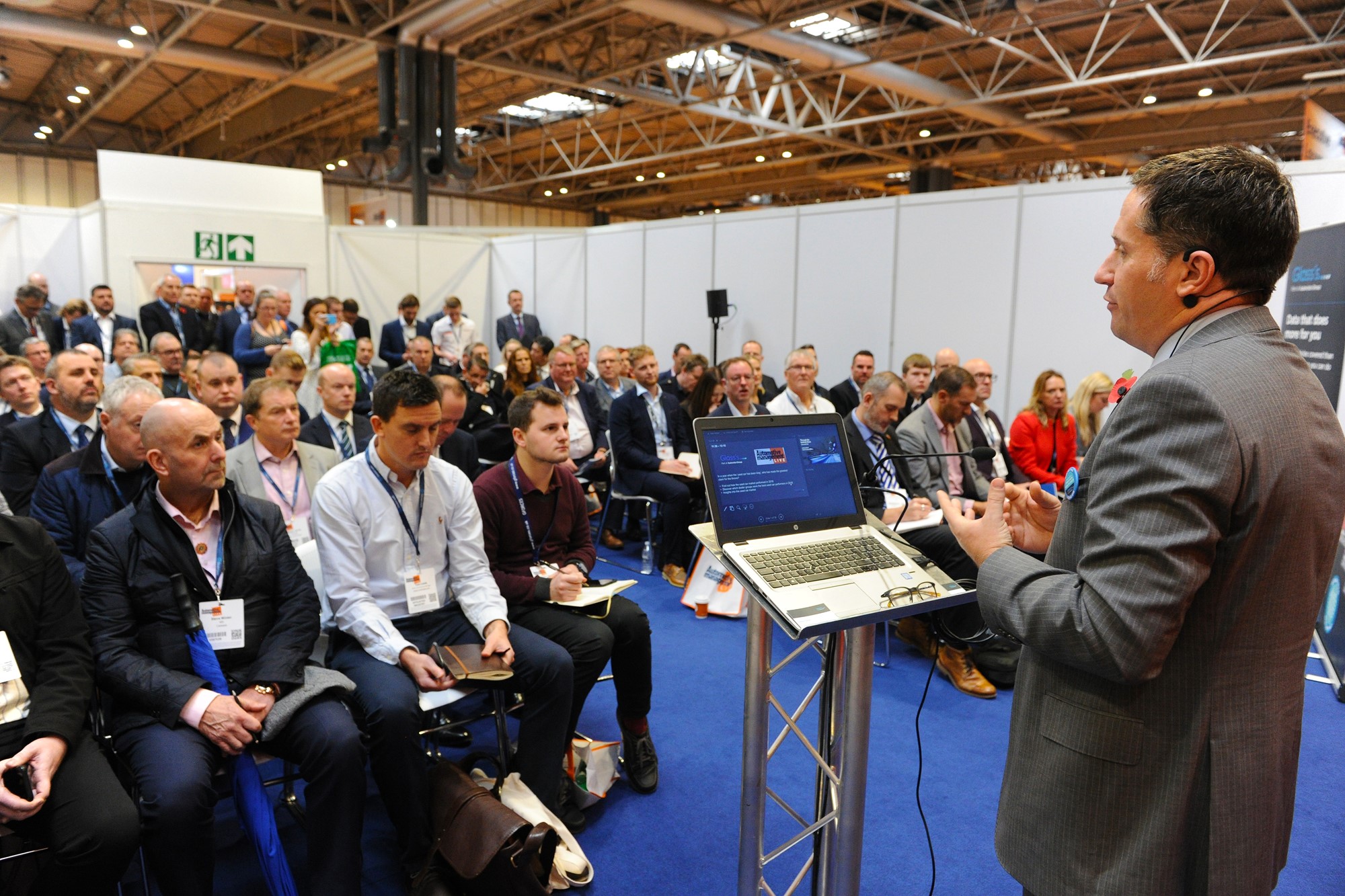 Masterclass: How data about the used car market can be used in your dealership
Is making a margin of about 20% on a used vehicle that has taken nearly 60 days of work from purchase to retail sale enough in a turbulent market?
Anthony Machin, head of content at Glass's, posed this question at his seminar on how market data can be used in dealerships.
Information gained from Radar, Glass's real-time pricing data tool, put the average price paid for a trade sale at £8,277. The average retail asking price was £10,220, but the eventual transaction price was £9,954.
"Is this enough margin for 60 days' work?" asked Machin. "Assets need to be sweated, but are there processes in your dealerships that aren't working that can be tackled to improve days on stock?"
Machin highlighted a market "in turmoil and in decline", which makes attention to details of this kind crucial.
"New car registrations in 2018 have been in significant decline month-on-month" and both the new and used markets are being affected by WLTP, Brexit uncertainty and the fluctuations in the pound/euro exchange rate.
The so-called 'demonisation' of diesel had damaged diesel sales in the retail market, but not in the wholesale market, he said. New LCV sales were "topsy-turvy" in 2018, but in the wholesale market they were reasonably stable, said Machin, with average residual values up on 2017.
Using Glass's data, he highlighted dealer groups maximising opportunities in the used market by analysing regional and national pricing and sales.
Sytner is selling its used stock at £300 higher than the all-dealer average; Arnold Clark and Brindley Garages Group only change prices on vehicles a little more than once before sale (1.2 and 1.4 times on average respectively). The "worst offenders" are doing it nearly four times per vehicle.
The best dealer group for minimising the amount taken off the original asking price was also Arnold Clark. Its average was £185 (1.65%). The highest discount by a dealer was more than £1,600 (5.52%).
"Consumers can monitor prices and you will gain a negative reputation for reducing prices regularly and by large amounts in the market."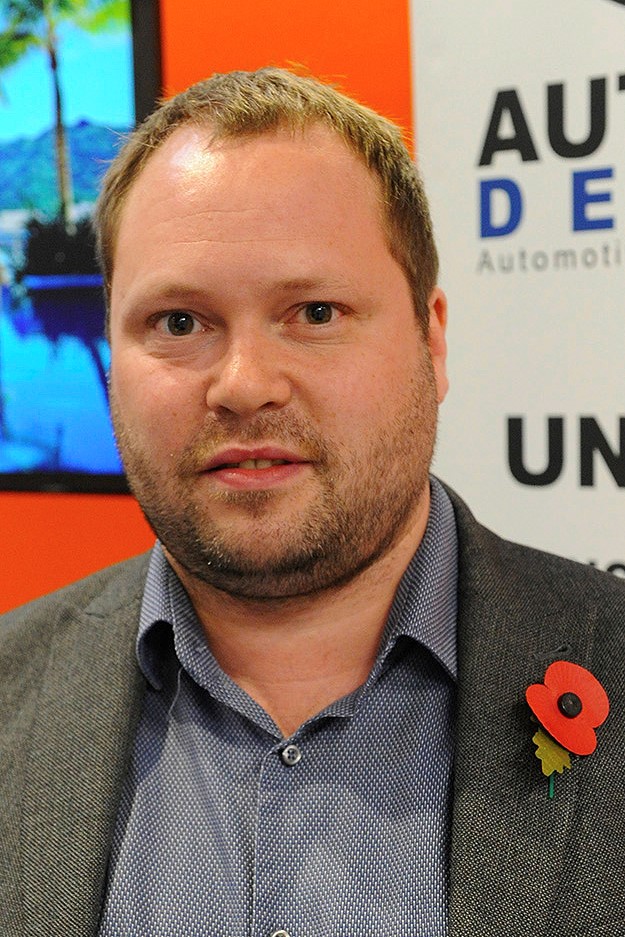 Masterclass: The website as the heart of dealer digital communications
Martin Dew, digital solutions director at AutoWeb Design, outlined how to break away from the traditional automotive website template by adding e-commerce to its design.
Changes in Google's algorithms have shifted the online focus to mobile users, said Dew. In light of this, he advised dealers to use progressive apps, which load like web pages, but offer consumers extra functionality such as push notifications.
"We see progressive apps as the next stage," said Dew. "Dealers should get their databases as good as they can be in preparation for this. When they become more widely used, a customer can save your website as a web app to their phone, allowing you to market through push notifications.
"While GDPR may have changed the marketing landscape and use of databases, progressive apps will ensure you are targeting customers who are already engaged with your brand."
Dew does not think the infrastructure to buy a car completely online is developed, but automotive retail could learn from other industries.
"Research indicates that 88% of consumers won't buy a car without test driving. This is not about moving to online retail, it's about connecting the website visitor to the dealership in a more effective way."

IMI People Theatre
Al Clarke, advisory board chairman at executive search firm Ennis & Co, outlined how workforce diversity and inclusion (D&I) in dealerships can increase profits. Automotive retail is in a perfect position to lead the way, he said.
Detailing the findings of a D&I white paper* by Ennis & Co and Auto Trader, Clarke said that with ASE figures showing the average dealership making 0.5% - 2% return on investment, this opportunity should be "seized upon".
Research by McKinsey & Company** found that for every 10% of a leadership team that becomes more diverse through age, gender, ethnicity or recruiting those with a disability, the bottom line improvement is up to 3.5%*.
The white paper outlined the top three opportunities D&I presents:
1. Redefining ways of working
Managers should create an environment based on trust and empowerment, rather than a 'one size fits all' policy. If an employee needs to leave early, let them. Think about how age affects this. Younger employees may need to pick up a child from school and an older worker may need to care for a parent, said Clarke. In return, staff work harder.
2. Selective focus
Successful D&I policies should look beyond gender or ethnicity to consider age, disability, sexual
orientation or religion. Don't aim at a quota target, but a change in attitude.
TrustFord removes the recruiting manager from the candidate selection process, not because it doesn't have faith in their abilities, but to give their team a chance to engage with prospective employees.
Sharon Ashcroft, TrustFord's HR director, said: "We follow a simple mantra: 'Happy colleagues equals happy customers equals happy profits'. Without a proper commitment to D&I, happy colleagues simply wouldn't be possible."
Clarke also suggested making CVs 'blind' – removing references to gender, age, etc. – removing the possibility of conscious or unconscious bias.
3. Brand engagement
"Get out more," said Clarke. "Take your brand into schools and inspire your next generation of customers and employees."
The skills dealerships need are changing from being simply sales or technical roles. To attract the right talent, dealers should engage with schools and universities to inspire students on the breadth of opportunities available.
Clarke cited Jardine Motor Group's work experience programme, inviting Year 10 and sixth-form students into dealerships for up to a fortnight.
"Twenty years ago, there weren't enough engineers in the trade. Today, there aren't enough engineers in the industry. To change this, go outside the sector into IT to attract people with different backgrounds," said Clarke.
"Otherwise you'll be fishing from the same pool for staff, moving people from one dealer group to another, increasing salary costs to get them to move."
He also emphasised that dealers should consider current employees when looking outwards to increase diversity and inclusion: "Take them on the journey and make them part of the change, rather than leaving them with the feeling they are the ones you're waiting to get rid of."
The white paper reported on comparative attitudes towards D&I in the automotive and other sectors from 75 senior executives.
When asked if the senior team of their organisation was demonstrating a commitment to creating an inclusive environment, 30% of respondents strongly agreed, 48% agreed, 8% disagreed, 14% didn't know. None strongly disagreed.
Furthermore, 7% said progress on D&I in the past 12 months had been excellent, 54% very good or good, 31% fair and 8% poor. The main focus of D&I was on gender (97%), race/ethnicity (61%) and age (45%).
The most common D&I activities were flexible working (93%), monitoring of diversity (71%), active recruitment on the diversity of employees (51%) and an articulated D&I commitment or plan (44%).
Steve Nash, Institute of the Motor Industry chief executive, who chaired the diversity session and hosted the IMI People Theatre at AM Live, told delegates a third of the population by 2023 will be over 65 years old and the number of 18-year-olds is the lowest since the last war. The pool from which staff can de drawn has to deepen in order for businesses to stand a hope of thriving, he said.
* 'Making diversity and inclusion a business reality'/ #diversityinauto
** McKinsey & Company: 'Diversity matters' (2018)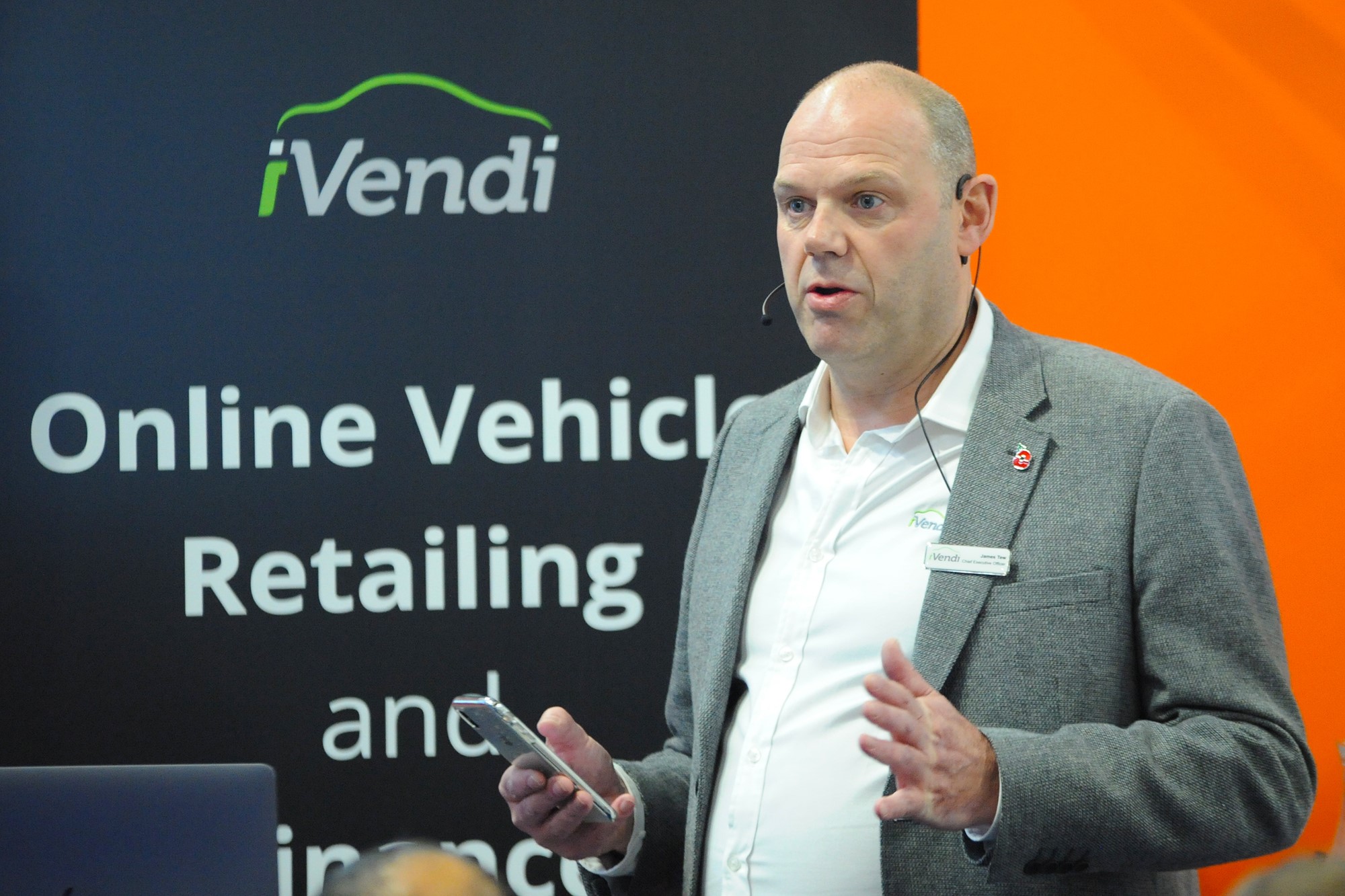 Masterclass: Preparing to deliver online vehicle sales
Selling cars online in the UK is not yet a viable business proposition, because the process is too complex and dealers are failing to meet consumers' expectations, James Tew, the chief executive of iVendi, told his seminar.
He said the industry was failing to deliver experiences, such as those of Amazon, John Lewis and eBay, which had become the benchmarks of online retailing.
iVendi carried out research this year which found that 79% of consumers would be confident or completely confident in buying a car online. But in their perception of which sectors were the most advanced in online retailing, automotive finished almost last, below clothing and fashion, technology, food and music.
"There's a very good reason for it – the whole transaction is too confusing," said Tew.
He offered four pieces of advice:
1. Improve your site's search Leading consumer websites use contextual search, e.g. 'seven-seater family cars' or 'cars with three Isofix', not just make and model. This 'faceted search' provides dealers with insight into what customers want. Contextual search can be seen on JCT600's and Sinclair's dealer websites.
2. Further web-enable the sales process Allow the consumer to complete administrative tasks (form-filling) online, freeing sales staff to focus on their core roles.
3. Make the buying process more convenient "Email me a finance quote – don't ask me to come to the showroom to talk me through it."
4. Allow rapport-building through video messaging, and live messaging or chat Buyers still want to negotiate, so allow a deal – including trade-in value, multiple finance offers and value-added products, such as paint protection and service plans – to be restructured by the consumer and sent to the dealer for consideration.
"Consumer expectation of online retailing is far more advanced than what dealers are offering. They're demanding more than dealers can deliver at the moment," said Tew.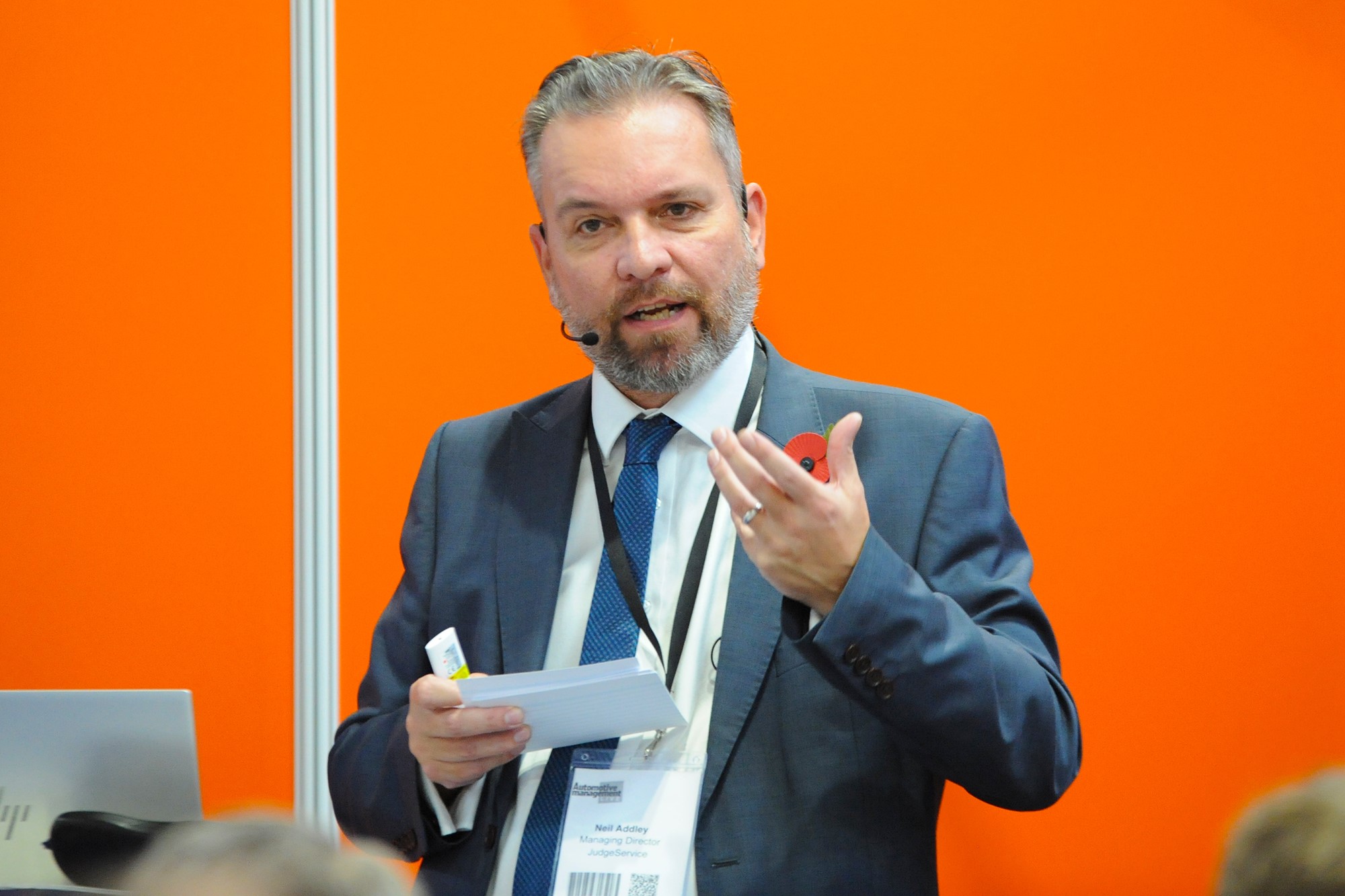 Masterclass: Improving customer satisfaction results to increase sales
There is a direct correlation between customer satisfaction and the number of days it takes to sell a car, according to JudgeService.
New research conducted by the business, and presented at AM Live, showed that a dealership with a net promoter score (NPS) of 30 points will take, on average, 45 days to sell a car.
Sites with an NPS of 90 shift stock in just 28 days, on average. The data is based on sales performance and customer feedback from more than 1,000 dealers using the JudgeService system.
"The difference in speed of sale between someone with an NPS of 50 and 70 is five days. That is something that you can affect quite quickly," said Neil Addley, managing director of JudgeService.
He told delegates that improving the average time taken to sell a car by just one day could be worth £12,000 a year for the average dealer.
Data presented by JudgeService at AM Live showed that the salesperson's attitude is the most important factor in improving customer satisfaction.
"Based on all the scores we get in, if you can get people to improve the score for a salesperson's attitude by 5%, it means you can sell cars five days quicker overall," said Addley.
He recommended that dealers recruit on attitude, to ensure the right people are dealing with their customers and therefore drive up the NPS.
Attitude at handover was the second most important factor flagged in Addley's session.
"We put a lot of effort into training people on 'the road to the sale', but how much effort do we put into training handover," he asked delegates.
Addley also highlighted the importance of greeting customers promptly when they arrive at the showroom.
"What's really interesting is the NPS falls off really quickly if they are left waiting at all."