While overall plug-in vehicle sales are continuing to grow in the UK, it's still going to take some time for them to become the mainstream choice.
However, the combination of incentives, Clean Air Zones and Government policy may give sales a further push ahead of the 2040 deadline to switch all new car sales to plug-in alternatives.
Following the Government's Road to Zero strategy it is thought new hybrids will have to be capable of zero emissions for 50 miles as part of the 2040 deadline.
According to data from the Society of Motor Manufacturers and Traders (SMMT), registrations for cars eligible for the plug-in car grant in the first seven months of 2018 were up 26.4% year-on-year, to 30,195. However, from a total market of 1,477,892, that equates to just more than 2% of the market. This is up from a 1.8% market share in 2017, 1.2% in 2016 and 0.9% the year before that. To put that into perspective, year-to-date, total plug-ins would have a market share between Volvo (1.89%) and Citroën (2.14%).
According to the Department for Transport (DfT), the most common ultra-low emission vehicles (ULEVs – classed as vehicles with tailpipe CO2 emissions below 75g/km) registered for the first time in the year to the end of March 2018 were the Mitsubishi Outlander PHEV with 7,567, followed by the BMW 330e with 5,638 and the Nissan Leaf with 5,132.
At the end of 2017, 64% of licensed ULEV cars were petrol-hybrid and 35% were pure electric in the UK. The remaining 1% were diesel-hybrid and other technologies.
Scotland has pledged to make the switch to plug-ins by 2032 and there is increasing pressure on the Government to bring its deadline forward to match it, following calls that its own deadline is not ambitious enough.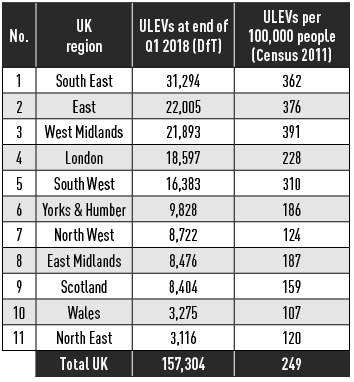 The National Grid has already supported a 2030 deadline and city leaders, including areas covering Bradford, Bristol, Cardiff, Greater Manchester, Leeds, Leicester, Liverpool, London, Newcastle, Oxford, Sheffield, Southampton and the West Midlands, have also backed it.
Giving evidence to Parliament's business, energy and industrial strategy committee in March, Graham Cooper, project director electric vehicles with the National Grid, said: "A deadline of 2030 would still give us enough time to cope with any changes that need to be made.
"We would support a more ambitious target. It provides a clear focus and allows the networks industry to respond appropriately.
"Even if you left the 2040 target in place, I think the number of people still buying a conventional petrol or diesel car before that deadline will be a short list."
However, Mike Hawes, the chief executive of the SMMT, warned that "unrealistic targets and misleading messaging on bans will only undermine our efforts to realise this future, confusing consumers and wreaking havoc on the new car market and the thousands of jobs it supports".
"Vehicle manufacturers will increasingly offer electrified versions of their vehicles, giving consumers ever more choice, but industry cannot dictate the pace of change nor levels of consumer demand."
For many motor retailers, where ULEVs are adopted in the UK may matter to their planning almost as much as when.
Many major metropolitan areas are seeking to introduce clean air zones (CAZ) by April next year, in the case of London, or before 2020 in areas such as Birmingham, Derby, Leeds, Nottingham,
Southampton, Bath, Bristol and Oxford. Leicester seeks to introduce its own CAZ before 2026 and a further 22 towns and councils are at least considering introducing similar measures.
Should these eight major towns and cities proceed on that timetable, they will become immediate hotspots for the sale of plug-in vehicles, as motorists look to avoid having to pay a daily charge to drive into certain areas.
DfT statistics analysed by click4reg.co.uk in June showed that London and Birmingham are particularly good markets to target early adopters.
Greater London had 18,597 ULEVs licensed at the end of Q1 2018, while Birmingham, with its much smaller population, had 13,383.
The figures also reveal where there is less of an appetite for EVs. In Middlesbrough, just 51 ULEVs were licensed as of the end of Q1 2018, with Merthyr Tydfil coming bottom of the table on 21.
The impact of grants on sales
Most of the sales of plug-ins are helped along with grant funding.
Currently, the scheme is broken up into three categories:
Category 1 grants provide £4,500 for cars with CO2 emissions of less than 50g/km and a zero-emissions range of more than 70 miles.
Category 2 provides £2,500 for cars with emissions of less than 50g/km, a zero-emissions range of between 10 and 69 miles and with an 'on the road' price of £60,000 or less.
Category 3 provides £2,500 for cars with CO2 emissions of 50-75g/km, a zero-emissions range of at least 20 miles, and an OTR price of £60,000 or less.
Customers can also get £8,000 towards the cost of an eligible low-emission van and up to 75% of the cost of a charge point covered by the Government (capped at £500, inc. VAT) to make it easier to charge at home.
The Government has said the grants will remain in their current form until October 2018 and has committed to a grant of some form until at least 2020.
Go Ultra Low, the joint Government and industry campaign to promote plug-in vehicle adoption, also recommends that consumers look into local savings available for ULEVs, such as on parking or exemption from the London Congestion Charge.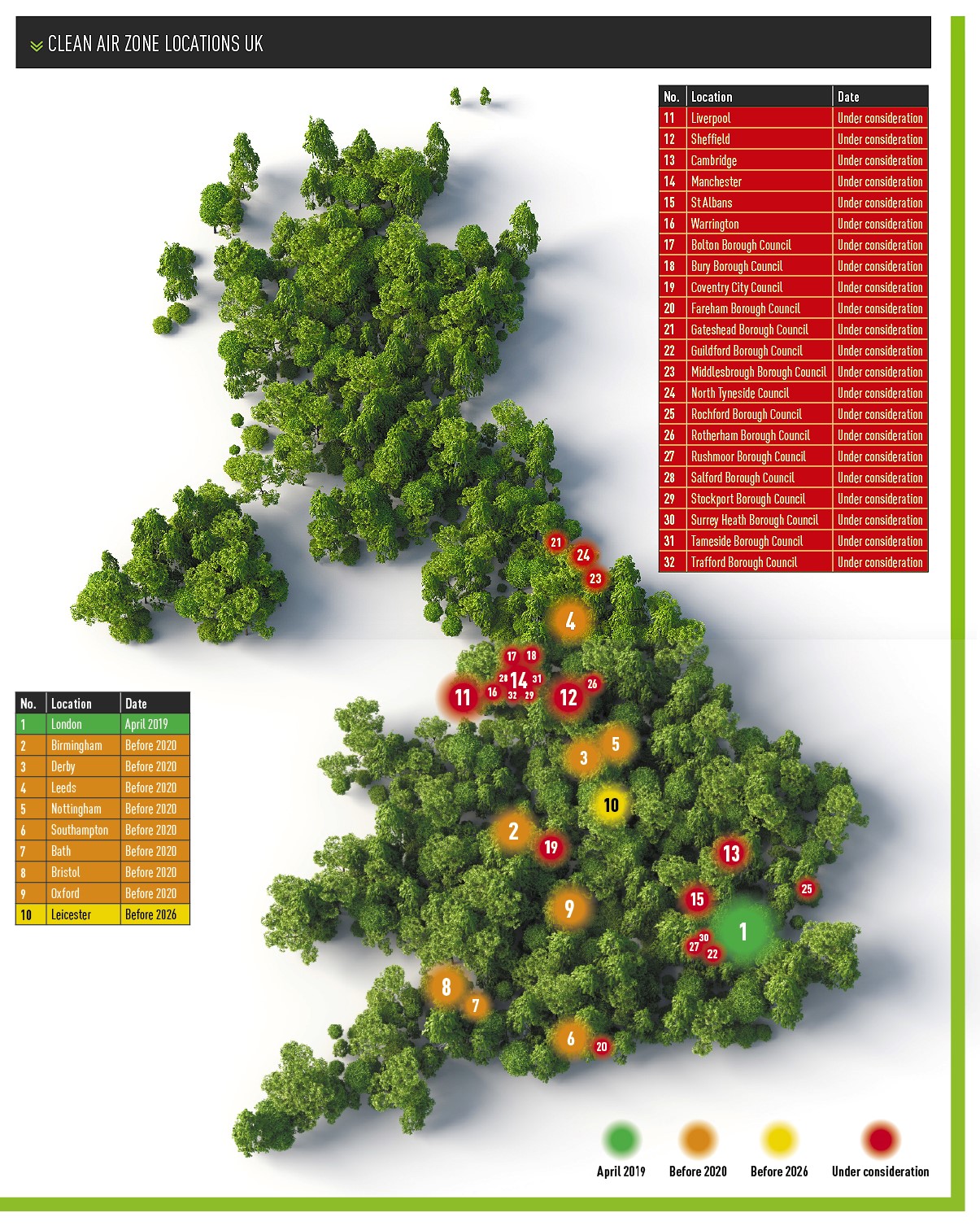 There are now 16,738 public charging points available across the UK and BP's recent acquisition of Chargemaster will boost that by a further 1,200. It also hints at the oil industry giants looking to change gears to invest in EV infrastructure as consumers transition away from using fossil fuels.
The lack of clarity on what the future holds for grant funding was not resolved by the Road to Zero Strategy. It stated grants will be unviable as ULEV volume grows.
Birmingham will also host the world's first zero emission vehicle summit on September 11 this year. It's likely this will be the stage for the Government to set out the part the automotive industry will have to play in a zero-emissions future.
What incentives are in place to help dealers prepare for plug-ins?
Dealers can apply for funding for charging points through the Workplace Charging Scheme. This comes in the form of £300 discount vouchers per charge point, up to a maximum of 20.
However, a spokesperson for the scheme confirmed to AM that these discounts can only be used if the chargepoint is for the business and employees, not for customers. It's an odd wrinkle, but the Office for Low Emission Vehicles (OLEV) carries out an audit on a percentage of installations, so if businesses are caught letting customers charge their cars with workplace points, the dealer could be fined and asked to return the money.
It's still a valid funding option for dealers that need charging points installed in workshop spaces and for those working at the dealership that have made the switch.
It's also unlikely many customers will be relying on dealers to charge their cars day-to-day, but if a customer's plug-in goes in for a service the expectation would be that the battery would be topped up, along with the service and wash and vac.
Other incentives available to businesses include enhanced capital allowances (ECAs) with a 100% first year allowance available for the installation of charging infrastructure. The allowance was announced in 2016 and will expire on March 31, 2019, for corporation tax and April 5, 2019, for income tax purposes – so motor retailers should act quickly to take advantage.
A spokesperson for Chargemaster said: "If any dealer – franchised or independent – wants to sell or service cars beyond the next five years, they will not only need to invest in training to work on electric vehicles, but also in charging equipment for their premises.
"Dealers will need charging points to support their new and used car sales operations, as well as their workshop activities."
Chargemaster's Powercharge unit is priced at £795 + VAT and provides two floor-standing or wall-mounted sockets with an output of up to 7kW per socket. These charging points won't allow a business to automatically charge for usage, but Chargemaster said the cost would be about £1 a day.