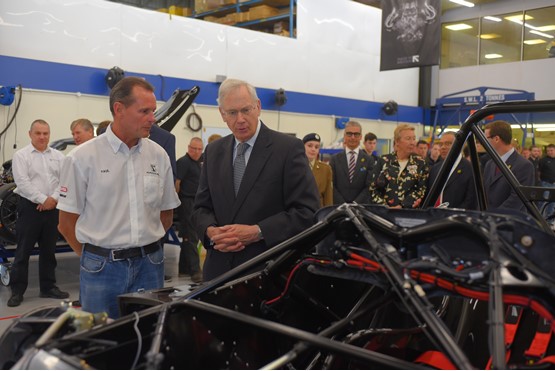 Radical Sportscars has opened a new production centre at its Peterborough facility to build its new Rapture model.
The Rapture will be officially launched at the Goodwood Festival of Speed on July 4.
HRH The Duke of Gloucester opened the Rapture Production Centre during a tour of Radical's 40,000 square-foot headquarters.
Darryl Roberts, Radical's operations director, said: "There has been an air of excitement across the business since we knew HRH The Duke of Gloucester would visit. His recognition of the in-house skills and capability of Radical is testament to our dedicated employee base. It was an inspiration for our team members and apprentices to have the opportunity to speak with him and share their expertise.
"Radical is enjoying a busy summer of activity across the globe. This visit has taken place in the same week as Radical Championship racing in Belgium and the USA, and just days away from the most important product launch for the company in over five years; that of the new Rapture open sportscar. It was an honour to have His Royal Highness officially open the Rapture Production Centre."
Arriving at the main assembly hall, The Duke viewed the fabrication, composites, engine building and assembly areas. Interest was also shown in the Radical Precision Engineering (RP) arm's diverse product portfolio across the marine, oil and gas exploration, hydraulics and pharmaceutical industries.
Chief Designer, Nick Walford, who has designed every Radical since the company's inception, was on-hand to give an insight into the firm's technical advances and innovations.
An architect, who holds a keen personal and professional interest in design and engineering enterprises, His Royal Highness met with department heads and spoke at length with five engineering apprentices amongst some of the 130-strong team of staff based at Ivatt Way.
The tour culminated with The Duke unveiling a commemorative plaque marking the official opening of the Rapture Production Centre. The new road-legal sports car, which will be unveiled at the world-famous Goodwood Festival of Speed on 4th July, will be solely designed, engineered and built in Peterborough, providing a timely boost for the British industry.