It was a stellar 2019 for MG but the firm's straightforward planning means there could be much more to come.
Any manufacturer would be celebrating if it beat its previous year's registrations by September – let alone in a year with the challenges of 2019.
That MG Motor UK achieved the feat in a market which ended 2.4% down largely before the arrival of its ZS EV debut into the world of electric vehicles (EV) gives even more cause for positivity.
By the end of the third quarter, MG retailers had registered 9,352 vehicles, more than 300 ahead of the 9,049 registered in the whole of 2018.
At the end of 2019 – as the recently published Society of Motor Manufacturers and Traders (SMMT) data attests – the brand had registered 4,026 more cars than its previous year, and beat its previous best performance under the Chinese ownership of SAIC Motor Corporation.
While clearly a huge success in what might still be considered the home market for a brand split between bases at Longbridge and a new Marylebone HQ, the results are part of a plan.
MG Motor UK head of sales and marketing, Daniel Gregorious, pictured, explained to AM: "In November 2018 we formulated our mid-term plan. There were two main aims.
"One was to have 120 retail sites before the end of 2020 and the other was to deliver a flow of new product with the quality to ensure that we could double our volumes (to 18,000 registrations by 2021).
"The key would be more vehicles in more segments and developing the network with the right retail partners.
"In every respect we are on track to achieve our targets."
MG ended 2019 with 100 retail sites but Gregorious insisted that there were a further 11 locations making preparations to open with MG when AM met the former Renault head of corporate planning and Kia UK area manager at Cars2's MG showroom in central Wakefield.
The Cars2 site opened last June and had registered 47 cars by the start of November.
Cars2 has plans to expand to three retail locations with each of its current brand partners.
MG's open points in the region include Leeds, Huddersfield, Halifax and York.
"We have an expansion plan and we don't just want dealerships anywhere, but where there's a potential partner who is willing to invest in a site and is confident of delivering results for us, we are more than happy to put our arms around them and say 'come with us for the journey'," said Gregorious.
He added: "I have really looked to the likes of Kia and Suzuki and how they have put their arms around their retailers, communicated really well and supported them, and that's what we want to emulate.
"We have had some dealers leave – there were seven in termination when I joined MG – but we will always try to part amicably."
Although MG doesn't yet have a dealer council, Gregorious said its leadership is accessible directly, adding that a team of six regional managers is there to offer support and advice.
An undemanding partner
Cars2 was able to free up part of its Pure premium used car showroom in Wakefield to accommodate the brand at minimal expense.
The investment levels demanded by the brand are modest despite a strategy to drive volume with the help of electrified product and a requirement for a 170 square-metre, five-car showroom.
MG rolled out new hybrid and electric vehicle corporate identity standards across its then 92-site dealer network back in June last year, ahead of the launch of the ZS EV in September.
The standards equipped MG's existing sales staff and technicians with the knowledge to support customers in both the sales and aftersales of electrified cars.
They attended an Institute of the Motor Industry (IMI)-accredited training course held at the brand's Cecil Kimber Training College at Longbridge.
Every MG dealership is now required to have a 7kW wall-mounted charging point available in the workshop, as well as a 22kW charge point outside the showroom entrance.
Gregorious said: "Our aim is to focus on the important things that are required and those that make a big difference to the customer.
"Would an extra £20,000 on certain tiles for the showroom sell more cars? No.
"We have signage outside, a red wall featuring the MG logo and our workshop equipment and training requirements.
"After that, so long as the site is clean, tidy and well presented, that's what really matters…"
The combination of a willingness to be flexible in its bid to fill open points and MG's growing volumes means that the brand is gaining traction with AM100 retail groups.
Gregorious said that MG is now attracting a "better calibre" of retail partner, citing recruitment of Stoneacre Motor Group, Richmond Motor Group and Glyn Hopkin in the past 24 months.
Stoneacre opened its first MG location in Hyde in February 2018, and has since followed that up with sites in Derby and Rochdale before opening MG's 100th retail site, in Doncaster, last November.
Richmond Motor Group joined the MG network with the simultaneous opening of Portsmouth and Southampton franchises in two newly renovated showrooms in November, 2018.
Seven months later it sought to raise its profile with a high visibility advertising campaign on the Itchen Bridge, which is the main crossing in and out of Southampton and records more than six million passing vehicles every year.
Glyn Hopkin opened its East London MG dealership on Romford Road, Manor Park, in December 2018.
Gregorious said that MG's growth story was giving top retailers the confidence to throw their weight behind the brand.
He said: "Brexit and the fluctuations in the value of sterling have a huge influence on the market, what product manufacturers put in and the pricing they can achieve.
"We are in a position where we can take advantage of that and offer dealers an opportunity to come on board with a brand that is growing volume."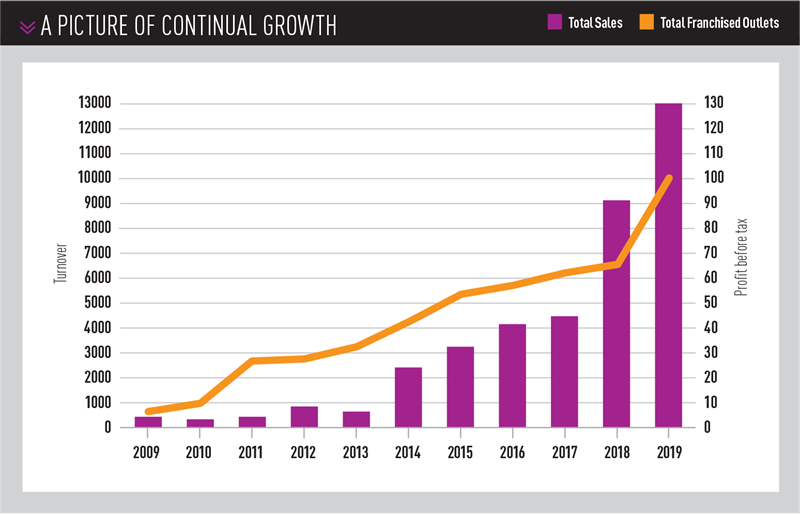 Growing range, growing volume
Gregorious pointed out that MG already pays import duty on its Chinese-built vehicles but, nonetheless, the brand introduced two new value-driven models in 2019 alone in the form of the ZS EV and the Qashqai-rivalling HS.
In 2020 the brand will introduce another EV, with what Gregorious claims is a "completely new body style for an EV in Europe", and will give fleet audiences in particular an "alternative C-segment option".
He tipped the brand to become yet "more aggressive" with its pricing, adding to the appeal already instilled by a seven year warranty.
Whether it can match its introductory ZS EV offers remains to be seen, however.
The ZS EV was offered with a £3,500 discount for the first 1,000 retail customers, in addition to the government's £3,500 ULEV plug-in grant – meaning buyers paid just £21,495 for the entry-level model.
MG later extended the offer for the next 1,000 customers.
"The ZS EV really was the first truly affordable electric vehicle on the market," said Gregorious, who pointed out that retailer profitability remained a key concern and would not commit to the length of time that it could maintain its large EV discount.
The aggressive approach will help to bring MG to the attention of EV buyers as it looks to add to its range with further zero emissions product.
Gregorious told AM that the ZS EV "is the first of a series of EVs that we'll bring to the UK".
MG has asserted that it has no supply issues thanks to owner SAIC's battery factory in China that can produce 300,000 units per year.
Gregorious said: "What we've shown is that we can get the pricing right and we certainly have the supply.
"We want to sell several thousand ZS EVs per year and there will be greater supply in 2020."
MG's growing presence in providing affordable EVs is sure to attract the attention of fleet operators and the brand welcomed former Hyundai Motors UK fleet operations manager, Geraint Isaac, as its new national fleet sales manager in October.
Isaac said that he aims to help build "to build organic, sustainable growth" in the role.
He will draw on his experience as Hyundai's national residual value and remarketing manager to assume responsibility for MG's vehicle remarketing, residual values and the co-ordination of its fleet programmes, as well as the creation of a new approved used car programme.
Gregorious hopes that a growing fleet presence will allow the retail network to benefit from an increased flow of used car stock, after a deal with Europcar put 800 vehicles into its fleet in 2018 and 1,400 in 2019 through a buy-back scheme.
Isaac's expertise will also aim to drive strong residual values in order to maintain an aggressive finance offer for retail customers.
MG is currently offering a 0% APR PCP across its range.
PCPs currently account for just 44% of all sales, despite retail sales making up 70% of MG's volume, Gregorious said.
A new agreement signed with Santander Consumer Finance late last year made it MG's sole motor finance provider for five years from January 1, 2020. This followed a six-year relationship with GMAC.
Under the new agreement with Santander, dealers will have access to new wholesale funding facilities to help them gear up for sales growth.
Santander has employed an eight-strong sales team, including a national sales manager and a national marketing manager, to support the MG network.
More diversity, more ambition
MG's retailers gathered for a gala dinner at the St. Pancras Renaissance Hotel in Central London in January to celebrate their 2019 successes.
But the growth seen by the brand so far is set to form the foundation for further volume triumph, with EVs helping to provide what Gregorious described as MG's "scrappage moment".
And while affordable cars remain at the core of the brand in the near future, plans to bring the flagship all-wheel-drive E-Motion EV to market in 2021 indicate an ambition to gain ground in a more premium market.
The two-door coupe, unveiled in concept form in 2017, is claimed to be capable of 0-62mph in under four seconds and offer a range of over 310 miles.
Gregorious said: "The prospect of more diversity and an eye-catching model like that is exciting and will attract attention.
"For now, though, I'm focused on growing our volumes and establishing a profitable dealer network in a sustainable way.
"I think our EVs can provide us with the 'scrappage moment' that Kia and Hyundai experienced a decade ago and I think 1% market share is possible for us.
"That, I see, as a truly exciting prospect."
The key products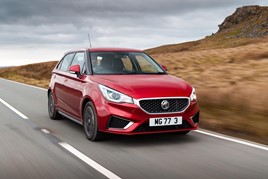 MG3:
Launched in 2013, the MG 3 is the brand's answer to the likes of the Ford Fiesta and Vauxhall Corsa. Prices starting at £9,495 make it an affordable option, though the normally-aspirated 1.5-litre engine struggles to match the CO2 emissions of rivals.
MG ZS:
A new arrival in 2018, the ZS is the brand's biggest seller, with registrations of 8,792 in 2019. The range's appeal and profile were boosted with the arrival of the fully-electric ZS EV, which was priced from £21,995 with MG's introductory deposit contribution offer.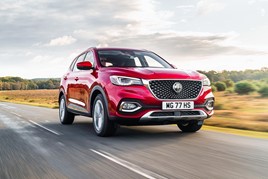 MG HS:
New to dealerships as of October last year, the HS is the brand's range-topping SUV rival to the Nissan Qashqai and Vauxhall Grandland. Explore, Excite and Exclusive trim levels are offered at prices ranging from £17,995 to £22,995.