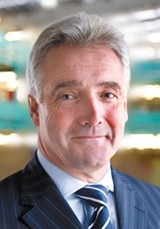 Vertu chairman Peter Jones told this morning's car retail group AGM that the group experienced profit declines of £2.3 million from new car sales and £1.1 million from use in the four month period to June 30.
While the AM100 group's service revenues rose by 8.1% during the period, which also saw the repurchase of 3.6 million shares as part of buyback scheme which has utilised £1.4 million of cash since March 1, but reduced new car volumes and smaller used car margins took a toll of profitability.
But growth in aftersales and fleet volumes helped to mitigate the effects of the new and used car decline.
Presenting the results in his last AGM as Vertu's non-executive chairman, Jones said: "The Group saw like-for-like new vehicle volumes decline 13.2% in the Period reflecting franchise mix with some Volume Manufacturers continuing to see significant contractions in volume.
"Gross profit per unit rose 4% on a like-for-like basis, reflecting pricing disciplines to increase margins.
"Like-for-like gross profits from the sale of new retail vehicles by the Group fell £2.3m year on year as a consequence of reduced volumes."
Vertu's used car business generated 3.7% growth in like-for-like used vehicle sales volumes alongside a 5.9% growth in revenues, but the group conceded that margins had reduced.
Despite a £1.1 million decline in like-for-like profits, Jones said "the Board is pleased with performance in the Period, which was achieved despite a softening consumer demand environment".
Better news was delivered by the aftersales departments of Vertu's car retailers.
The business delivered an 8.1% increase in the Group's like-for-like service revenues in the Period as like-for-like gross margin percentage on vehicle servicing rose to 75.4% (2018: 75%) as technician salary levels stabilised and the Group drove higher average invoice values, through its effective vehicle health check process.
In addition, the Group has increased hourly rates charged on internal work undertaken for sales departments and this aided aftersales margins.
Overall, like-for-like gross profits in aftersales rose £2.6m in the Period year on year on the back of these positive trends.
While the new fleet car market in the UK declined by 0.6% in the reported period, Vertu was also able to reveal that it had outperformed the market with like-for-like volume growth of 3.6%.
The Group's total sales volumes of new commercial vans increased by 15.8% aided by acquisitions, predominantly the January acquisition of Vans Direct.
Gross profit per unit also grew, reflecting the increased mix of premium car and van sales volumes within the overall sales mix.
Like-for-like gross profit generation from the fleet and commercial channel rose £0.7m in the Period.
Financially, Jones said that the group had maintained a "strong balance sheet".
The ratio of operating expenses to revenues at 8.7% during the Period, with a continued focus on the management of costs throughout the business, he said.
Like-for-like operating expenses rose 1.3% in the Period year on year compared to a 6.2% increase in the prior year period.
Like-for-like operating expenses rose £1.2m overall in the Period and management have a number of on-going initiatives in this crucial area.
Net finance expenses rose by £1 million year-on-year on a like-for-like basis as continued higher stocking charges arose due to increased new car consignment stock levels (which have now normalised) and higher finance rates charged by Manufacturers.
This continues the trend seen in H2 of FY2019 and is likely to continue.
Jones said that the Vertu Board remains cautious for the near term but is confident of both its medium and long-term prospects.
"With its strong balance sheet and stable, experienced management team, the Board believe that the Group is very well placed to capitalise on the challenges and consequent opportunities in the UK motor retail sector," he said.
He added: "The Board considers that there will be significant consolidation opportunities in the next two years whilst, at the same time, dealership numbers in the UK are likely to face much downward pressure, so improving the profit potential of those that remain.
"Acquisition opportunities are indeed increasing, including distressed assets, and the Board continues to assess potential acquisition opportunities using strict investment return criteria, with a view to maintaining discipline in capital allocation.
"Given the trends in trading described above, an uncertain outlook around consumer confidence and Brexit and the possibility of new vehicle supply restrictions, arising from new EU emissions regulations which come into force on 1 September, the Board is cautious on the short term outlook."