The Leven Car Company has entered administration, with dealership staff reportedly turned away from retail sites this morning.
Stuart Robb and Michelle Elliott, of Leonard Curtis Recovery Limited, were appointed as joint administrators for the Edinburgh-based retail group yesterday (Jan 7), according to notices applied to its dealerships.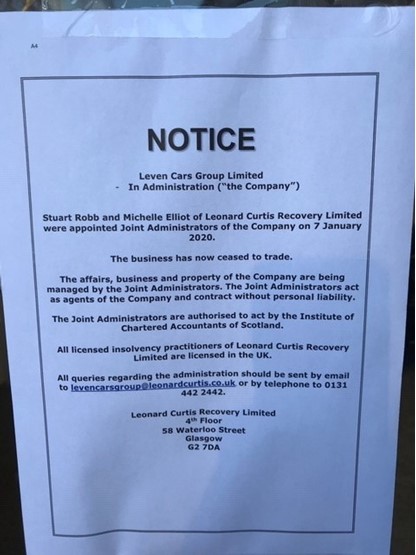 The Scotsman, meanwhile, reported that staff arriving for work at its Kia and Suzuki franchises in Dunsdale Haugh, Selkirk, were turned away this morning (January 8).
Those sites employed around 27 staff and had been acquired from previous owner the Belmont Group in March 2018, it said.
Leven Cars Group Ltd, which represented Aston Martin, Caterham, Kia, Lotus, Mitsubishi, Rolls-Royce and Suzuki, as well as a specialist cars premium used car business, had been named 'Number 1 Dealer in the World' by Aston Martin two years ago.
In October 2016 it had announced its investment of £1.2 million to create what it claims will be "one of the largest Aston Martin showrooms in the world" at the same time as it opened a Rolls-Royce facility at One Costorphine Road in the city.
Leven's annual financial results for 2018 have yet to be published via Companies House, however.
The group's most recent published results, for the period to December 31, 2017, show that it achieve a turnover of £45 million during the period – up 28.9% on 2016's £34.9m – alongside a loss before tax down 252.6% at £323,541, following a profit of £212,001.
AM has contacted Leonard Curtis Recovery Limited for a comment.