It's difficult to predict who might walk into a Volkswagen dealership looking to buy a Golf in 2020. So unique is the model's ability to appeal to the masses, there are few cars that have such a broad customer base.
From the entry-level models to the range-topping Golf R, there's seemingly a Golf to suit all needs and all tastes. Easy to drive, easy to live with and, importantly, easy to sell, the Golf has become a universally loved model in its 45-year lifespan.
Now in its eighth generation, the latest Golf has a strong focus on technology. It introduces the latest connectivity and driver assistance systems, while benefiting from updated and more efficient powertrains.
The new car's dimensions and looks remain closely aligned with those of its predecessor, albeit with a sleeker new nose to aid aerodynamics.
Inside, the biggest revelation is the fully digital and buttonless cockpit. A digital instrument cluster is fitted across the range, alongside a 10-inch touchscreen infotainment system.
It's unlike anything else in the segment and gives the Golf a significant advantage over rival models.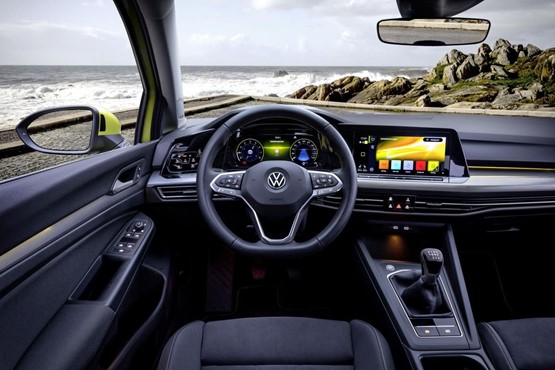 Touch-sensitive panels provide easy access to the most important features, such as the temperature controls, light switches and audio volume.
A digital assistant enables hands-free voice control of the car's functions too. "Hello Volkswagen, I'm cold" is all that is needed to ramp up the heating, for example.
The connected services include live traffic information, internet radio and in-car WiFi. Owners can also use the We Connect app to lock or unlock, find and even pre-heat their vehicle.
For the first time, hardware permitting, VW will also allow additional features, that weren't fitted from the factory, to be bought and downloaded to the car.
While it was never designed to be an all-out driver's car, the Golf has always balanced handling and comfort in a way that suits the majority of drivers.
The new car is available with a re-designed adaptive suspension system that allows effective customisation of the ride and handling; from the bone-crushing Sport to the svelte Comfort, drivers can fine-tune their desired setting using a sliding scale.
There is no revolution in the powertrain department. In fact, you could accuse VW of taking a backwards step as the fully electric e-Golf will be phased out to make way for the ID 3 that is due to arrive in showrooms later this year.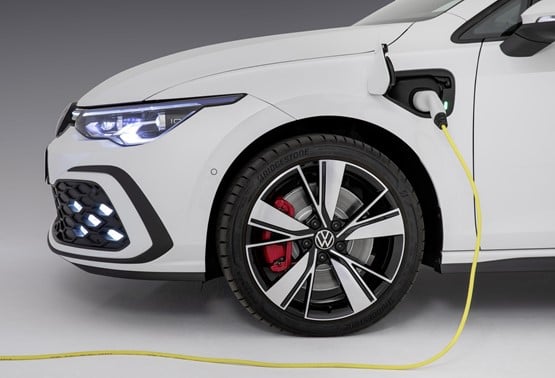 There is still a plug-in hybrid GTE version, which gets a power boost to 245PS and a larger battery. It can cover up to 37 miles on a charge.
VW says the bulk of sales will be split between a 1.0-litre three-cylinder petrol, a 1.5-litre four-cylinder petrol and a 2.0-litre diesel.
The entry-level 1.0 TSI won't be introduced until later in the year, but it's likely to have the same 115PS output as the existing car.
The most popular model is expected to be the 130PS 1.5. It uses Active Cylinder Management (ACT), enabling two of the four cylinders to be switched off, minimising both fuel consumption and emissions.
A more powerful version is also available with 150PS and there will be a third option, known as the eTSI, that utilises 48v mild-hybrid technology.
The lower-powered version is less vocal and provides a more familiar driving experience than the eTSI.
While it uses clever fuel-saving technology, the engine doesn't feel as smooth when you push it hard.
It also lacks a sharpness to the brake pedal, due to the regeneration system that activates before the actual brakes to capture energy that would otherwise be lost.
One engine not carried over on the new model is the 1.6 TDI diesel. Instead it's replaced by a 2.0-litre version, offering 115PS or 150PS.
Improvements to the diesel make it our pick of the bunch. With 150PS it feels potent and in most scenarios, barely audible.
During our test route, and including some more spirited driving, the car was still returning 50mpg.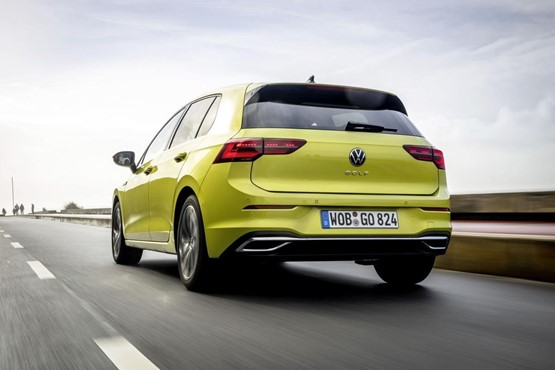 The Golf retains its fluid driving experience in the latest generation. It's not the best-in-class for engagement, but we expect the hotter versions will tick those boxes.
Performance Golfs come in a variety of flavours, including GTI, GTD, R and track-focused GTI TCR – all packing more power than their predecessors, although prices for these versions are yet to be announced.
The trim line up for the new Golf marks a departure from VW's familiar S, SE and SE L line up. Instead we get Golf, Life, Style and R Line to mirror the European market.
Golf comes well-equipped with LED headlights, keyless entry, climate control and the aforementioned infotainment system.
Life adds parking sensors, lumbar support and wireless smartphone charging.
Style is fitted with a massage function for the driver's seat, adaptive cruise control with lane-keeping system, a 32-colour ambient lighting system and matrix LED headlights.
The R Line offers a sportier persona with different bumpers, larger wheels and sports seats.
Prices for the full range are yet to be announced but the new car will start at around £20,500, putting it broadly in line with its key rival the Ford Focus.
When the full line-up is available later in the year, buyers should be hard-pressed to find a reason not to buy one.