Cambria Automobiles has set out its roadmap to car retail recovery in a trading update for a six-month period which saw the majority of its dealerships closed for more than 100 days due to COVID-19 restrictions.
The AM100 PLC - currently awaiting a potential management buy-out (MBO) offer - reported revenues down by 16% to £254.7m (H1 2020: £303.1m) as underlying profit before tax rose 55.5% at £9.8m (H1 2020: £6.3m) during its half-year to February 28.
And with an underlying net profit margin of 3.83% (H1 2020: 2.07%) a period-end balance sheet with net assets of £79.5m (H1 2020: £68.5m) and net debt reduced to £5.6m (H1 2020: £6.0m) its leadership laid-out a strategy that would ultimately end with further growth through acquisition.
Cambria chief executive Mark Lavery said: "I am very proud of the response of our entire Associate base and thank them for all the support and flexibility that they have shown.
"I would also like to thank our Brand partners for their pragmatism and ongoing support throughout the pandemic.
"The trading performance that has been produced in the face of the challenges outlined is good.
"Our resilient business model, outstanding guest experience and brand partnerships continue to help us navigate the current environment and our enhanced franchised portfolio stands us in good stead to benefit from the opportunities that will present themselves as we emerge from the pandemic."
Cambria's COVID-19 roadmap to recovery, as set-out to investors: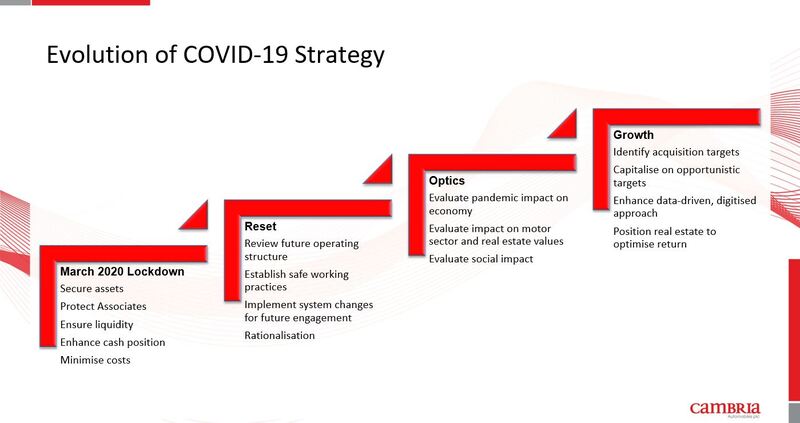 Cambria revealed that its gross profits from its new and used car operations declined in-line with the reduced sales volumes achieved in H1 of its financial year, despite a seamless transition to a more digitally-focussed retail model.
Its new vehicle sales reduced by 16.6% as revenues dipped to £105.7m (H1 2020: £121.2m) and average profit per unit declined by 8.8%, resulting in a gross profit of £7.2m (H1 2020: £9.7m).
A 30.8% decline in used vehicle sales resulted in revenues of £121.1m (H1 2020: £151.4m) , with the reduction partially offset by a 18.2% improvement in average profit per unit, it said. Gross profit from used cars declined from £12.5m to £10.3m.
Aftersales revenue decreased by 12.7% but with improvement in gross profit, which rose from £14.5m to £14.7m, meanwhile.
Cambria announced in September last year that it was embarking on series of cost-cutting measures which would include a "significant reduction" in employee headcount due to the impact of COVID-19 lockdown.
Today the group said that the cost reduction measures had enabled it to be "leaner and more agile".
While part of its COVID impact mitigation action plan also included reduced investment in capital projects, the group did set-up SOGO Mobility Limited during the reported period.
Led by former Citroen managing director, Karl Howkins, the new venture is a provider of flexible leasing solutions for corporates and individuals and this week launched an electric vehicle (EV) salary sacrifice scheme, billed as an "industry first".
Commenting further on the challenges faced in the six months to February 28, Lavery said: "There is no doubt that most retail operations learnt vital lessons during Lockdown 1 to adapt to different trading models and our business was no different, seamlessly migrating towards a digital click and collect offering for vehicle sales whilst operating the aftersales departments as efficiently as possible.
He added: "Aside from COVID, the industry continues to face headwinds in relation to the significant changes in technology and more recently in relation to new car product supply due to the global shortage of microchips and semi-conductors, which could continue for some time and may have a material impact on the new car market."
Cambria Automobiles chief executive Mark Lavery, finance director James Mullins and managing director Tim Duckers are exploring the possibility of an MBO of the PLC.
As reported by AM last month, the group's board has granted its management team more time to complete the MBO and they now have until May 17 to make a formal offer.