Vertu Motors PLC has upgraded its pre-tax profit forecast for 2021 to £28m to £30m – thanks largely to the 'exceptional used car market'.
In a trading update issued via the London Stock Exchange this morning (June 23) the AM100 car retail group said that new and used car supplies remained a concern for the second half of the year, however.
Vertu said that its more positive outlook, just over a month after its year-end results statement of May 12, had resulted from a "a continuation of the strong trading trends witnessed in March and April".
It said: "In light of the strong trading performance to date, driven largely by the exceptional used car market environment, the board now anticipates that the group's full year adjusted profit before tax will be above current expectations and in the range of £28m - £32m."
Vertu added: "The board remains confident in the prospects for the group. With its strong asset base, scale, manufacturer relationships, well invested systems including the Click2Drive sales technology platform and experienced leadership team, the board believes that the group is strategically very well placed to capitalise on the changes and opportunities in the UK motor retail sector."
Ongoing headwinds could yet prove a challenge for the sector in the second half of the year, and Vertu noted the impact of the global semiconductor shortage on new car production and its knock-on impact on the used car market.
It also said that further COVID-19 disruption remains a risk.
Vertu said it had seen a lengthening of lead times for certain new car franchises and added that a used car market which remains "very robust from a demand perspective" was beginning to suffer from a reduced supply of vehicles and a resultant exceptional wholesale pricing environment.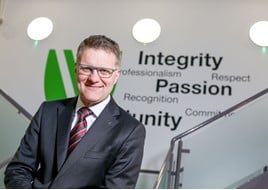 In Vertu's year-end statement last month, chief executive Robert Forrester reported that the group will continue to drive a "big brand" profile after adding 30 car retail outlets in 15 months.
Forrester was speaking to AM after the group revealed a like-for-like revenue decline of 21.6%, to £2.5bn (2020: £3.1bn), and adjusted profit before tax ahead of analyst forecasts, up 7% at £24.6m (2020: £23.0m), in annual financial results for the period to February 28, 2021.
A week ago the group looked set to become the latest AM100 car retail PLC to face a backlash over bonus payments to its CEO, however.
The group told AM that executives had waived their entitlement to a bonus but its remuneration committee elected to award reduced bonuses following 'significant progress' by the firm.
CEO Robert Forrester is expected to receive £200,000 in bonus payments.
Commenting on the group's 2021 progress this morning (June 23), Zeus capital market analyst Mike Allen said: "While we are just four months into the H1 period for Vertu, we would anticipate the H1/H2 split to be significantly ahead of the normalised c70/30% PBT split this year.
"The solid balance sheet of Vertu continues to underpin the current share price with tangible net assets per share of 50.2p as at 28 February 2021 and is expected to grow to 87.9p by 2024."