The deadline for the takeover of Cambria Automobiles by chief executive Mark Lavery has been extended by a week after shareholders held-back from accepting the terms of his £82.5 million offer.
Lavery's offer failed to secure the 75% controlling stake needed to wrap-up the takeover process by the initial September 3 deadline, reaching 74.76% with his own 40% holding included in the total.
A new deadline of September 10 has now been set – in a statement issued via the London Stock Exchange this morning (September 6) – in an effort to get the deal over the line.
In an interview with AM last month Lavery dismissed angry US-based shareholders' allegations that his bid for the AM100 car retail PLC is akin to "stealing" as they claimed that it grossly undervalued the business.
On August 27, as Cambria published a much-anticipated trading update, meanwhile, a columnist in the Financial Times questioned whether "Cambria investors are being asked to trade in their Lamborghini for the price of a second-hand Mini", adding that "used cars account for around half of Cambria's sales, so it's hard to believe they haven't benefited" from the unusual used car market.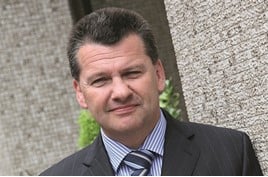 Lavery has insisted that the offer was fair and reasonable, however. He told AM: "At 82.5p per share the price we are offering shareholders is 66.6% above the mean price over the past 12 months."
Today's statement detailing the status of Lavery's takeover bid, using his newly-established Bidco business, revealed that takeover acceptances had now been received from shareholders with 34,758,936 Cambria shares.
The statement added that Bidco's offer was final and will not be increased unless an offer for Cambria is issued by a third party.
In last month's interview Lavery told AM that that funding Bidco's takeover offer for Cambria had "not been easy", explaining that the cash had been generated from a combination of bank debt and £2.5m of personal funds.
He said "I am taking all the risk now", adding: "My priority here is the business, its colleagues, our manufacturer partners and the shareholders.
"We're entering a challenging period for the sector and going private will allow us to focus on what lies ahead with any distractions."
Assuming Bidco's takeover offer is declared unconditional the London Stock Exchange will be requested to cancel trading in Cambria shares on the AIM market and the listing of the Cambria.
The cancellation would take effect no earlier than 20 business days after Bidco's completed acquisition of the 75% stake.
Today's statement said: "Any remaining Cambria shareholders would become minority shareholders in a majority controlled private limited company, and may therefore be unable to sell their Cambria Shares.
"There can be no certainty that Cambria would pay any further dividends or other distributions or that such minority Cambria Shareholders would again be offered an opportunity to sell their Cambria Shares on terms that are equivalent to or no less advantageous than those under the Final Cash Offer."