Lookers chief executive Mark Raban has said that the AM100 PLC's ability to repay its furlough support grants to the Government has made him "very happy".
In an interview with AM this morning (September 9), Raban insisted that the move was not made to please investors and would boost morale among the group's workforce.
He said: "It's been a tough period for the sector and there has been a lot of change within the group.
The results we have been able to announce today have been down to our fantastic workforce and I think furlough repayment will mean a lot to them, showing a desire and ability to stand on our own two feet as a business and not rely on the UK taxpayer."
Raban said that he and the Lookers board were acutely aware that certain sectors had suffered severely during the COVID-19 pandemic and that some would never recover.
But he added: "We have emerged in good shape and it simply would not be right for us not to repay that grants funding after a period where we made a profit of £50m.
"Suffice to say, our ability to do this has made me and Duncan (chief operating officer Duncan McPhee) very happy."
Interim financial results for the six-month period to June 30, published by Lookers today, it reported revenues up 37.1% to £2.15m (2020: £1,57m) and the turnaround of a pre-tax loss of £50.4m in 2020 to PBT of £50.7m.
Raban is also celebrating the turnaround of a cash deficit of almost £90m to a cash position of £33m.
He said: "That gives us the foundation stones of future investment in new services and initiatives that will stand us in great stead for the future."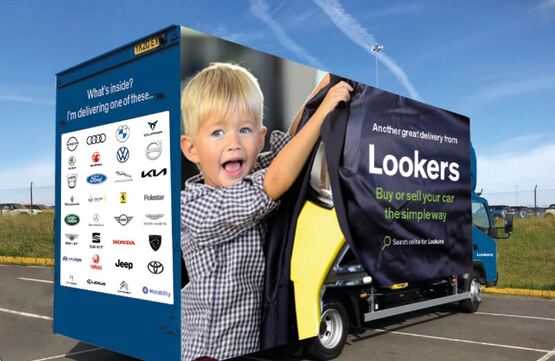 Efforts to deliver an omnichannel retail offering to customers with an improved website, increased contactless payment options for sales and aftersales and a focus on home delivery are all a source of potential future growth, Raban and McPhee told AM.
McPhee said: "We made improvements in acquisition, inventory and pricing of our used cars back in 2019 and saw the results of that in 2020.
"This year, as the markets appreciation hit its peak or margin on used cars rose to £2,100. That kind of performance won't continue indefinitely, but we have the pieces in place to perform well.
"Home delivery is part of the omnichannel offering that we have added focus in. We now have branded delivery vehicles in each of our market areas and we've tuned the handover process to ensure it exceeds customer expectations.
"Our intention is to grow that fleet of delivery vehicles as demand grows."
Raban said that home deliveries for car sales was not the only area of transportation the group is concentrating on.
After a period which saw many logistics operations stretched, he said: "We really have moved into logistics in our own right and we're moving more vehicles than ever with our own multi-vehicle transporters and that is a real asset to us moving forward."