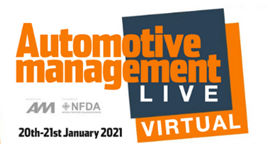 Fresh research into how car buyers expectations of dealers are changing and case studies of how leading dealers are responding to this are among the digital retailing learnings to take from Automotive Management Live Virtual on January 20 and 21.
In a live, online session entitled 'The Acceleration of Digital Communications in Automotive', critical lessons from 2020's motor retail market and bespoke research will be shared by Marketing Delivery's managing director Jeremy Evans at 3pm on the first day.
There will be an audience Q&A session following the presentation.
Evans said that the shift to digital in motor retail was already well underway pre-Covid, but the global pandemic has accelerated the transition at a rate no-one could have anticipated before 'lockdown' became ingrained in the national vocabulary.
"At AM Live we will share some fascinating new insights into consumer opinion, gathered as part of a major ongoing Marketing Delivery research study, conducted among motorists throughout the UK.
"We've identified the extent to which consumers are considering a vehicle purchase, how they prefer to interact with dealerships and workshops, and the fast-changing expectations about how dealerships should respond to enquiries.
"We'll outline how connectivity and automation have become critical for marketing success, underpinning timely and relevant data-driven communications at all stages of the buying process – whether the showroom is open or not.

"We'll also share examples of how some leading dealer bosses are responding to current challenges."
Automotive Management Live Virtual is viewable free by dealers and OEMs who register in advance here. Once registered, you can watch live on January 20 and 21, and view any presentations on demand for four weeks afterwards.
The full agenda for the content-packed two days can be seen here.
In addition to more than 18 expert presentations sharing best practice, Automotive Management Live Virtual also has networking rooms and exhibition halls where viewers can visit virtual booths to download brochures and chat with industry suppliers.