For most of this year, we have been saying that monthly falls of a couple of per cent are not too serious. It may seem perverse therefore, to greet a rise of 1.3% in September registrations with a warning that this figure is more worrying.
The underlying issue is that September 2018 was a terrible month for car registrations because so many models were in short supply due to the WLTP emissions tests. Comparing September 2019 to September 2017 gives a better perspective on the true situation – registrations were down 19.5%, which is a serious fall in anybody's language.
At a manufacturer level, Ford had a mixed September. Its market share was down to 9.5% for the month, and 10.1% YTD. However, VW had a terrible September, with a market share of just 5.7%, so Ford did increase the gap between first- and second-placed manufacturers.
Not that Ford can feel anything other than concerned – the Fiesta is down 18.7% YTD, while the new Focus is being outsold YTD by the old Golf and is fewer than 2,000 units ahead of the Mercedes A-Class. Slightly surprisingly, the one Ford that is doing well is the Ecosport, which is up 14.1% YTD and is only just behind the segment-leading Vauxhall Mokka. That presents an interesting problem for the new Ford Puma crossover, which is about the same size – can it add significant numbers to Ford's total sales rather than just cannibalising sales of the Ecosport?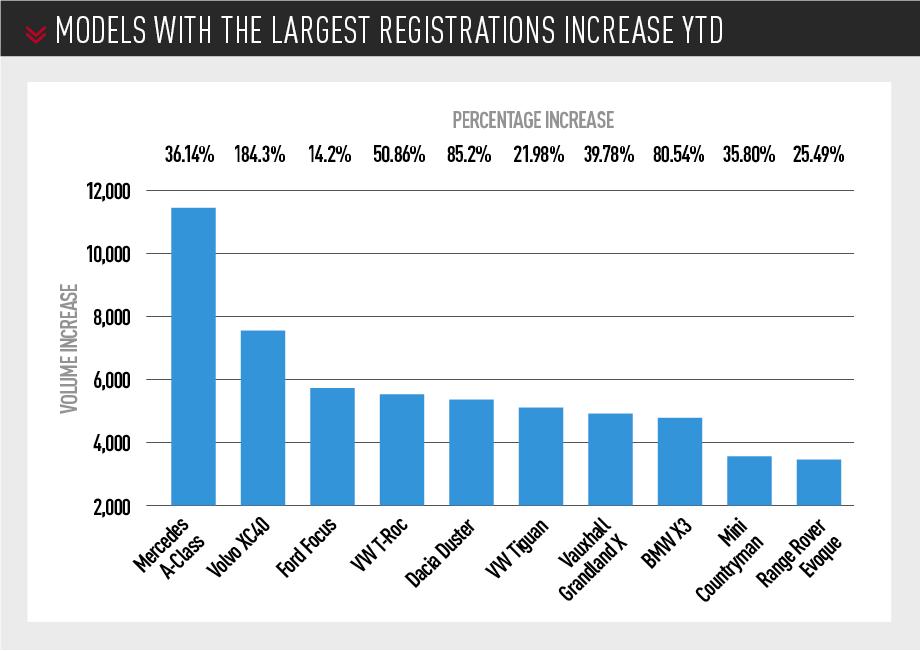 In third place, Mercedes had a stellar September (helped perhaps by the shortage of Audis – see below), hitting 8.9% market share for the month, and 7.5% YTD. Mercedes now has an advantage of about 8,000 units over BMW YTD, which should be enough to ensure that Mercedes finishes 2019 as the UK's largest premium brand for the second successive year. In 2018, Mercedes finished 200 units ahead of its arch-rival, so the three-pointed-star is the brand with momentum. The main contributor to this success is the new A-Class, which is up 36.1%, equating to an increase of more than 11,000 units.
In contrast, BMW is struggling slightly (at least by their exceptionally high standards). A market share YTD of 7.1% is still excellent, but registrations have fallen by 3.2% over the past year, which is slightly worse than the overall market. BMW must be hoping that the new 3 Series/4 Series and a new version of the A-Class-rivalling 1 Series can give the marque a boost next year. However, the once all-important 3 Series/4 Series product lines now only account for 26% of total BMW sales, so their ability to move the dial is not what it once was.
Between Mercedes and BMW comes Vauxhall, which fell to 8% for September and 7.4% YTD.
Vauxhall will say it is waiting for the new Corsa to lead a recovery. While it is true that a new supermini is an important car for Vauxhall, the days when a big-selling supermini could dramatically change a company's market share are probably over. Today, crossovers are such an important part of the market that the new Corsa is unlikely to transform Vauxhall's sales figures.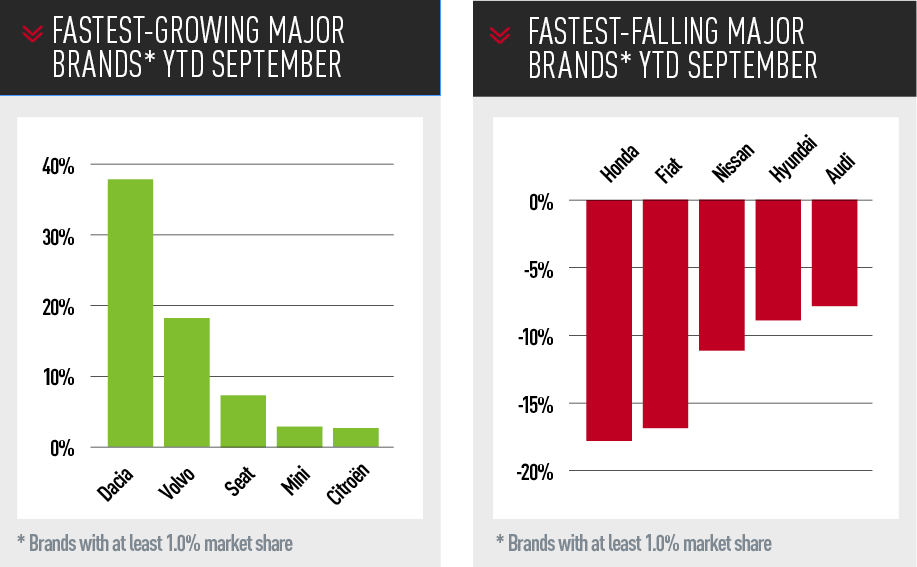 In sixth place, Audi had a very bad month (3.7%), just like parent VW, so one has to assume that VW Group is still suffering from WLTP-related issues.
The rest of the Top 10 is made up of the four large Asian brands tightly bunched together. There is only one percentage point separating YTD share of seventh-placed Toyota, on 4.7%, and 10th-placed Hyundai, on 3.7%.
The feelings of each of those brands about their current sales are probably somewhat mixed. Toyota will be relieved that it has resumed its place as the leading Asian brand, in line with its position in most markets. However, it will be concerned that the new-model momentum will soon be with Nissan, thanks to the next-generation Juke and Qashqai. In Formula 1 terms, Toyota has made its pit stop and has a small lead, but Nissan is about to get new tyres that are expected to lap a lot faster.
Kia is probably the happiest company of the four at present. It is outselling both Nissan and its own parent, Hyundai – that must be making for some interesting conversations back at Hyundai-Kia HQ in South Korea. Nissan must be worried that its forthcoming new models will not make enough progress to enable it to get back to the 6%-plus market share it enjoyed until 2018 – the competition has become a lot tougher in the crossover space since then.
Hyundai will also have mixed feelings: a generation ago, 3.7% market share would have seemed like a dream, but share has slipped from 4% YTD 2018, and Hyundai is a company that expects constantly rising market share.
Among the mid-table brands, the biggest winners have again been Volvo (up 18.2% YTD) and Seat (up 8.9%). Unsurprisingly, the growth is down to new crossovers – the Volvo XC40 has added more than 7,000 units YTD, and now outsells the Audi Q3 and BMW's X1 and X2, while the Arona, Ateca and Tarraco are all doing very well for Seat.
Speaking of crossovers and SUVs, Land Rover slightly increased share from 3.2% to 3.3% thanks to the new Evoque, which comfortably leads its segment from the Mercedes GLA. However, the Discovery is down again (-22.4%) and YTD is only 226 units ahead of the Range Rover. If it falls any further, it will become Land Rover's slowest-selling model – not great for what used to be the marque's heartland model.
What happens in the rest of the year is completely out of the hands of the car industry. As we go to press, it is anyone's guess as to what will happen with Brexit. All we know is that the reputable Institute for Fiscal Studies is warning that a hard Brexit would see the annual UK budget deficit hit an eye-watering £100 billion within 18 months. That would certainly not encourage confidence among car-buyers. David Francis