The point of sale (POS) car finance market declined 2% by value and 5% by volume in January 2020, the Finance and Leasing Association (FLA) has revealed.
New figures released by the FLA today (March 24) show that FLA members provided £2.89 billion of new business in January 2020, funding a total of 190,527 vehicles across the new and used car sectors in the first month of this year.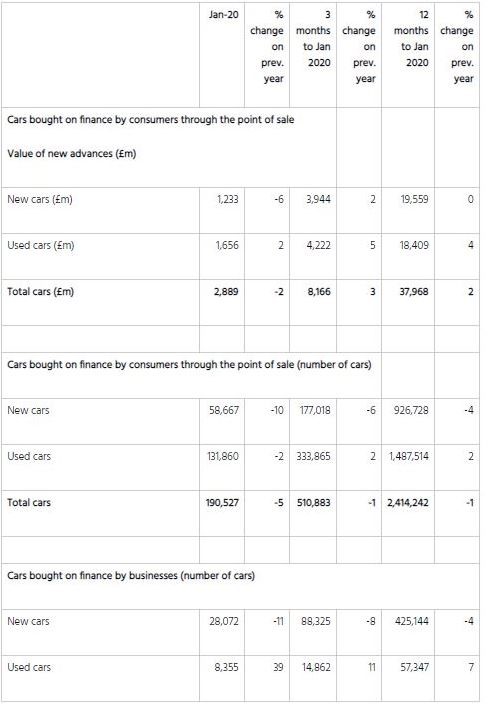 A week after the FLA's head of motor finance, Adrian Dally, described finance as "the petrol in the engine of the economy", the FLA said that, while growth in the UK finance sector as a whole had been driven by consumer finance, which reported new business up by 4% compared with January 2019, it had been "a quieter month for the asset finance and motor finance markets".
Commenting on the figures in light of the current COVID-19 coronavirus pandemic, Stephen Haddrill, director general at the FLA, said: "It's evident that FLA members are supporting individual customers and small businesses right across the economy, but they need the Government and regulators to extend the new financial support schemes to the full range of lenders – banks and independents – to ensure that prompt funding can reach the widest possible numbers of customers at this critical time."
Geraldine Kilkelly, head of research and chief economist at the FLA, said: "The market performance in January shows the wide range of support provided by FLA members to the real economy.
"Although the next few months will be extremely challenging for all industries as consumer demand and business activity shrink significantly, it is vital to maintain the availability of funding so that businesses can meet the upsurge in demand once the isolation period ends."
Speaking to AM last week, Dally said that every effort should be made to keep motorists "in their cars" as coronavirus inhibits some consumers' ability to make repayments.
Dally said: "How we support our customers now is really critical.
"We are having conversations with all the relevant authorities to determine exactly what that support looks like. It's clear that many customers will require support to help bridge them through this period.
"In a nutshell, in the motor finance sector, what it means is keeping customers in their cars is what's needed."