With showrooms now back open for business, manufacturers have come out swinging with some finance offers to help pick the market back up in Q3.
Kia, Renault, Dacia, Seat, Skoda and Suzuki in particular were offering strong offers from June onwards to help kick-start the new car market revival.
The South Korean manufacturer Kia is offering zero percent across its entire hybrid range, as well as petrol and diesel variants of Sportage, XCeed, Ceed Sportswagon and Picanto.
It has also decreased APR levels across all models and grades on 36-month PCP offers and is offering up to £2,500 on selected models as part of its scrappage scheme.
Meanwhile Renault, Renault Pro+ LCVs and its value brand Dacia are all offering "Drive Now, Pay Later" programmes where customers pay nothing for the first three months of their contract on 36 month 0% APR PCP deals on models like the Clio, Captur and Kadjar.
Suzuki is also offering 0% across its range of PCP offers (excluding the Jimny) and it also has its Swift Sport, Vitara and S-Cross 48-volt self-charging hybrid models launching in showrooms at the start of June.
Suzuki is also offering further reassurances for customers due to COVID-19 with a seven day return policy for all new retail car buyers between June 1 and September 30.
Eligible vehicles can be returned to the supplying dealer within seven days of first registration for a full refund should the customer choose to do so.
Suzuki said: "This scheme will help new car buyers who may be reluctant to visit showrooms or take test drives before purchasing."
Seat is offering to defer the first three monthly payments for new car customers, while Skoda will actually pay the first three months for finance customers, with payments worth between £650 and £1,500 depending on model line.
Skoda's scheme covers its entire range of vehicles and offers deposit contributions of up to £4,250 on the Kodiaq SUV, starting with a £2,250 contribution for Karoq SUV purchases.
While these new offers are positive for the market as it recovers from the effects of the pandemic, Tashfin Osmani, senior business analyst at Automotive Services International (ASI), said there will be some direct and indirect consequences from the payment holidays put in place by finance houses, as instructed by the Financial Conduct Authority (FCA) to protect consumers in financial difficulty, over the last three months.
Osamani told AM: "While the need for payment deferrals may entirely be justified by the customer's financial situation caused by the current lockdown, the customer should not be under any illusion that it will take on additional cost in any revised car finance agreement. "How much additional cost will depend on each individual customer's circumstances, but it also depends on the choices that the customer makes in conjunction with the finance company when discussing a revised agreement."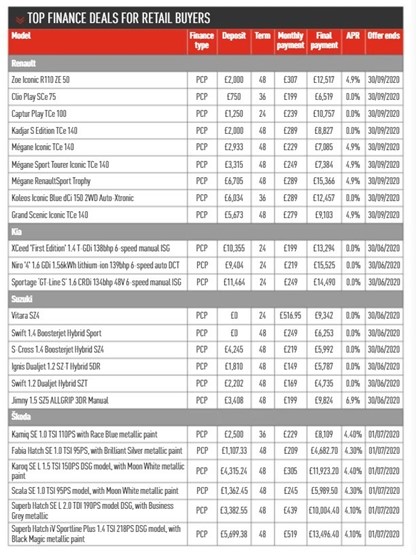 For example, some finance companies may decide to charge the customer interest for the three months of this payment deferral holiday.
Depending on how much the customer has borrowed, this could be anything from around £50 to £100 extra a month.
Osmani said: "The customer does not have to pay it back right away, but it will have to be paid back eventually.
"If it gets deferred to the end of the revised agreement, which could be in a couple of years, that interest charge will keep going up."
Dealers should also be aware that another way for finance houses to claw back deferred payments is through the schedule of the normal monthly payments.
If customers want to keep to the original end date, they will likely have to pay more in future monthly payments to compensate for the three months payment holiday.
Osmani added: "Given that the customer's financial position may still be precarious at the end of the payment holiday period, this will undoubtedly be a difficult option for some customers to take, but not doing so may actually incur further unintended costs."