Smaller franchised and independent dealers may be "forced out of business" due to restrictions in new car supplies combined with reduced availability of part-exchanges and ex-fleet vehicles driving up demand and prices for used stock.
Philip Nothard, Cox Automotive's customer insight and strategy director, said the trend of ever increasing used car values "could not continue".
Speaking to AM at the Automotive Management Live expo at Birmingham's NEC, Nothard added: "For independent franchised retailers and smaller independents who are unable to react to the current state of the market, the strain could be enough to force them out of business."
Although used car sales in the first three quarters of 2018 were down 2.5% (to 6.18 million) compared with the same period last year, according to the Society of Motor Manufacturers and Traders (SMMT), it said residual values for both petrol and diesel models – which accounted for more than 98% of all Q3 transactions – had risen, perhaps indicating that drivers were holding on to their cars for longer.
Meanwhile, Auto Trader reported that the average price of a used car offered for sale on a dealer forecourt reached a record high of £12,853 during September.
One independent used car retailer told AM that franchised dealers adopting a used car supermarket-style approach to vehicle turnaround in recent months had left margins "paper thin".
He said: "The rate of stock turn at a used car supermarket means that they can afford to make no margin on the car and simply drive profitability through F&I. That leaves a lot of dealers unable to compete."
His comments were echoed by Glenn Sturley, the chairman of the Vehicle Remarketing Association (VRA). At the start of October, Sturley said prices for good quality used cars had reached a level where it was "almost impossible" for many dealers to make a profit on the windscreen price and they were instead relying on returns from their F&I departments.
He said: "If you gather two or more motor trade people in one room at the moment, the talk is inevitably about the level of trade pricing.
"I've been in the industry since the 1960s and I can recall few moments like this when demand was driving prices so close to retail levels.
"Of course, this is good news if you are disposing of vehicles, but bad news if you are buying. It is prompting dealers to shift the emphasis when it comes to realising profits, with many putting a lot more effort into F&I, as well as a push on warranties, service plans and more."
Walloped by WLTP
A year ago, James Dower, Cap HPI's former senior Black Book editor, said: "As new car registrations continue to deplete, the 2018 focus will be on used cars."
However, at that time, nobody was predicting the impact of the Worldwide harmonised Light vehicle Test Procedure (WLTP) on the market.
The 20.5% year-on-year decline reported by the SMMT in new car registrations in September, followed by a 2.9% decline in October, have resulted in a significant reduction in pre-registrations and in part-exchange vehicles entering the used car market.
Reluctance on the part of leasing companies and fleet operators to step into new vehicles subject to the more stringent emissions tests – which increase benefit-in-kind tax for many corporate customers – has contributed to a shortfall of stock.
In its monthly report into the performance of its auction sites during Q3, Aston Barclay cited the introduction of WLTP as a key driver of rising values and increased demand at its auctions.
Prices going, going up
According to Aston Barclay's Used Market Insights Report, the average price of 'late and low' stock (younger than 24 months) in Q3 2018 was £15,589, an increase of £1,132 over Q2 2018 (£14,457), as franchised dealers invested more in used stock to satisfy consumer demand.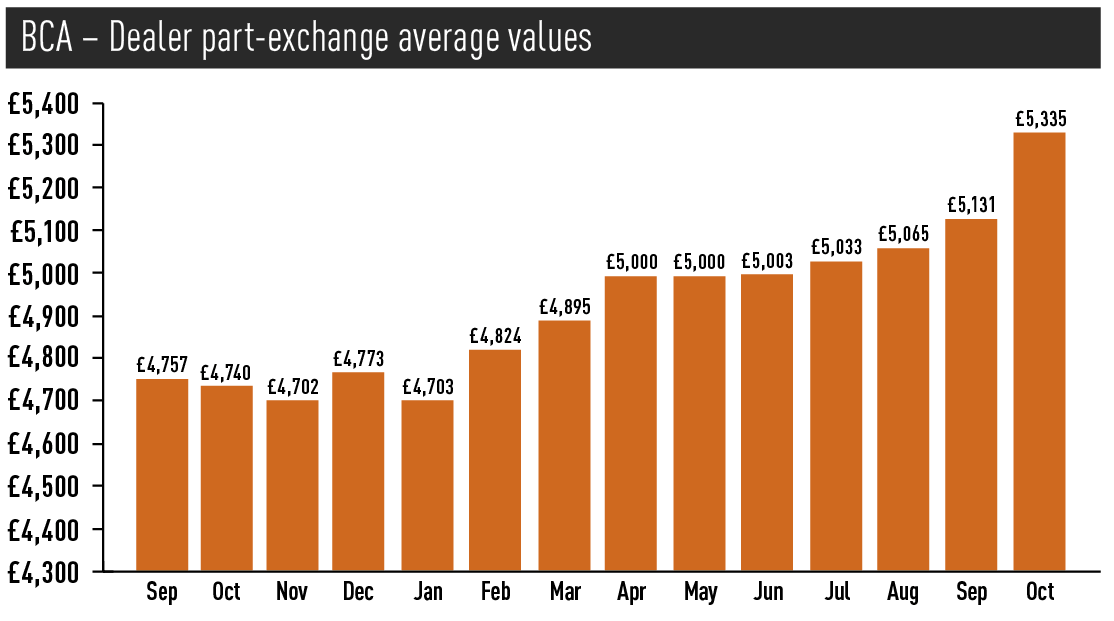 At BCA, part-exchange and ex-fleet and lease vehicles reached record values in October, despite a 1% decline in overall average values attributed to a change in the mix of vehicles on offer.
At Cox Automotive, used car volumes passing through physical auction lanes across the Manheim network increased by 6.3% in October, and the volume transacted on its trade-to-trade Dealer Auction online platform rose 16%.
Martin Potter, group operations director at Aston Barclay, said. "The Q3 price rise in the 'late and low' sector can be attributed to
franchised dealers acquiring young used stock to offer customers who, in light of WLTP, are unwilling to wait for a new car.
"We believe the high demand and rising prices in the 'late and low' and fleet sectors will continue until the WLTP new car supply challenges have been resolved, which could be Spring 2019."
While many franchised dealers are trying to plug a gap in new car supply by stepping up used car activity, it is clear that many are eager for a rapid return of new car supply.
Russell Borrie, a franchise director at Arnold Clark Automobiles, said: "There is still consumer demand and the market's still quite buoyant. The result of WLTP is that there is a degree of pent-up demand for new cars, too."
Security in scale
Independents will also be hoping that the return of supply to new car retailers will lead to a slackening of competition in the used car sector.
David Bilsborough, the owner of Cheshire Cars and a board member on the Independent Motor Dealers Association, said the market has been "extremely competitive" and his way of dealing with the current rush for stock was focusing on rare, premium-specification vehicles.
"Large retail groups have the buying power to go after large numbers of vehicles and really drive margins," he said.
"From my point of view, on a far smaller scale, the focus has had to be on finding rare cars that people will be seeking out on the internet."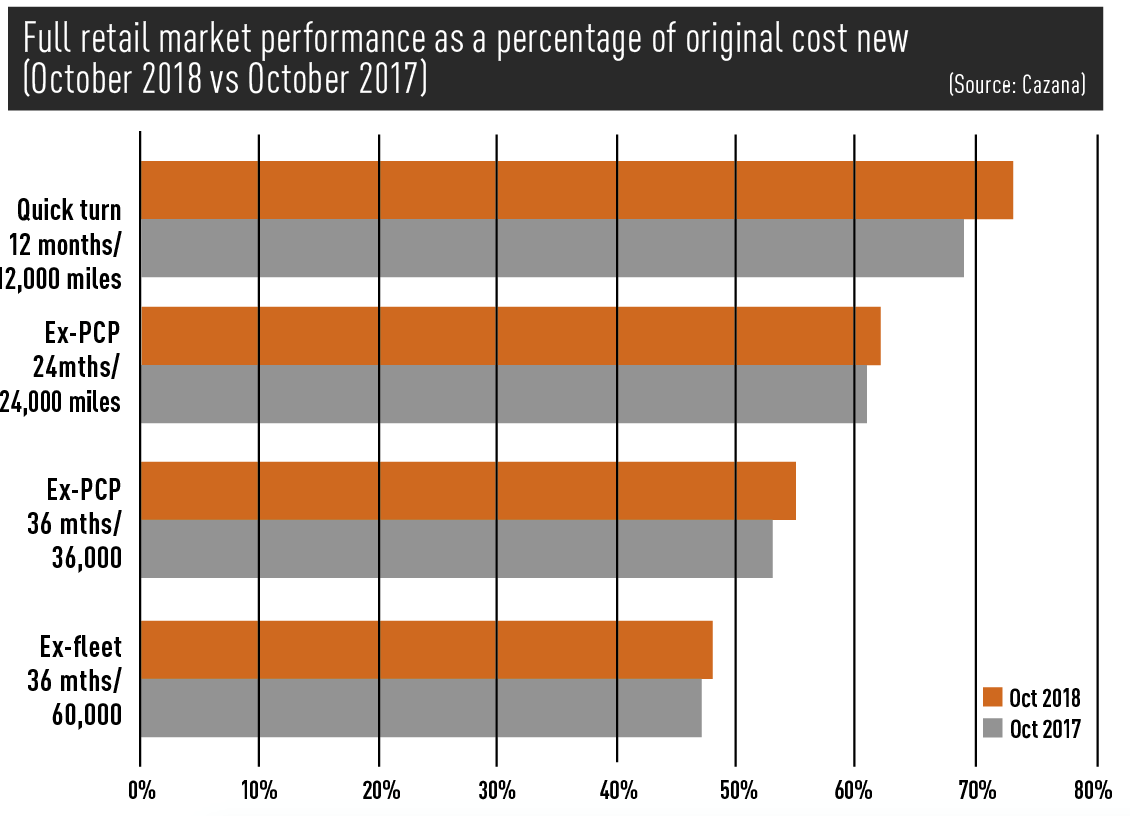 Nothard agreed. He said: "Large franchised groups have all grown their used car volumes and profitability if you take a look at their results and that is because of their sheer buying power and processes. They can say to a remarketer 'we'll take 200 cars next month'.
"In truth, some franchised retailers can also afford to say to fleet and leasing companies 'I'll pay the market price for those cars'."
Three years ago, Pendragon announced its plan to double its used car revenues by 2021, by adding 40 stores. The group also opened two refurbishment centres, capable of carrying out pre-delivery inspections (PDIs) on 80,000 used cars a year.
Penske-owned Sytner, meanwhile, completed its acquisitions of Car Shop and The Car People in early 2018 to create a car supermarket division with almost £500m in annual turnover.
Andy Bruce, the chief executive of Lookers, told delegates at an AM round table at Automotive Management Live to "focus on the positives". Lookers reported 10% increases in turnover and profit from used cars in the nine months to September 30.
Bruce said that, despite brands such as Audi suffering a registrations drop of about 40%, his business had mitigated losses by raising processes to improve margins in the new market. A statement issued by the group added: "With our increased focus on used cars, we were pleased to replace the reduction in new car gross profit in September with the improvement in used car gross profit in the month."
Rupert Pontin, the valuations director of Cazana, suggested that the shortage of used cars and a requirement to increase new car margins, and therefore values, "bodes well for used car dealers nationwide".
Cazana's data showed improved retail price performance across all key sectors. The best performing profile in October was 12-month-old vehicles, which increased by four percentage points compared with the same month a year earlier.
Commenting on franchised retailers' opportunity in used cars, Pontin said the shortage of new car stock had left dealers "able to achieve higher prices when selling to what were inevitably intended to be new car buyers".