Congratulations to all the winners and finalists of the 2019 AM Awards. It was fantastic to see so many of AM's readers being recognised for their great work at our event earlier this month, and you can find out more about why they won in the 28 pages of coverage in this month's issue.
I was particularly pleased that there was such support for some of our newest award categories: Supplier of the Year, Community Hero and AM People Investor. We believe it is important to recognise the strength of relationships between dealers and their suppliers, and their work to support local communities. And, naturally, no dealer can succeed without skilled employees who are made to feel rewarded and motivated.
The AM People Investor Award is an opportunity for us to recognise just one dealer for their great employee focus. But we want to recognise dozens more. So as the AM Awards come to a close, we open our AM Best UK Dealerships To Work For programme for 2019.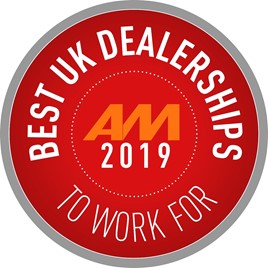 Please register your dealerships for it – there is absolutely no cost and no risk to taking part. If your survey shows that your staff rate working for you highly, you will get the boost of displaying a Best Dealership To Work For logo (right) and trophy, and help change the perception of careers in motor retail. If it does not, no one else will ever know, plus you may get some insight into areas that perhaps need improving.
At a time when the industry faces ever greater challenges in attracting quality employees, we need your participation in this programme. Get involved. Show your staff – and potential new recruits – that you care. Register now at bestUKdealerships.com.