The Vauxhall franchise has become more profitable over the past 12 months and should be "nicely established" for growth ahead of the 2020 arrival of new Corsa, Mokka and Vivaro products, according to managing director Stephen Norman.
Speaking to AM almost a year after the magazine broke the news of Vauxhall's plan to close about a third of its retail sites, Norman said the plan was "nothing to be afraid of or ashamed about" and that the brand would emerge in better shape.
The cull was confirmed to retailers at Vauxhall's annual dealer conference on May 1, 2018, along with an April 2020 end date for all existing dealer contracts.
By the end of 2018, the brand had reduced its network from 326 to 307 retail sites. Norman hopes to end 2019 with 259 franchised retail sites, and 48 ex-sales franchises remaining as authorised repairers.
Norman said retailers are keen to remain with the brand and that he receives an average of 20 completed contracts a week, which brought the refranchising process to the halfway point by the start of February. The speed of the take-up has prompted Vauxhall to bring forward the implementation of new contract terms from May 1 to January 1, 2020.
Norman described the four-month shift as "common sense rather than strategy".
In total, Vauxhall will part company with 12 investors (from 91 to 79), which Norman claimed would increase throughput of cars per site by 18% between 2018 and 2020.
He said the effects of the new strategy are already being felt: "Network profit has increased by 33% between 2017 and 2018, in terms of the average per retailer.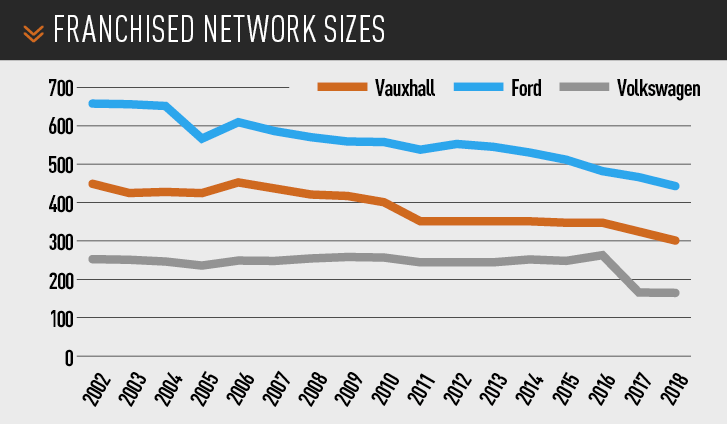 "Return on sales (RoS) has improved from 0.4 to 0.5% and the number of loss-making retailers has reduced from 92 to 72."
"That means that over 30% of the network is still in loss, though, which is clearly unacceptable.
"We want to achieve a sustainable RoS figure of 1% across the network by 2020."
Norman said the brand's top quartile of dealers make 2.2% RoS, or an average £575,000 profit.
Putting PSA brands together
Norman said there was no plan within PSA Group to bring a certain number of Vauxhall sites into joint franchises with other group brands, but added that situations would be looked at "on a running basis".
In October, Pendragon's Evans Halshaw opened the first UK franchised site to house Peugeot and Vauxhall under one roof in Wakefield.
Norman said: "We have around six Peugeot or Citroën open points which are looking to be jointly franchised with a Vauxhall site at the moment."
Karl Howkins, the managing director of Citroën UK, said three of its new franchised partners recently signed agreements that would bring it together with Vauxhall dealerships at shared locations. Citroën's UK retail network has shrunk from 156 sites to 144, with Howkins describing the current scale as "about right", despite listing Aberdeen and Cambridge among key open points.
The scale of network reduction has been felt more by Peugeot franchisees in recent years.
Following Dave Peel's appointment as Peugeot UK managing director in March 2016, the brand worked with Experian on a strategy to deliver an average RoS of 1.5% by reducing its network to 180 sites by 2020.
In 2015, franchisees' average RoS was just 0.6%.
Peugeot has completed its restructure earlier than expected. A spokesman for Peugeot UK said the re-sized network of 180 retailers had experienced its strongest profitability of the past decade in 2018, with three quarters of its network hitting the 1.5% RoS target and an average profit of more than £250,000.
The network as a whole generated average profit of more than £120,000, returning close to 1% RoS.
One retail group boss said such results would be welcome from Vauxhall's plan.
He said: "It was a brave thing to do. It's hard to see that it won't have a network which is in far better shape."
The National Franchised Dealers Association's Summer 2018 Dealer Attitude Survey, however, showed that the mood among Vauxhall's franchisees had declined, with its overall rating falling from 4.2 to 4.1 (average: 5.7).
Other network contractions
Ford maintains the UK's largest franchised retail network, but has closed 35 franchised sites since the start of 2017 – taking its total to 435.
A spokesman said the reduction was mainly down to the loss of "smaller 'market-town' retail dealers, reflecting a natural attrition of family businesses formerly passed between generations, and their appraisal of town centre and other local prospects".
Ford franchisees have consolidated their smallest sites into single, large FordStores, and the brand has begun online new car sales and opened a Digital FordStore in Manchester's Arndale shopping centre.
Honda reduced its total franchised sites from 165 dealers at the start of 2017 to 155 at the end of 2018.
Volkswagen, meanwhile, which outsold Vauxhall by almost 26,000 vehicles in 2018, has maintained its 188-strong representation over the past 12 months.
This was despite an indication in mid-2017 from Jürgen Stackmann, a member of Volkswagen's board of management, that the brand would have to reduce the scale of its retail network by 10% across Europe as part of its attempts to deliver
efficiency improvements worth £3.2 billion a year by 2020.

Vauxhall to follow Peugeot's direct digital sale lead
Vauxhall will start to introduce an online retail website based on Peugeot's existing system by the end of the year.
Norman revealed the plans for the platform when asked whether the subject of direct online sales would be too sensitive to broach with franchisees still accepting new contracts and the reduction of the physical network.
"Peugeot went online two years ago, and Vauxhall, having now joined the family, will be benefiting from their advance in the UK, probably towards the end of this year and early next year," he said. "I wouldn't say that's a moment too soon.
"We're not ahead of the game, but it would have been foolish for Vauxhall to invest in another system when Peugeot's is already established."
Norman said Peugeot's talks with its retailers about online retail started several months before its launch in Q1 2017.
He suggested that the same terms and timescales would be offered to Vauxhall retailers.