Advertisement feature from GForces
NetDirector® Auto-e. Your platform to easy end-to-end ecommerce.
We believe digital is where the only path ahead lies for the automotive industry. Consumer habits are neither going to change, nor in the process of changing. They are constantly evolving – towards ecommerce.
Consumers are using retailer websites and digital channels to research their vehicle purchase and to find the information they need. Purchasing the vehicle directly from the retailer is a logical next step, but only if available.
NetDirector® Auto-e is the ecommerce capable platform from GForces, developed specifically for the automotive industry. It is a feature-rich, standalone web solution with conversion at its core. But it also enables a full online purchase path, including finance applications with instant credit decisions. The level of ecommerce enablement is completely flexible, and can be adapted to suit the needs of your business.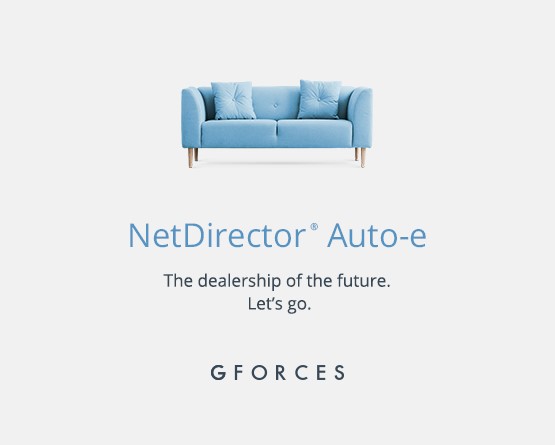 As carrier-grade software, NetDirector® Auto-e is a platform that retailers can rely on. It utilises tried and tested software and has been deployed in over sixty countries, serving thousands of retailers, manufacturer networks, and distributors. It's also facilitated hundreds of complex online vehicle sales, including finance settlements and accurate part exchange valuations.
NetDirector® Auto-e has the necessary security infrastructure for consumers to transact online confidently. Deposit and outright purchase payments are protected by a secure payment gateway. That means all transactions are protected by advanced encryption, certified to the latest PCI DSS standards, and benefit from automated fraud detection and prevention tools.
NetDirector® Auto-e is also a feature-rich solution, and is not limited to just an ecommerce focus. It delivers a powerfully engaging user experience, a host of compatible integrations, and unrivalled functionality. The inbuilt marketing tools and integrated software of NetDirector® Auto-e allows us to deliver increased site traffic, more qualified leads, and better conversion, providing unrivalled value-for-money and excellent ROI based on cost-per-lead.
NetDirector® Auto-e offers a flexibility that can adapt to wherever a retailer is on their ecommerce journey. And that same flexibility is what can help make the buying experience truly omnichannel, helping drive both showroom traffic and business growth by joining the online and offline experience.
We know that one size will not fit all. We adapt to each business we work with. We're in a rush to get our solution right, rather than in a rush to get it to market and take advantage of those who are unsure. Our solution features a depth of dynamic architecture that goes beyond just being cobbled together. We've taken time to select the right financial partners, who to collaborate with on data sharing and integration, and ultimately, on shaping how the consumer journey should flow, and what it should feel like.
NetDirector® Auto-e echoes what we see as an ideal buying experience. We haven't designed a tick-box solution. Instead, we've designed something that is genuinely being demanded by consumers. They want a simpler, more transparent way to buy their next vehicle.
This is the future. This is NetDirector® Auto-e.
Get in touch with our team by emailing info@gforces.co.uk or call 0844 264 3517 to find out more.
---