Advertisement feature from carwow
Valuable insights are at the heart of carwow's appeal to retail partners
There's a different approach to car sales at carwow. By partnering with retailers and providing them with an efficient car selling platform, carwow align themselves as being an innovative digital marketing partner to the automotive industry.
The top priority for carwow is to provide great customer and dealer experiences for all. Unknown to most, price is not the most important factor for customers when buying a car through the platform, with only 25% choosing the cheapest option. A large pool of data is considered by the company including response time, location and customer reviews.
Data is turned into actionable insights for carwow's retail partners, which helps improvements to be made in the lead handling process. It also helps retailers identify customers with the highest propensity to purchase, or reasons why customers might choose to buy from another dealership.
Plus, carwow use their marketing channels to send leads directly to dealer partners. With one of the number one car review YouTube channels globally and other social channels consistently engaging consumers, carwow are a vital sales and marketing platform for any UK franchised retailer.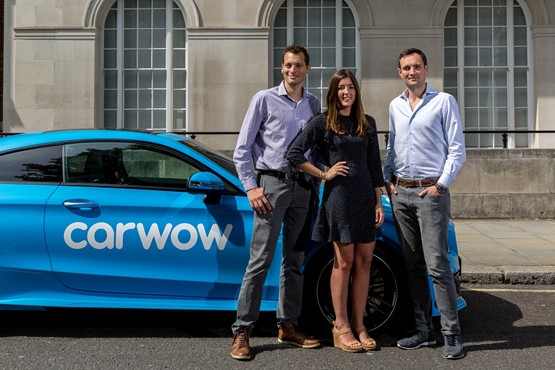 From L-R: David Santoro Co-Founder & CTO, Alexandra Margolis Co-Founder & Creative Director, James Hind Founder & CEO
Retailers can be shown top performers in dealership teams, as well as what improvements can be made. This helps both retailers and carwow deliver exceptional service to consumers and create more conversions for retailers.
Tim Hesse, Director of Data says: 'As the only multi-brand marketplace to have a view of the entire sales funnel from research (written and video) down to the point of conversion, carwow is uniquely positioned in the industry. There are a lot of practical, actionable insights we can share with partners for how best to convert a digital consumer efficiently.'
High-quality leads are also a priority with 25% of calls from carwow consumers converting to a sale. Partnered retailers share the growth, with a Land Rover retailer from Oxfordshire stating:
"carwow sales made up 23% of our Q4 target whilst giving us on average £1900 profit per unit."
As mentioned previously, the company are invested in ensuring all leads converted as efficiently as possible. Because of this, high-performing sales executives and lead handlers from franchised dealers are extremely important to convert customers sent from the platform. By providing team training free of charge, carwow is giving additional support to retailers, including account performance analysis and team workshops.
Athena Hubble, Managing Director says "We've got a lot of changes coming up at carwow and we're excited to see how they will impact our industry partnerships. We're focusing on strengthening the training we offer our partners as well as investing in creating a unique joined-up customer experience that will inherently boost sales for our partners."
Retail partners can increase their revenues, reduce marketing spend and gain valuable customer insights. Every 3 minutes a car is sold through the platform, making carwow an innovative and worthwhile choice for both customers and retailers.
For more information visit dealers.carwow.co.uk or contact us at dealers@carwow.co.uk