Advertisement feature from RAPID RTC

RAPID RTC, the global authority in lead management has put down new roots, branching into the Irish market with a fresh sales proposition and the phased roll-out of its rapidly growing suite of digital products.
Dealers and manufacturers in the Republic of Ireland will immediately benefit from access to RAPID RTC's Lead Manager, which ensures 100% of all digital enquiries to dealerships are responded to with high quality responses enabling the dealer to create a great first impression.
One Irish dealer group that has already introduced RAPID RTC is Clonskeagh Motors. Discussing the recent installation, Dave Collier, General Manager, commented: "We made the decision to bring RAPID RTC into the dealer group to ensure our customers will the receive the best possible service and all of their enquiries will be answered. With so many changes currently happening in the automotive sector, it's important that our customers feel valued and we bring confidence to their purchase decisions."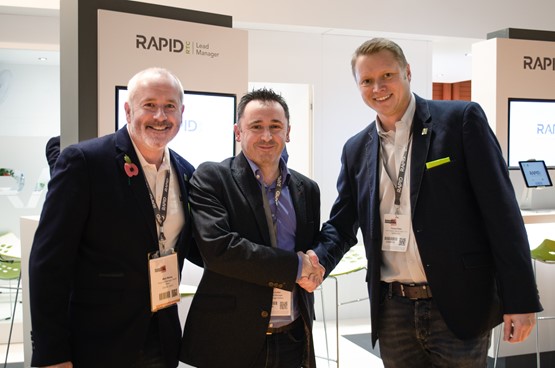 The Irish team will be headed up by Pontus Riska, Vice President Sales and Support UK, whose remit will expand to include the new market. Darren Preddy, Director of Dealer Sales, and Matt Maley, Regional Manager – Scotland and Ireland, who joined the RAPID RTC team earlier this year, will lead activity on the ground, adding Ireland to their existing responsibilities in the UK.
Commenting on the expansion, Riska said: "The automotive sector is going through massive change on a global scale, with emissions regulations, the arrival of new technologies and the impact of financial markets. Ireland is currently facing an influx of used car imports from the UK, but uncertainties over the status of the border in the medium and long-term are also going to have an impact.
"With almost 2.5 used cars changing hands for every new one*, the importance of robust lead management that can handle a variety of inbound channels is significant. Dealers are becoming much more service-oriented and this presents plenty of opportunities to invest in customer communication and digital journey tools. We look forward to working with our dealer and manufacturer partners in Ireland to further improve the new and used car customer journey."
Representing leading OEMs and dealer groups, RAPID RTC has more than 3,000 global clients covering over 20 languages in nearly 30 countries across three continents. With a physical footprint in Canada, the United States, the UK, France and, now, Ireland, the company has now processed over 20 million leads and 50 million digital interactions since its foundation back in 1996.
For more information, please contact Aimee Postle or Laura Biss on rapidrtc@provapr.co.uk / 01926 776900.
*https://www.smmt.co.uk/category/vehicle-data/used-car-sales-data/
---