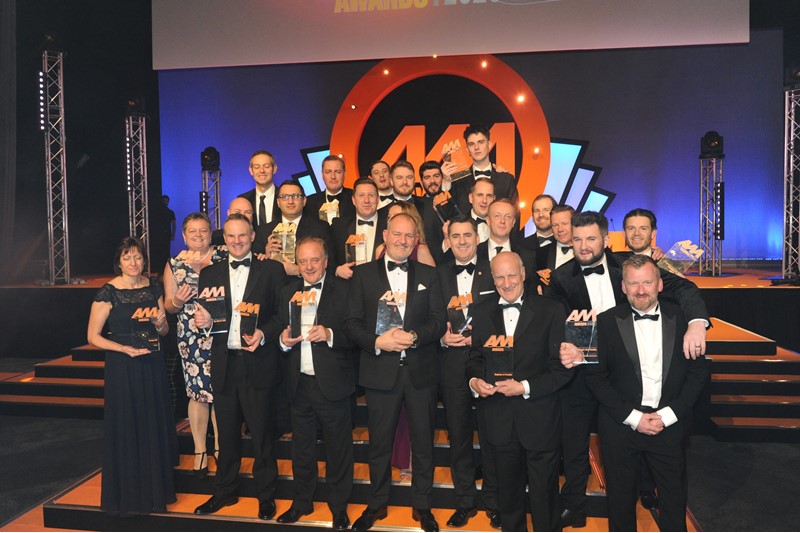 Almost a thousand motor industry executives gathered at Birmingham's ICC for the 2020 AM Awards gala dinner and ceremony to celebrate many of the best businesses, teams, individuals and products in the UK's motor retail industry.
"We're pleased to recognise the latest successes of our automotive industry, particularly after a challenging 2019 car market for a sector which is managing rapid change in technology, systems and processes," said AM editor Tim Rose.
"Congratulations to all the winners, and also to every finalist who was shortlisted by our judging panel."
Below is the full list of car dealers, manufacturers and suppliers who won the 2020 AM Awards, or were highly commended and shortlisted at our ceremony at the ICC Birmingham last night, plus links to winners' citations.
2020 AM Awards highlights video
The results
Best Online Consumer Experience – sponsored by CarGurus
Winner: Sandicliffe
Highly commended Trustford
Finalists:
Buyacar.co.uk
County Garage Ford
Rockar
Sandicliffe Motor Group
TrustFord
Best Aftersales Team – sponsored by GTechniq
Winner: Kinghams
Highly commended Steven Eagell
Finalists
Hills Ford
Kinghams of Croydon
Mercedes-Benz of Preston (Marshall Motor Group)
Steven Eagell Toyota Chelmsford
Stafford Land Rover (Swansway Garages)
Best Sales Team – sponsored by Motorclean
Winner: Cambridge Garage (aka Havant Volvo)
Finalists:
Cambridge Garage (Havant Volvo)
MB Motors
Most Improved Dealership – sponsored by BNP Paribas Personal Finance
Winner: Citygate Seat Reading
Finalists:
Cartime
Citygate Seat Reading
Just Nice Clean Cars
MB Motors
Best Used Car Dealership (independent non-franchised) – sponsored by Santander Consumer Finance
Winner: Alexanders Prestige
Finalists:
Alexanders Prestige
AW Carhouse
Just Nice Clean Cars
MB Motors
Motonet.com
Best Used Car Dealership (franchised) - sponsored by 1link Disposal Network
Winner: Wrexham Volkswagen (Swansway Group)
Finalists:
Luscombe Leeds
Perrys Chesterfield FordStore
Vertu Honda Doncaster
Wrexham Volkswagen (Swansway Garages)
Best New Dealership – sponsored by RAPID RTC
Winner: Perrys Mazda Canterbury
Highly commended: Just Nice Clean Cars, Johnsons Mazda
Finalists:
Johnsons Mazda Gloucester
Just Nice Clean Cars
Mackie Motors MG
Perrys Mazda Canterbury
Best Dealership
Winner: Luscombe Suzuki Leeds
Highly commended: Citygate VW Ruislip
Finalists:
Cartime
Citygate Volkswagen Ruislip
Luscombe Leeds
MB Motors
Best Dealer Group (up to 10 sites) – sponsored by Jewelultra
Winner: Waylands Automotive
Finalists:
Cartime
Rygor
Waylands Automotive
Best Dealer Group (more than 10 sites) – sponsored by heycar
Winner: Arnold Clark Automobiles
Highly commended: Marshalls & Steven Eagell
Finalists:
Arnold Clark Automobiles
Marshall Motor Group
Steven Eagell Group
Swansway Group
TrustFord
Best Used Car Dealer Group (franchised and independent) – sponsored by Autoclenz
Winner: Arnold Clark Automobiles
Highly commended: Citygate
Finalists:
Arnold Clark Automobiles
Cartime
Citygate Automotive
Best Marketing Strategy – sponsored by Motors.co.uk
Winner: Trustford
Highly commended: Rockar
Finalists:
MB Motor
Rockar
TrustFord
Best In Customer Service – sponsored by LTK Consultants
Winner: Hills Ford
Highly commended: Luscombe Leeds, Roadside Garages
Finalists:
Alexanders Prestige
Buyacar.co.uk
Hills Ford
Luscombe Leeds
Motonet.com
Roadside Garages
The Community Hero Award
Winner: Jardine Motors Group
Highly commended: Roadside, Trustford
Finalists:
Carshop
Hendy Group
Jardine Motors
Roadside Garages
TrustFord
The Bright Spark Award – sponsored by CDK Global
Winner: Chorley Group, Miles Roberts
Highly commended: Helston Garages, Ketner Exeter
Finalists:
Chorley Group
Helston Garages
Perrys Motor Sales
AM People Investor – sponsored by MFG Group
Winner: Jardine Motors Group
Highly commended: Citygate Automotive and Trustford
Finalists:
Citygate Automotive
Jardine Motors Group
Trustford
Dealer Group of the Year – sponsored by Black Horse
Winner: Arnold Clark Automobiles
Shortlist*
Arnold Clark
Jardine Motors
Waylands Automotive
* Winners of five group-level awards: the Best Dealer Group (up to 10 sites), Best Dealer Group (more than 10 sites), The Community Hero, Best Used Car Dealer Group and AM People Investor
Dealer Principal/General Manager of the Year
Winner - Helen Price of Johnsons Mazda
Helen Price, Johnsons Mazda Gloucester
Mohammad Vakilipour, head of business, Citygate Volkswagen Ruislip
Peter Titlow, head of sales, and Robert Titcombe, head of aftersales, Citygate Seat Reading
New Car of the Year – sponsored by Supagard
Winner – Kia E-Niro
Finalists:
Audi E-Tron
Kia E-Niro
MG ZS EV
Tesla Model 3
Used Car of the Year – sponsored by Car Care Plan
Winner – Volkswagen Golf
Finalists:
Hyundai Tucson
Kia Niro
Kia Sportage
Mazda3
Peugeot 3008
Volkswagen Golf
Franchise of the Year
Winner - Kia Motors UK
Finalists:
Ford of Britain
Hyundai Motor UK
Kia Motors UK
Mazda Motors UK
Peugeot UK
Volvo Cars UK
Manufacturer of the Year – sponsored by carwow
Winner - Groupe PSA
Finalists
Groupe PSA
Mazda
Tesla
Volkswagen
Volvo
Supplier of the Year
Winner - CitNOW
Finalists
Aston Barclay
BCA
CitNOW
Codeweavers
Cox Automotive
Edynamix
EMaC
GForces
RAPID RTC
Santander Consumer Finance
Best New Product or Service
Winner: Auto Service Finance
Highly commended: Arena Group, Cazana, GForces
Finalists:
Arena Group's Mstore for Automotive
Auto Service Finance's
BCA's Buyer App
Cazana's
Click Dealer's
Dealtrak's
GForces' NetDirector Auto-e
Santander Consumer Finance's
The Motorists Organisation's Secret Service
Business Leader of the Year
Mark Mitchell, managing director of Mitchells Group
AM Hall of Fame
Graham Day, chairman of CEM Day