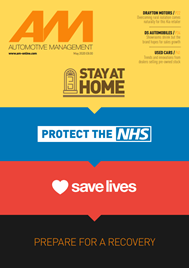 The new issue of AM magazine has now been published, and you can view it here as an e-zine.
It includes insights into the used car market, network plans of DS Automobiles, Kia's latest step in its electrified vehicle offensive, and views on how the COVID-19 coronavirus crisis might speed up the digital evolution of the UK's motor retail industry.
Contributors examine the potential of autonomous vehicles and technology in used car retailing, while Drayton Motors reveals how it has excelled despite retailing in rural isolation.
Click here, or on the cover (left) to read it.
The Editor's letter:
It's so heartening to see news stories and social media posts about staff from UK dealerships doing their utmost to keep key workers mobile and equipped. It's been an unprecedented crisis that has closed car and van dealerships and put thousands of staff into furlough. Yet great people are giving their best, whether volunteering to take overnight shifts servicing NHS and police vehicles, loaning demonstrators to the volunteer services in their communities, or gathering up latex gloves, coveralls and protective glasses to offer to local hospitals.
Keeping busy helps to keep everyone's spirits up and minds off these turbulent times. Automotive managers need to keep operations prepared for when the UK Government allows normal trading to continue. Review cashflow, overheads and stock levels of course, but you should also research new products and services, examine new business practices and keep communicating with potential customers.
And it's time for robust conversations with manufacturer partners. Unless some see this as a sly opportunity to cut their franchised networks, all must support their franchisees in the weeks ahead. Money talks, so guarantee the volume and standards bonuses, then your dealers will be poised to go at the green light.
AM will continue to serve you in the weeks ahead, through this magazine in printed and digital forms and at AM-online. Keep informed. Please keep safe. And keep us informed of how you and your staff are supporting the UK's efforts to manage this crisis.
Tim