Advertisement feature from Auto Trader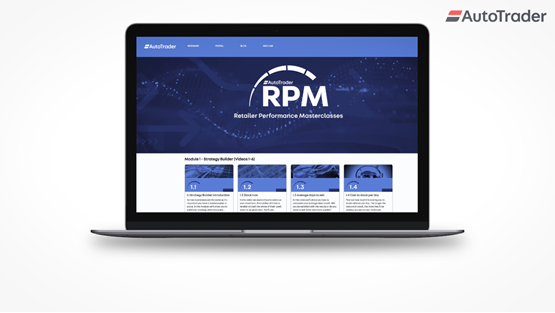 Auto Trader launch RPM, a new online learning centre for retailers, complete with bitesize masterclasses to help improve profitability.
Auto Trader know your focus is sales, making more of them, making them faster and making them more profitable. That's why their focus is making sure retailers have the power to make it all happen.
As part of their ongoing commitment to support its retail partners, they've launched Retailer Performance Masterclasses (RPM), a new online education hub. RPM has been purpose built and designed around retailers' busy schedules, offering bitesize tutorial videos lasting approximately five minutes in length, which guide retailers through the latest in Auto Trader insight and best practice.
RPM has launched with an initial six modules covering the essentials of automotive retail. New modules will be introduced onto the platform every month, ensuring their retailers are armed with the latest insights to gain competitive advantages. It will also include modules for bike, commercial and leisure vehicle retailers.
Available on demand via retailers' Portal account, as well as through trade.autotrader.co.uk/rpm/, retailers can navigate modules in their own time, and upon completion receive an RPM certification to confirm they are up to date on how to get the very best from their online presence with Auto Trader.
The initial modules are:
Setting a used car strategy: How to set a business up for success and the key metrics retailers should observe.
Sourcing the right stock: How to identify the most profitable stock and to determine what to pay for it.
Dynamic pricing to a live market: How to use data to price position stock correctly from day one and adapt each day.
Perfecting vehicle advertising: Covers the core tenets of marketing best practice, including imagery and video.
Effective enquiry management: Research from Auto Trader's mystery shopping programme revealing the most effective way to manage leads.
Maximising your new car opportunity: A dedicated module for franchise retailers focusing on Auto Trader's New Car solution and how to make sure their new car stock is seen by millions of new car buyers each month.
RPM will form a key element of Auto Trader's successful retailer education programme, which includes regular customer webinars and regional masterclasses, which prior to being suspended due to COVID-19 restrictions, were shown to drive an additional average £24,000 of profit per year for attending retailers.
To start a masterclass today, visit the RPM hub.