Advertisement feature from iVendi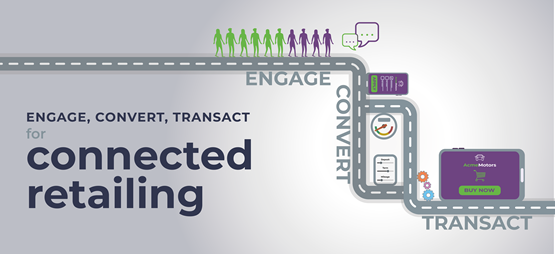 In 2020, iVendi has launched a completely new three-product range for all vehicle retailers, ENGAGE, CONVERT and TRANSACT, that together deliver something to dealers that we call connected retailing.
At its core, connected retailing is a simple but persuasive idea. We link retailer, lender and consumer at every stage of the buying process - research, decision and purchase – through solutions that are genuinely omni-channel and equally effective both online and in the showroom.
James Tew, CEO, explained further: "These new products are the latest iteration of the mission adopted by iVendi when the company was founded in 2009 – to use our technology and knowhow to make it easier for dealers to sell vehicles and consumers to buy them.
"What we have created in ENGAGE, CONVERT and TRANSACT, is something special – a motor retail and finance process that is seamless and effective across retailers, lenders and buyers allowing complete communication and absolute flexibility anywhere and at every stage of the buying journey.
"Most end-to-end motor retail solutions are quite rigid in approach and provide little of the finesse, and therefore the effectiveness, of the new iVendi range. For consumers in the third decade of the 21st century, it provides what they now automatically expect – to be able to shop for what they want, how they want.
"And for retailers and lenders, whether you specialise in new or used cars, vans and motorcycles, it delivers an innovative and insightful approach to technology that is focussed on driving sales success.
We believe that you will soon recognise the benefits of the connected retail approach."
The iVendi Connected Retail range
ENGAGE is designed to help consumers find the right vehicle. It rewrites the rules for online car, van and motorcycle search by completely turning on its head the process through which relevant vehicles from dealer stock are shown to the consumer. Instead of rigid dropdown menus driven by the assumption that people already know what model they want, it uses the natural language adopted by the majority of vehicle buyers, narrowing their enquiry rapidly and successfully so that the best choice becomes apparent much more quickly.
CONVERT facilitates the process of transforming initial online consumer interest in a vehicle into a sale with key features including a reservation tool, finance eligibility checking, finance application processing, multi-lender quoting, and consumer-centred finance product information and videos. It also introduces iVendi's innovative stock engine technology, which proactively checks for data conflicts in vehicle identification information to minimise worrying and potentially expensive quoting errors.
TRANSACT develops online consumer interest in a specific vehicle through to a final transaction while managing the complexities of the sales process. It enables deals to be created online in the same way as a face-to-face conversation with flexible negotiation over price and other key factors such as value-added products, using something iVendi calls a "digital deal" to enable a natural, ongoing style of negotiation.