Registration has officially opened for the Automotive Management (AM) Live 2021 car retail expo.
The sector's premier insight and networking event returns to the NEC, in Birmingham, on November 11 and attendees are being urged to book their place early to ensure they are ready to embrace a packed schedule of seminars and interactive stands.
Click here to register for the event now.
Devonshire Motors owner Nathan Tomlinson is in no doubt about what he is looking forward to at AM's showcase event.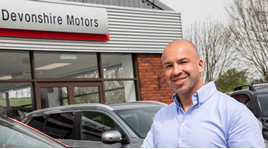 He said: "Being able to get back to networking and learning in person is something that I'm really looking forward to," he said, adding: "One thing that really caught my eye was the message about 'learning new skills to balance your workload'.
"Personally, I think that's going to be a really big deal as we continually put more and more pressure on our teams to handle workflow, often digital, that we just don't have the structure, tools or skills to manage well."
Among the headline features of the Automotive Management Live 2021 show will be a new Inspiration Theatre.
The theatre will be home to strategic presentations on leadership, improving profitability, and optimising a future with electric vehicles throughout the event.
A newly-created used cars feature, meanwhile, will be an interactive, engaging attraction that puts dealers to the test.
The Digital Dealer zone, meanwhile, will offer attendees an opportunity to hear from the latest technology leaders in the sector, while the Operational Excellence Theatres will once again be home to expert presenters on critical topics including aftersales, used cars, motor finance and customer loyalty.
AM Live 2021 has exhibition space with more than 60 stands and displays from the industry's crucial suppliers.
After going virtual during a COVID-hit 2020, the event will also deliver opportunities for networking, with dedicated areas, including the AM100 executive lounge, where you can meet your peers and privately discuss the key issues and opportunities you're seeing.