Advertisement feature from AutoBI
When Acorn Motor Group integrated AutoBI dashboards into its aftersales department, not only did efficiency improve but the team was surprised to notice some unexpected benefits.
With a network of sites that dominates the M6 corridor, covering new, used and aftersales across six different franchises, Acorn Motor Group is a swiftly evolving business that needs to keep its finger firmly on the pulse.
That's why Aftersales Director Samantha Platt knew that she needed real-time data analysis to help her keep on top of everything that was going on across all of the group's busy aftersales departments, and so in 2020 she commissioned AutoBI to provide a solution.
Samantha comments: "I had come across AutoBI through my contacts in the industry and knew right away it was the missing piece of the puzzle. When I joined Acorn in 2020, it was the first thing that I asked for and it didn't take much to convince my colleagues of its worth. As soon as you see a demo of the product, you understand that it's built by people who live and breathe automotive aftersales. It's a no brainer – you just need it in your business."
AutoBI's live dashboard system easily integrates with Acorn's existing Keyloop data management system, allowing for amalgamated, customisable reporting and cross-site real-time updates, giving Samantha and her team a live visual of the performance of all of her aftersales KPIs at the touch of a button.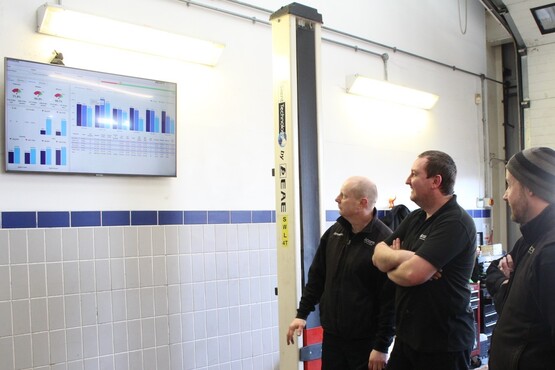 The AutoBI dashboard has been specially customised to Acorn's requirements, giving Samantha the ability to track product sales, WIP, booking schedules, overage stock tracking and EVHC data at-a-glance.
Samantha said: "Being able to see things like overage stock and gaps in the booking schedule in real time rather than at the end of a day, week or month means we can be proactive - spotting and resolving issues much earlier, rather than being on the back foot, and ultimately this helps us to protect our business against loss.
"The live dashboard shows us how productive our teams are being and so we can adjust things quickly to ensure we have less idle time and more chargeable time. The impact on our management team has been invaluable. The fact that we can access data so quickly and pull reports for exactly the information we need saves us at least 2.5 hours of admin a day and makes our meetings run much more efficiently – giving us precious time back to spend with our customers.
"The implementation process was seamless and painless. Because the AutoBI team understand the commercial pressures of our business, they know they have to hit the ground running and cause minimal disruption to our staff and customers. It was as simple as sending over a few documents, making a few minor adjustments and we were up and running straight away."
While Samantha was convinced of AutoBI's worth, she was not expecting the overwhelmingly positive response and total buy-in from everyone at Acorn, from the showroom floor to the technicians. The whole Acorn team is reaping the benefits of the AutoBI system.
Samantha explains: "Aftersales employees rely on productivity - the more they achieve in a working day, the more they are able to earn at the end of the month. The AutoBI dashboard allows us to be completely transparent about who is doing what across the team. Everybody can track their own efficiency and can see their own productivity in real time. It's about trust. Our employees know exactly where they and their colleagues are at, at any given time.
"The effect of the live dashboards has been astonishing. Motivation has increased. A bit of healthy competition has started to take place between the different sites and franchises. Everybody wants to be better, and that is making our business better. And we can also see from the data when people may be struggling and can offer them the coaching and support they need to improve. The reaction from all of our teams has been so encouraging – it's clear that data really is the key to our business's future."

If you'd like to find out more about how business intelligence dashboards from AutoBI can help to transform your aftersales departments, drop us a line at hello@autobi.co.uk or call +44 (0) 1522 711111.