A lack of new car supply, an inability to contact all of your customers (GDPR), the cost-of-living crisis, and the growing EV market share (altering service requirements), are all contributing to an ever-decreasing segment 1 opportunity for dealers. As a result, marketing departments are left with the mammoth task of trying to pull the rabbit from the hat and deliver both conquest and lapsed customers back into their aftersales departments. But this is becoming an increasingly costly and ineffective exercise.
Que SecretService™ powered by BookMyGarage. SecretService™ reaches customers with vehicles 3+ years old and delivers them back into the franchise network. A top 5 AM100 dealer group described how they have welcomed back customers that they have not seen in 10 years, despite all their previous marketing efforts.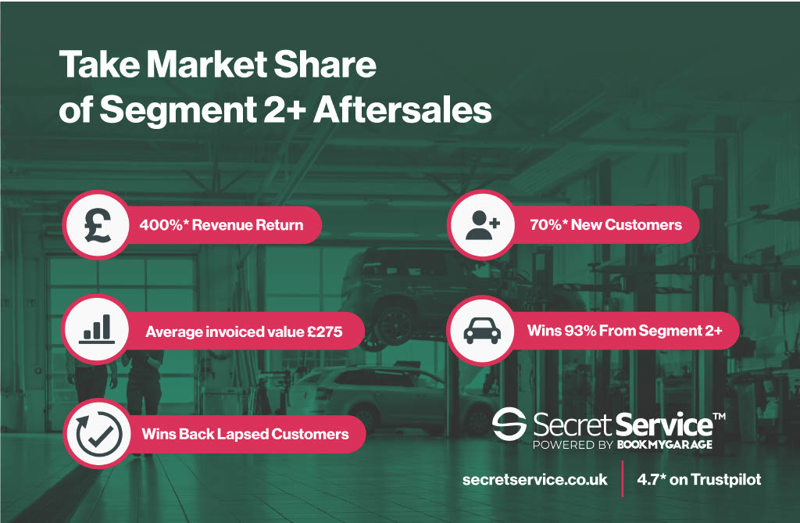 This is undoubtably the solution to ensure workshops are kept busy with profitable work in these transitional times. SecretService™ is precisely designed to help fill that void and provide profitable segment 2 and older work into the franchise Aftersales network. There also appears to be a myth that older vehicles don't present much of an opportunity to authorised repairers - but SecretService data demonstrates otherwise. The average final booking values are over £270, with premium brands close to £470.
"Over 5.6m customers have already compared prices to book an MOT or service on our platform. With our significant YOY growth, we are finding thousands of new customers every day, and they are ready to be delivered to the franchise network. SecretService provides a completely risk-free programme that helps dealers grow their bottom line, with a revenue guarantee and market leading reporting to transparently demonstrate the value that's being delivered." Explains Boswell, Head of SecretService™.
For further information, please contact Paul Jordan, Head of SecretService™ via Email: paulj@secretservice.co.uk or Telephone: 07970515123