Advertisement feature from SecretService
SecretService was developed exclusively as a solution for franchised dealer groups looking to retain existing and win new service customers.
Since fully launching in 2020, SecretService.co.uk continues to deliver exceptional results for our partners. In no small part this is that to the impressive volume of traffic being generated; BookMyGarage.com is fast closing in on the milestone of 10 million drivers who have compared instant prices online to book a service, repair or MOT. It is perhaps a surprise to no one that people continue to favour our convenient, consumer-centric, online experience when booking maintenance for their vehicles. Much of our traffic occurs in the evening, and the transparency and ease of our customer journey maximises conversion rates.
Furthermore, BookMyGarage drivers are ideal candidates for our SecretService partners, with many owning vehicles that are over three years old. 80% of these have also never been seen by our franchise partners before, demonstrating genuine opportunities for conquest business.
With the lack of new vehicles entering the market over the past three years, more customers are holding onto cars post warranty. It is therefore more critical than ever for franchise dealer groups to attract and retain more of the older vehicle segment.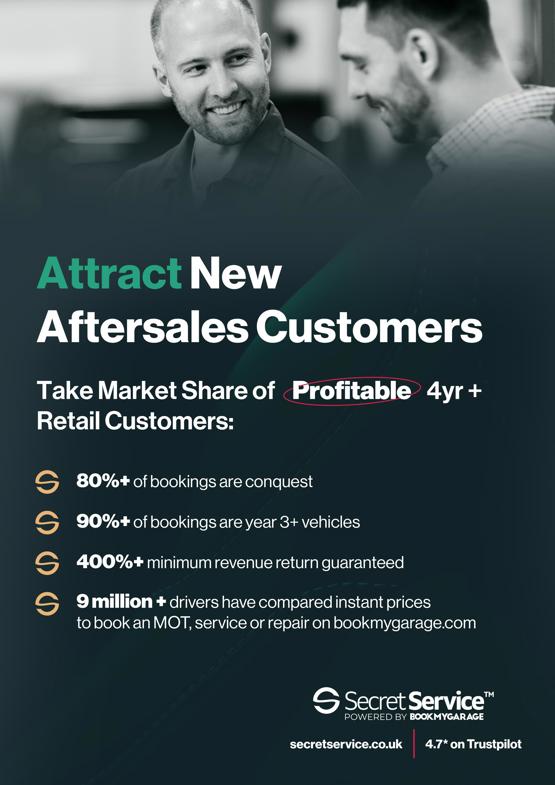 In addition to winning brand-new customers, knowing when an existing customer is about to leave you is essential so that a timely offer to can be deployed to retain them. Equally, winning back lapsed customers whilst they are actively looking to book their next service is vital to keep workshops full.
SecretService only takes bookings against empty workshop hours and secures high final invoice values for the work done, which is aided by the older vehicles being attracted. The reactive nature of SecretService's Artificial Intelligence (AI), real-time reporting evidence, and the profitability we are driving into our franchise partners aftersales departments could not be timelier or more valuable.
As suppliers we must remain highly flexible and fast moving in the current market conditions, and responsive to the changing needs and requirements of our partners. Benchmarking against market leading garages in their postcode, and AI with price automation against workshop availability are examples of our continuous innovation.
Paul Jordan, Head of SecretService said: "Listening to the challenges and concerns of our customers, we use our expertise to create solutions in advance, sometimes helping our dealers before they even realise there are issues requiring attention. Our team of account managers are dedicated to constantly working with our franchise dealers to deliver crucial information and reporting that is required to deliver the best outcomes for themselves and their customers.
"We believe it is essential that during this unprecedented time of change in our industry we do not simply react to challenges, but rather that we collectively benefit from them. In recognition of the value that we believe this innovative work can deliver to the industry, we are proud to have sponsored the new "Online Experience" category at the 2023 AM Awards. Congratulations to Holdcroft Motor Group who took the win."
One size rarely fits all, and at BookMyGarage we will continue to customise our solutions to the individual requirements of our partners as we seek to constantly deliver more value to them.