Franchised retailers from Rolls-Royce Motor Cars' global dealership network received awards after a record Q1 for the luxury car brand - with Sytner's Ascot site emerging as a UK winner.
Sytner Group's Rolls-Royce Sunningdale dealership, near Ascot, Berkshire, claimed the Global Bespoke Dealer of the Year award as the brand's global reach was reflected by other presentations at a series of five virtual 'World Dealer Awards' events.
Stephen Jackson, brand manager at Rolls-Royce Sunningdale, said the dealership was "delighted to have been recognised by our partners for not only this award but three other regional ones as well as runner-up".
Rolls-Royces annual dealer awards were issued after the brand delivered the highest-ever first quarter sales results in its 116-year history in the first three months of 2021.
Between January 1 and March 31, the company delivered 1,380 cars to customers, up 62% on the same period in 2020 and surpassing the previous first quarter record set in 2019.
Sales growth was seen in all markets, with the strongest in China, US and Asia Pacific, the brand reported.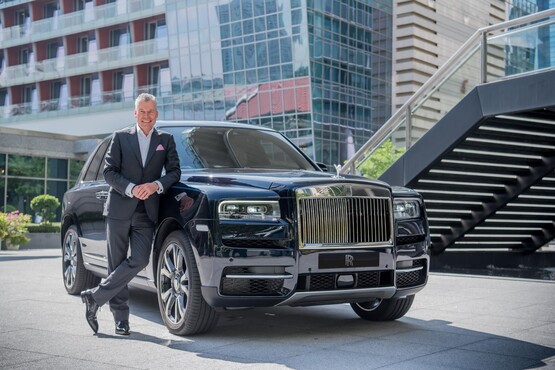 A spokesperson for Rolls-Royce told AM that demand for all Rolls-Royce models "remains extremely buoyant", particularly the new Ghost launched in 2020, and the super-luxury SUV, Cullinan, with order books extending well into the second half of 2021.
Paying tribute to Rolls-Royce Motor Cars' global franchised retail network, Torsten Müller-Ötvös, the chief executive of Rolls-Royce Motor Cars, said: "Our dealer partners are the foundation of our extended worldwide Rolls-Royce family. They are the face, voice and living proof of our brand and its promises to our customers.
"These global awards recognise and celebrate their outstanding achievements and inspire greatness in all of us.
"I extend my congratulations to all the winners, and my personal thanks to every individual in our dealer network around the world."
Below is a full account of Rolls-Royce Motor Cars' 'World Dealer Awards' winners for 2021:
Regional Dealer of the Year, UK, Southern & Western Europe, Russia and CIS - Rolls-Royce Motor Cars Munich
Regional Dealer of the Year, Middle East & Africa - Rolls-Royce Motor Cars Abu Dhabi
Regional Dealer of the Year, Asia Pacific - Rolls-Royce Motor Cars Tokyo
Regional Dealer of the Year, Americas - Rolls-Royce Motor Cars Houston
Regional Dealer of the Year, Greater China - Rolls-Royce Motor Cars Shanghai Pudong
Global Sales Dealer of the Year - Rolls-Royce Motor Cars Shanghai Puxi
Global Most Improved Dealer of the Year - Rolls-Royce Motor Cars Saint Petersburg
Global Ownership Services Dealer of the Year - Rolls-Royce Motor Cars Seattle
Global Provenance Dealer of the Year - Rolls-Royce Motor Cars Beverly Hills
Global Bespoke Dealer of the Year - Rolls-Royce Motor Cars Sunningdale
Global CRM Excellence Award - Rolls-Royce Motor Cars Fort Lauderdale
Social Media Excellence - Rolls-Royce Motor Cars Doha; Rolls-Royce Motor Cars Busan; and Rolls-Royce Motor Cars Hangzhou