Ford has revealed that its 'Signature' corporate identity (CI) update will be introduced to all new build and refurbishments in its franchised retail network.
AM reported last week that Hartwell had opened the doors to the UK's first full Signature CI Ford dealership in Reading for the first time as COVID-19 'Lockdown 3' restrictions on retail were eased on April 12.
Subsequent enquiries have revealed details of the upgraded standards implemented at the facility, located near to Waylands Kia and Marshall Honda, off the A33 in Reading.
A Ford spokesperson told AM that the purpose of Signature was to keep the brand's showrooms fresh and up-to-date, integrating digital marketing via Discover Ford and Service screens.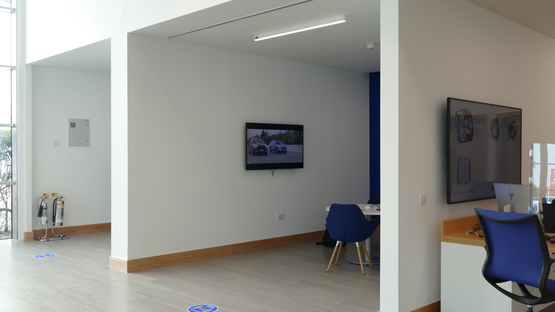 It comes less than a decade after the introduction of Ford's current CI, which incorporated large metropolitan FordStores replacing two or three small outlets in a region, plus separate Transit Centres, and introduced iPad 'genius bars' and vibrant colours such as an orange 'hello' behind reception.
He added: "The digitally connected purpose is reinforced in new purchase rooms, where customers can talk in privacy with sales advisors and spec vehicles on-screen in the rooms.
"'Hero' vehicles are further elevated in Signature dealerships by lighting blades which make a feature of the vehicle beneath them."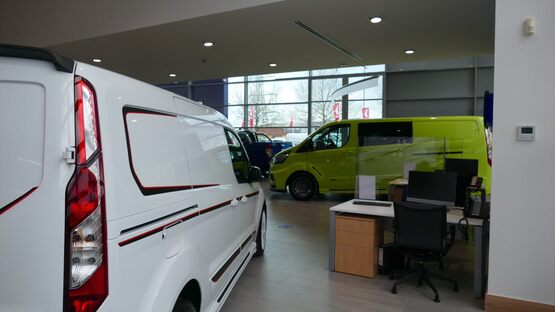 Ford told AM that the Hartwell Reading dealership site is one of the first to have equal space dedicated to cars and commercial vehicles (CVs), with a showroom space for vans located to the left as a customer enters and cars to the right.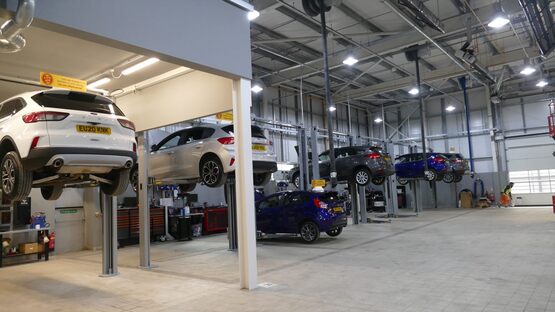 Once its service workshop is running at capacity in the day, a predominantly CV night shift can be added to its services, the spokesperson said.
A statement added: "Ford Signature is a new design for a vibrant, innovative and digitally connected retail environment.
"Signature is the internal and external look and style for all new builds and refurbs.
"It links the in-store and online Ford experience and provides an automotive purchasing experience for the customer.
"The new design allows for optimal vehicle presentation, positioning vehicles as 'heroes' within the showroom.
"Immersive, inviting spaces and supportive digital technologies are provided.
"Ford Signature encompasses an update of showroom exteriors, as well as customer-facing interior areas."