Grey cars were the most popular among new car buyers in 2018, overtaking black as the UK's favourite.
Registrations of both colours were down on 2017 numbers, but grey's drop was less substantial, allowing it to take the top spot
The data comes from the Society of Motor Manufacturers and Traders (SMMT), which reported that just over one in five of 2018's 2.4 million new car registrations were painted grey.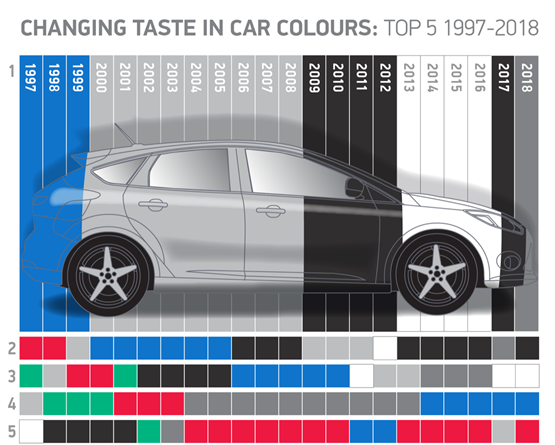 In-line with the new car market's performance in 2018, demand for most colours in the top 10 was down year on year, apart from orange and beige, which saw significant increases of +37% and +28%.
Beige made its first appearance in the top 10 since 2014 as a number of new and upgraded models had the colour as an option.
Cream saw the biggest overall percentage drop, with just 559 drivers opting for the colour during 2018. Demand for yellow cars also fell by a third.
White has been the biggest loser in recent years, with more than 132,000 fewer cars registered in white last year than in 2015 when it reached its peak.
Mike Hawes, SMMT chief executive, said, "There are more opportunities than ever to personalise your new car to your exact taste, and UK motorists have approached the challenge with gusto in 2018.
"With around 80 new or upgraded models coming to market in 2019 equipped with the latest low and zero-emission powertrains, advanced safety tech and exciting comfort and convenience features, it's great that buyers have so much to choose from."