The headline figures for the UK car market are notably stable given the current political and economic upheavals – year-on-year, the overall market was up by 1.4% for February (see page 14) and down by 0.6% YTD. Most manufacturers will be cautiously pleased with the start to the year, although they know that this could be the calm before the biggest storm they have faced since the 2008 financial crash.
Market leader, Ford, is having a bit of a pre-Brexit storm of its own, however, with registrations down by 14.8% to a market share of 11.1%. In addition, the gap to second-place VW is shrinking, as registrations of the German brand are up 8% YTD with VW market share at 8.7%. At first sight, this seems strange, as Ford has the two best-selling models YTD, in the Fiesta and the Focus. For the first time in a decade, Ford's problem is paradoxically the Fiesta, the UK's best-selling car. Registrations are down 35%, which seems like an indictment of the new model. In a way, it simply reflects a reversion to the mean – the previous Fiesta was the best-looking, most dynamic car in its class and was a blockbuster success, taking just over 20% of total B-segment hatchbacks sales at its peak. The current Fiesta is an evolutionary product (after all, Ford was hardly going to throw away the genes of such a successful predecessor), but now the competition is stiffer, and the supermini hatchback segment is smaller thanks to the rise of the B-segment crossover.
Behind VW, third-placed Mercedes got off to an extremely strong start in 2019. Having finished 2018 just 190 units ahead of BMW, Mercedes is currently 1,900 units ahead – although what happens in March is likely to be a more important guide to their respective performance in the rest of 2019.
In fourth place, Vauxhall only fell by 2% YTD. However, a sign of its problems is that the Vauxhall Corsa has been outsold YTD by the new VW Polo. The Corsa was the UK's second best-selling supermini for decades, so to see it caught by a VW is an important milestone. Of course, many other markets would wonder how the Corsa stayed so strong in the UK, given its ancient chassis (which can be traced back to the now defunct Fiat Punto – the two cars shared a platform which was introduced in 2005). The new PSA-based Corsa, due this winter, cannot come too soon.
Lower down the sales charts, there were three notable – and slightly surprising – winners.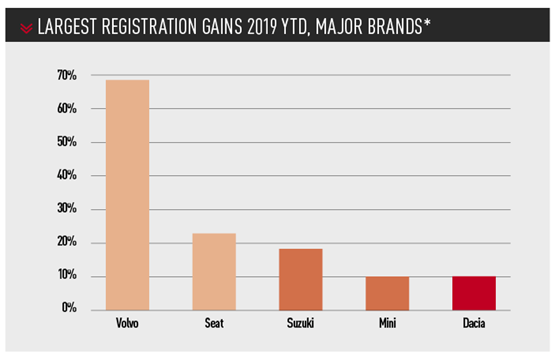 Firstly, Kia registrations were up 8.9%, and the company took seventh spot overall, with 4.8% market share. That made them the top-selling Asian brand YTD, ahead of Toyota, Nissan and Hyundai. In fact, that might be causing some consternation at Hyundai, where registrations were down by 10.7% to a market share of 3.5% – parent companies do not usually like being outsold by subsidiaries. That is especially so in hierarchy-conscious South Korea, where company bosses have long been chauffeured in Hyundais, and Kia was traditionally a much smaller brand making economy models.
Secondly, Seat is continuing its rapid rise (up 21.2% YTD) and is now only 400 units behind sibling Škoda. For many years, Škoda was the darling of the VW Group ("the only really cocky brand in the group" said ex-VW supremo Ferdinand Piech some years back). Hence for Seat to match Škoda's sales in a large market is a major achievement.
Thirdly, the biggest winner of all is Volvo, whose registrations are up a remarkable 69.1%. Volvo has leap-frogged mainstream brands such as Honda and Renault thanks to the smash-hit XC40, which has impressed car buyers as much as road testers.
With the exception of Audi (-23.4%) and Porsche (-44.5%), whose sales are still being affected by problems homologating cars to WLTP standards, the list of losers has a more familiar ring – like the kids at school who keep coming bottom despite annual promises to improve.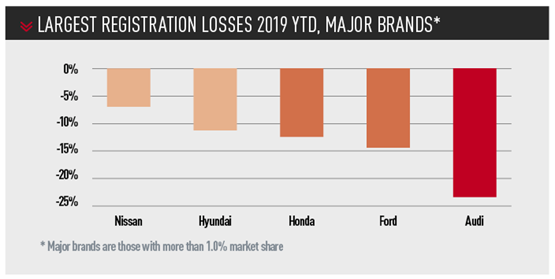 Fiat is down 12.9% YTD, which does not sound terrible, except that its market share is down to 1.2%, which means it is the smallest of the mainstream brands in the UK. Indeed, once market share falls much below 1.5%, it is questionable if a car company can still be called mainstream. It almost goes without saying that Alfa (-10.1%) and Maserati (-24.3%) are also having a torrid time. The only (small) bright spot is that Jeep sales are up 38.1% – but market share is still only 0.2%.
Honda is down 12.8% YTD, and those figures are from before the terrible news about the Swindon factory closure emerged. Market share (2.2%) is behind Suzuki, which is an appalling indictment. This is not the place to rehearse the arguments about why Honda decided to leave the UK, but very poor European sales will not have helped.
In the week AM went to press, Infiniti announced it will withdraw its manufacturing and sales operations from the UK in 2020. Nissan's premium brand suffered a 78.7% volume decline in 2018, from 3,515 to just 750 units, despite building its Q30 and QX30 models in Sunderland, and has just six UK dealerships, following the closure of the Glyn Hopkin-run site in St Albans.
Smart (0.3% market share YTD) is also in a lot of trouble. Mercedes is bravely spinning the story that Smart will become Europe's first electric-only car brand, and thus a pioneer. As no one seems to want Smart's petrol-powered cars, that seems as much an admission of failure as a sign of progress.
As for what happens in the all-important month of March, it is anyone's guess. It is probable that any potential Brexit crisis will come too late to affect people that have already committed to taking delivery of a new car during the month. However, people who are hanging on for an end-of-month bargain could sit on their hands if a cliff-edge Brexit looms into view in the second half of the month.
For once, UK car company bosses have bigger things to worry about in a plate-change month than the daily sales figures.
DAVID FRANCIS