For a country going through difficulties/an existential crisis (depending on your viewpoint), the March 2019 registration figures look quite reassuring. A fall of 3.4% for the month and 2.4% YTD looks more like a ripple than a tsunami. However, it should be remembered that March 2018 was a terrible month, with the "Beast from the East" driving buyers off the forecourts. A more meaningful comparison is with March 2017, which was 18.5% higher than March 2019 – that is a loss of 104,000 sales in two years.
By far the biggest loser has been Ford, whose registrations are down 17.3% YTD. As discussed last month, the biggest fall in unit terms has come from the Fiesta which has lost more than 9,000 units YTD (-28.5%), but, percentage-wise, the large cars are in the biggest trouble. Ford has pretty well given up on the Mondeo (down 47.1% to just 1,338 registrations YTD – fewer than the Mazda 6).
Meanwhile, the Ford Edge is looking distinctly blunt, with YTD sales down 76.1% to a negligible 231 units. The just-announced Puma, a B-segment crossover due later in the year, needs to be a major success if it is to stop the rot.
In fact, Ford's continued market leadership in the UK, dating back to 1977, cannot be guaranteed. Volkswagen (8.5% market share) has more than halved the gap to Ford (9.7% market share). Indeed, this is the first time Ford has fallen below 10% of the UK market since it opened its first UK factory – and that was in 1911.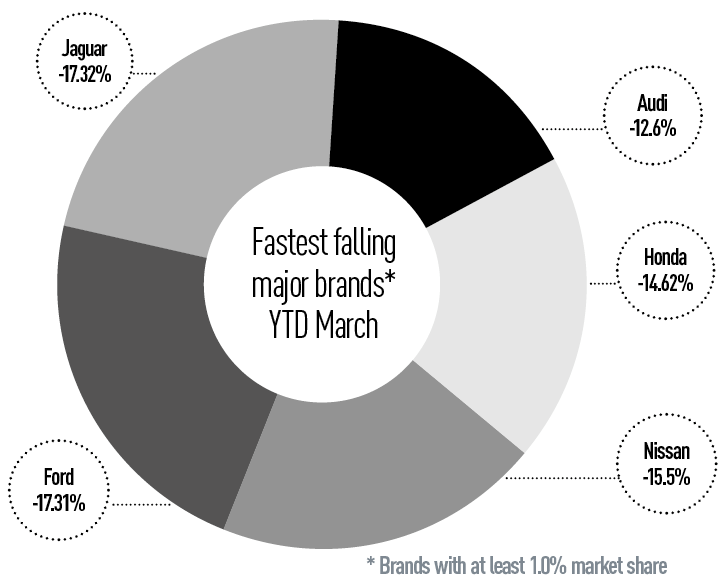 The main reason behind VW's growth is the increase in the sales of crossovers and SUVs. The new C-segment T-Roc has added 4,000 registrations YTD, while the Tiguan (a bit bigger, but in the same segment) has increased sales by 7.6%. VW's crossover onslaught will continue this year with the B-segment T-Cross, which is just going on sale (how many VW salespeople, let alone customers, will manage to remember the T-Cross, T-Roc, Tiguan, Touareg hierarchy?). To add insult to injury, even the big Touareg is having a mini-sales boom, with registrations quadrupling to 975 units YTD at a time when most big non-premium crossovers are struggling.
Behind VW, Vauxhall has had a mini-revival in the first quarter, with market share up from 7.4% to 7.6% YTD. The rise has come from creditable increases by models such as the Grandland X (up 64.2%) and Crossland X (up 43.9%), but also increases that seem to defy logic. Does a rise of 15% in registrations of the Corsa really reflect a new-found enthusiasm among the buying public for choosing this pensionable supermini over a new Fiesta or Polo?
Behind Vauxhall comes the usual Mercedes/BMW/Audi triumvirate, but the real interest comes further down the table. Kia (4.3% market share YTD) has overtaken Nissan, and is not far behind seventh-placed Toyota. That is a remarkable performance for a brand that was bankrupt in the late 1990s, and whose revival is not much more than 10 years old.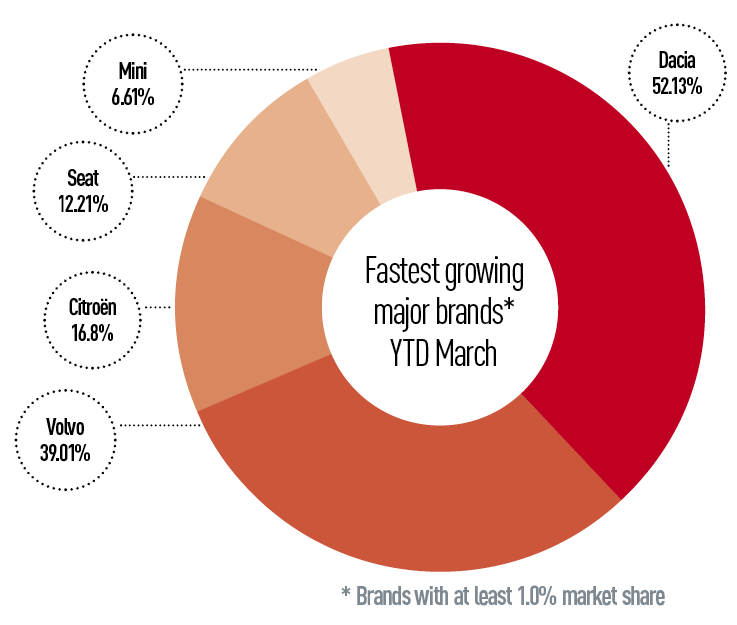 However, there is one storm-cloud over Kia, and its parent, Hyundai, in Europe. Transport and Environment (T&E), an environmental organisation, has analysed all the major car companies to see how they are placed to meet the 2021 target of 95 g/km of CO2. They said the two groups in serious danger of having to pay fines were Fiat Chrysler (FCA) and Hyundai-Kia. In early April, 2019, FCA said it would pay Tesla to pool its sales with FCA's to meet the EU target (the EU allows manufacturers to pool sales before the figures are calculated, primarily so that companies in the same group can have a single calculation – e.g. BMW and Mini). Fiat's move suggests that T&E's calculations are correct, in which case Hyundai-Kia will have to change its model mix to sell more low-CO2 cars – and a few hydrogen-powered halo models are not going to make much of a difference.
At a segment level, the market is consolidating remorselessly. Despite all the talk 10 years ago about how the number of models is proliferating, just three segments now account for 80.6% of total sales (supermini, lower medium and SUV). That compares with 71% seven years ago. Some of the other six segments look to be near extinction.
City cars are down to 7.1% share and the future looks difficult. A petrol-engined city car struggles to meet the CO2 target of 95g/km on the new WLTP cycle, and an electric city car will be an expensive niche vehicle for at least a few more years.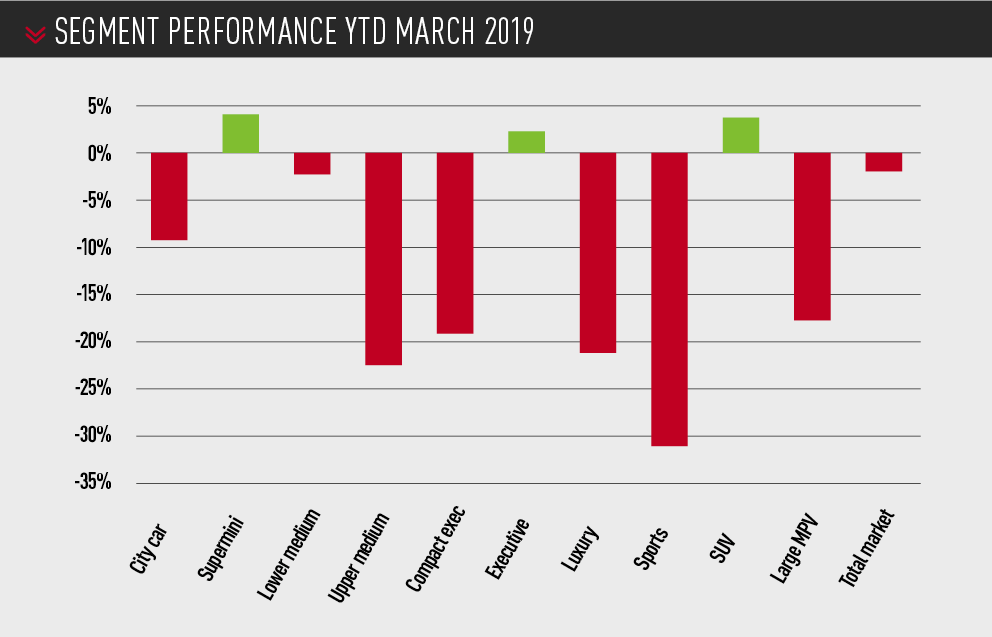 Upper medium models are already down to just 2.1% market share, and the segment only continues because a few manufacturers sell enough of them globally to make UK imports worthwhile. The closely related Compact Executive segment is faring slightly better, at 4.4% market share, but is still down by 19.4% YTD. As Jaguar has found with the XE, remaining buyers are wedded to their traditional Audi/BMW/Mercedes choices.
Of the other segments, Executive (e.g. 5-Series) and Luxury (e.g. S-Class) are relatively stable (luxury is down by 21.3% YTD, but it is close to its long-term average of 0.4% market share). However, affordable sports cars may become affordable sports car – only the Mazda MX-5 appears to have much of a future. Luxury sports models and supercars are doing reasonably well, but sports cars overall are down to a record-low market share of just 1.1%. It is no coincidence that two of Ford's crossovers (Kuga and Puma) recycle the names of sports cars (albeit with new spelling in the case of the Cougar/Kuga). Crossovers really are the new sports cars.
Meanwhile, large purpose-built MPVs appear to be on death row. Mercedes has sold more van-based MPVs than Ford has sold Galaxies and S-Maxes YTD – what is the point of designing a new MPV when you can get the same sales from adding windows to a van? DAVID FRANCIS