Traditionally the used car market in April is buoyant and there are plenty of retail buyers on the forecourt but that has not been the case in 2019.
This year, however, Easter fell particularly late and brought with it, outstanding weather which complicated matters for the used car retailers as consumer focus moved to the garden and other leisure pursuits rather than buying a car, resulting in a much slower weekend than normal, according to Rupert Pontin, Director of Valuations at Cazana.
Here he details his insight into last month's trends in the used car sector with his monthly Used Car Market Update:
After an Easter weekend which generated considerably lower levels of business than expected concerns among car dealers ran high for the month of April as a whole.
The new car market was no support to the retailers either and the drop in registrations of 4.1% came predominantly from the private market and perhaps highlights where the current issues really lie.
Like it or not the country appears to be in the grip of Brexit and concerns really are impacting all retail markets that sell "big ticket" items.
UK Consumer confidence levels remain at almost the lowest point for the last year with little hope of improvement.
However, despite the growing shift in the market the real-time used car pricing data shows remarkable resilience at the moment.
The chart below shows the performance of used car retail pricing at key age and mileage profiles: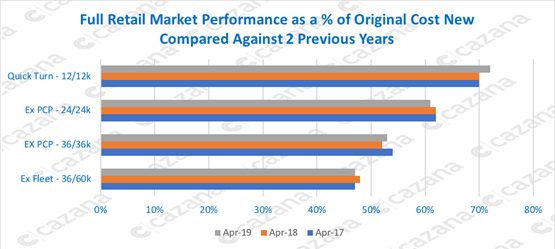 The data in this chart compares Retail pricing as a percentage of original cost new at key age and mileage profiles for the month of April 2019 with the same period in the two previous years.
The industry is now beginning to see some changes in retail prices as highlighted and whereas the data month on month showed great strength across all market sectors, performance by age and mileage profile is becoming less predictable highlighting the need for regular insight and intelligence and dynamic pricing to take advantage of short term market windows of opportunity.
It is interesting to note that two-year-old ex PCP profile product is one percentage point lower than the same month last year and this is not the first time this has been the case in recent months.
Looking at slightly older three-year ex PCP profile and the picture is marginally different with an improvement over 2018 although still slightly lower than in 2017.
Conversely, the higher mileage ex Fleet product has taken a drop in April which is interesting as volumes in the used car market for the month were still purported to be lower than expected.
Therefore, this perhaps suggests that retail consumers are happier buying a lower mileage car for the time being.
However, it is the Quick Turn sub 12-month-old profile that is of most interest here as it is the only key age and mileage profile that has shown a marked increase in retail pricing.
This sector has been improving for some time now and to some there has been an element of surprise as to why vehicles of this age should be performing so well.
However, this sector has been in a perfect storm for a few years and it has been difficult to predict what would happen.
The playground of the OEM's and the rental companies, this is a market profile that can be both volatile and brutal with some very pointed short-term volume peaks and troughs that can only be properly identified and addressed by realtime data ensuring maximum market visibility and profit opportunity.
The chart below shows a more detailed view of pricing movements over the last 12 months split by fuel type: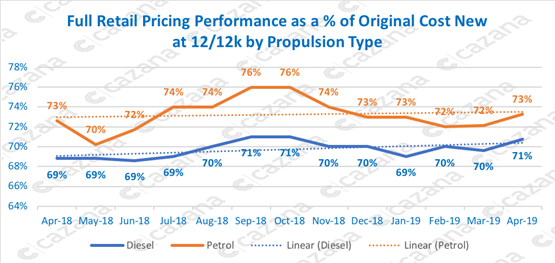 This chart is key as it reveals that the overall two percentage point increase in retail pricing identified in the previous chart is not reflected in both fuel types.
In fact, it is diesel cars that have driven the overall increase in the data. Generally speaking both fuel types have followed the same market pattern too, although there has been greater stability around the diesel market.
This is logical considering that new diesel car registrations have been hit so hard in the last 12 months meaning there are less examples in the market.
It also confirms that there is still strong demand in this age and mileage profile for this type of vehicle.
It is also wise to factor in that this sector has benefitted from a lower volume of product being pushed to the market.
There is a hiatus in used car pricing in September and October just at the point that the introduction of WLTP was having its biggest impact on new car registrations due to restricted supply and at the same time minimising pre-registration activity and thus pressure on late plate retail pricing.
In conclusion, April has been tougher than it should have been and the reason is the impact of the indecision around Brexit and the influence it is having on consumer confidence.
Whether the UK leaves or stays it is vital for the economy that a decision is made and business can get a grip on the future of their respective markets and plan accordingly.
Realtime unedited data will help the automotive industry react to sudden and short-lived market variations and help maximise profit.