The UK's used car market was down just 0.6% or 11,517 sales in the first quarter of 2019, compared to the same period in 2018.
According to the Society of Motor Manufacturers and Traders analysis of DVLA data, 2,020,144 transactions took place.
It said demand for hybrid, plug-in hybrid and pure electric cars continued to grow, up 30.7%, with 32,272 models changing hands. Of these alternatively fuelled vehicles (AFVs), hybrids experienced the largest growth – up 34.2%, with pure electric rising 4.8% to 3,067 units.
However, AFVs took just 1.6% of all transactions in Q1, with conventional petrol and diesel making up 98.3% of the market, the fuel types up 1.1% and down 3.6% respectively.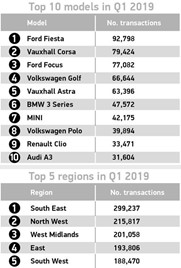 Reflecting trends in the new car market, superminis remained by far the most popular used buy, with 676,395 of these smaller cars finding new owners – an uplift of some 6,000 units on Q1 2018. The dual purpose segment grew the most, demand rising 6.1%.
Mike Hawes, SMMT chief executive, said, "Amid ongoing political and economic uncertainty, a stable used car market is good news for the automotive sector as it underpins crucial new car sales activity.
"Consumers are benefitting too, as more of the latest, safest and cleanest vehicles filter through to second owners.
"If we're to accelerate this shift, and meet shared ambitions on air quality and climate change, a long-term government commitment to supporting take up of the latest technologies in the new car market will be essential."
Ian Plummer, a director at Auto Trader, said a small drop in diesel transactions shows that, for many people, diesel is still a very practical choice that suits their circumstances.
The "momentous appetite for alternative fuelled vehicles" is reflected in Auto Trader's marketplace data too, he said, where volume of searches for AFVs/EVs on Auto Trader has increased 40% from 2017, with 7% of all fuel-related searches now for an AFV.
"However, alternative fuelled car prices are still very high. The average AFV sticker price in April was £21,560 which is the highest it's been to date, and is almost double compared with its ICE counterparts. Following the introduction of ULEZ in London, searches in this area are up a staggering 81%, which just goes to show that while prices are high, the right incentives in place from the Government could accelerate the shift of gear required to get more of these cars on the road by 2040," Plummer said.
Seán Kemple, sales director at Close Brothers Motor Finance, believes consumers shifting to cheaper cars due to the economic uncertainty caused by Brexit and the global slowdown has been a factor, as well as dealers' challenge in supplying customers the makes and models of new vehicles that they want due to delays due to WLTP regulation and testing.